David Smith will present a course 'On Christian Teaching: Practicing Faith in the Classroom' online next week as part of Regent College's Summer School.
And next month he will deliver a livestream lecture on 'Digital Life Together: How Technology is Changing Christian Education.'
The lecture will be based on a new book co-authored by Smith: Digital Life Together, (Eerdmans, May 2020) subtitled 'The Challenge of Technology for Christian Schools.'
Following is part of an interview from the Regent College site:
How do we weigh the genuine gains and losses of working in the digital space and make wise choices about when to go digital and when to abstain?
This is a big challenge right now. Most of us are currently learning really basic, practical things, like how exhausting Zoom meetings are and what working at the kitchen table for hours will do for your back.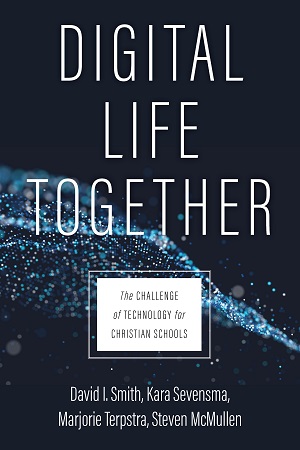 Sooner or later we will have to start thinking in a more principled way about where it is we are actually trying to get to as Christian educators and how our current technologies factor in, just as we did a few centuries back when books and school rooms became a thing.
I think that this will mean we have to learn to think in more nuanced ways than "should I use this technology or abstain."
Sometimes abstaining can be helpful. But more of the time, I think a key question is going to be: given that we need to engage with this tool, what kinds of intentional practices will give it a constructive role in our formation and help it to contribute to our learning.
This might not be the most obvious use of the tool or the one promoted in its marketing. Families already do this in the home when they make simple moves like limiting children's time with video games, or not letting them keep a phone by their bed, or watching movies together rather than in separate rooms.
The goals of learning are complex, and the challenge for Christian educators will be to learn to ask good questions and not settle too quickly for quick-fix answers. We hope that our research, based as it is on watching thoughtful Christian teachers over several years, can help to model this process.
Go here for the full interview.
St. Augustine's petition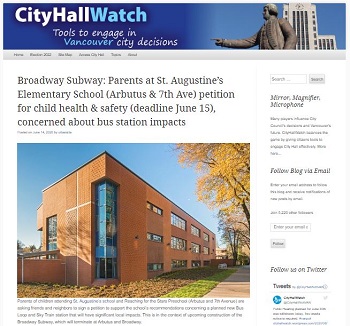 A June 14 post on CityHallWatch pointed out that:
Parents of children attending St. Augustine's School and Reaching for the Stars Preschool (Arbutus and 7th Avenue) are asking friends and neighbours to sign a petition to support the school's recommendations concerning a planned new Bus Loop and SkyTrain station that will have significant local impacts.
This is in the context of upcoming construction of the Broadway Subway, which will terminate at Arbutus and Broadway.
Here is the challenge, according to the petition:
The proposed Broadway Subway station and bus loop will be located at the corner of Arbutus and Broadway streets – 25 metres from over 400 pre-school and elementary-aged children at St. Augustine's. To address the lack of consultation prior to selection of this location, St. Augustine's has engaged the Broadway Subway Project team to find ways of reducing the safety, health and security impacts of this large transit hub.
Go here for the full petition, including proposed solutions.
The school's June 22 – 26 Weekly Update stated:
THANK YOU – BROADWAY SUBWAY PROJECT PETITION
With the help of school parents, other parishioners and their friends we were able to recruit over 1,600 supporters to our petition last week [the deadline was June 15]. This, along with our mitigation proposals, was provided to the Broadway Subway Project team and its partner organizations. Our parish advisory committee is continuing its discussions with the Project team and we will provide more information as developments unfold.
St. Augustine's Catholic Church, just west of the school across Arbutus, also has a page devoted to the petition.
Japanese United history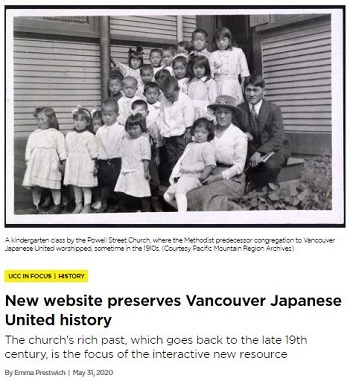 A recent article on Broadview describes a unique aspect of local history: 'New website preserves Vancouver Japanese United history.'
Here is a portion of the article:
Nearly 80 years after members of a Vancouver United church were forced to leave their homes and sent to internment camps, the parish now has a different kind of home online.
"Just when you think of our title, 'Enduring Faith,' it's amazing that our church survived through all of these disasters – war, the flu, Depression, internment," says Becky Maruno, who was part of the advisory team for a new website about Vancouver Japanese United's history and belonged to an English-speaking congregation that worshipped at the church until 2017. . . .
The website explores the church's origins as a Methodist congregation in 1896, and spans Japanese-Canadian internment in the Second World War, the United Church's sale of their building on Powell Street in 1953, the formal creation of an English-speaking congregation and efforts to secure recognition and an apology for the church sale. It features hundreds of photos as well as records and audio interviews.
In 2018, the former BC Conference and The United Church of Canada paid Vancouver Japanese United $500,000 as compensation for the loss of their church after internment. Some of that money was used to develop the website.
Go here for the full story.
I posted another story about Vancouver Japanese United Church on Church for Vancouver last April.
Jun 2020
Radius Missiology Conference (Free)
– June 24, 2020 - June 25, 2020 at All Day
Virtual Event: Business as Calling: Speaker Bernie Willock
– June 25, 2020 at 11:00 am - 12:00 pm
The Art of Paying Attention: Learning to Love Creation (Online)
– June 27, 2020 at 9:00 am - 3:00 pm
Webinar: Reopening Churches 2
– June 29, 2020 at 9:00 am - 10:00 am
Livestream: Mary McCampbell: Guns, Grit and Grace – Flannery O'Connor & the Sin of Sentimentality
– June 29, 2020 at 7:30 pm - 9:00 pm
A Rocha Talks: The Story of Plastic
– June 30, 2020 at 7:00 pm - 8:00 pm
Jul 2020
Livestream: Ross Hastings – A Theology of Depression: A Personal Narrative on the Economy of Divine Strength Through Weakness
– July 1, 2020 at 7:30 pm - 9:00 pm
Christ & COVID: A Series on Health, Home, Race & History (Sundays, morning & evening)
– July 5, 2020 - July 26, 2020 at 10:00 am - 11:30 am
Animals' Homes & Habitats – Summer Day Camp
– July 6, 2020 - July 10, 2020 at 9:00 am - 3:00 pm
Kickers Preschool Soccer and Arts Camp (Ages 3-5)
– July 6, 2020 - July 10, 2020 at 9:00 am - 3:00 pm
Kickers Soccer Camp (Ages 6-14) 
– July 6, 2020 - July 10, 2020 at 9:00 am - 3:00 pm
FLO Summer Soccer Camp
– July 6, 2020 - July 10, 2020 at 1:30 pm - 4:30 pm
Livestream: Cindy Aalders – The Shape of Family: Love, Belonging & COVID-19
– July 6, 2020 at 7:30 pm - 9:00 pm
Missional Commons Webinar: Exploring Practices
– July 7, 2020 at 10:00 am - 11:00 am
Flavours of Hope's Conversation Series: Food & Race Part 2
– July 7, 2020 at 1:30 pm - 2:30 pm
A Just Renewal and Green New Deal for Canada: Earthkeepers Panel & Discussion
– July 7, 2020 at 6:00 pm - 7:00 pm
Livestream: Grace Hui Liang – Reading the Bible in Late Qing China, 1807 - 1911
– July 8, 2020 at 7:30 pm - 9:00 pm
The Fundamentals of Moral Decision-Making: Teaching Controversial Topics in the Classroom
– July 11, 2020 at 9:00 am - 12:00 pm
Cancelled: The Choir of Jesus College, Cambridge, UK
– July 11, 2020 at 7:30 pm - 9:00 pm
Missional Commons Webinar: Exploring Postures
– July 14, 2020 at 10:00 am - 11:00 am
Shared Life Exchange: Community Cafe 2
– July 14, 2020 at 7:30 pm
Livestream: Rikk Watts – Reframing the Trinity
– July 15, 2020 at 7:30 pm - 9:00 pm
Livestream: Malcolm Guite – Poetry & Prayer: A Mutual Inspiration
– July 20, 2020 at 7:30 pm - 9:00 pm
Missional Commons Webinar: Exploring Leadership
– July 21, 2020 at 10:00 am - 11:00 am
Livestream: David Smith – Digital Life Together: How Technology is Changing Christian Education
– July 22, 2020 at 7:30 pm - 9:00 pm
Livestream: Krish Kandiah – A Relentless Revolution of Love: Hospitality as Hopeful Resistance
– July 27, 2020 at 7:30 pm - 9:00 pm
Webinar: Creating a Culture of Invitation
– July 28, 2020 at 9:00 am - 10:00 am
Livestream: Wesley Hill: When Christians Disagree
– July 29, 2020 at 7:30 pm - 9:00 pm