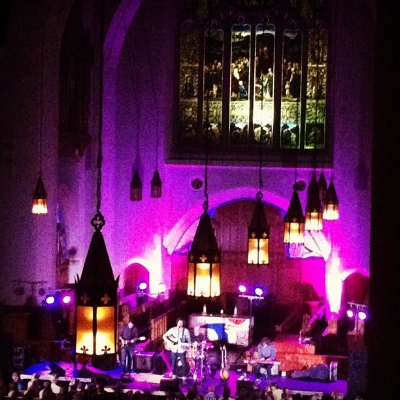 What makes good music?
This is a highly subjective question to answer, especially in an age of iTunes, Noisetrade, Songza and countless other avenues we use to indulge our musical tastes. Quantity can definitely overshadow quality; marketability can mean as much or more than listenability.
Yet quality hasn't disappeared.
I've said it before, but I love the music of Josh Garrels. His creativity and passion translate into a diverse sampling of music that I resonate with. With a blend of indie-folk, acoustic and electronic rhythms, driven by a soulful, reflective voice, Garrels doesn't just produce music, he produces an extension of himself; a beautiful one at that. Each one of his albums is worth a listen (and a purchase).
And he's even better live.
I had the privilege with my students of helping put on his recent show in Vancouver at St. Andrew's-Wesley United Church. It was a beautiful combination of sound and space, where music and venue collaborated from start to finish. From Garrels' voice filling every corner of the space, to the glowing stained glass extending the hopeful honesty of each song, it was a show I'll remember for a long time. 
And his person only enhanced the experience. Our group had a few minutes to interact with Garrels before the show. His honest music translates into honest interaction. He exhibits a passion for life, faith, and music that's palpable. And he's so compelled to do what he does, one can't help but leave a conversation with him inspired to live a full life oneself.
Where we are so quick to consume our music, like or dislike with the flick of a finger on our smartphone, Josh Garrels offers an alternative. His show was a lesson in embodied art – honest personhood and honest expression; beautiful music and beautiful space. I was blessed to be there.