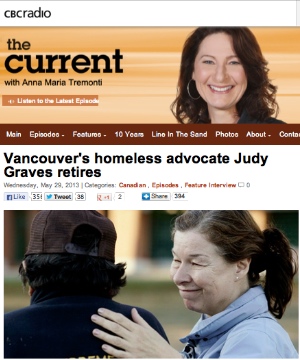 Today, CBC's The Current replayed an interview between host Anna Maria Tremonti and Vancouver homeless advocate Judy Graves on the day of her retirement, May 29.
The interview is moving and informative; you won't regret spending 23 minutes listening to the podcast. 
The hero of the piece is, of course, Judy Graves, who has devoted the last two decades of her life to befriending homeless people on Vancouver streets. 
You know you're listening to a wise and warm person when you hear her characterization of the homeless people she's met over the years.
"They were warm and kind and have shared their life stories; they've shared with me everything they know. Essentially, everything I've learned, I've learned from my professors and priests and rabbis who live behind dumpsters."
But Anna Maria Tremonti emerges very well from the exchange too. The CBC is sometimes accused of having an anti-Christian bias; I've felt that way myself from time to time. 
Whether or not that is true, Tremonti is far from critical as she persistently probes for the source of Judy Graves' good works.
Anna Maria: What is it that makes you different?
Judy: I'm not the only one. There are thousands of people who actually care deeply, many of whom respond . . .
Anna Maria: Where does that compassion come from?
Judy: I think compassion is a natural part of all people. I don't think I'm in any way unique . . . when compassion is missing it's an anomaly in the human race."
Anna Maria: Are you a woman of faith? 
Judy: I have deep faith. My work has been my spiritual practice. For that I'm very grateful too.
Anna Maria: Can you even talk about that as a bureaucrat, or is that something that is kind of off the table?
Judy: It's always been off the table in the City of Vancouver. We speak in a secular voice, and I think it's been a wonderful gift to have that discipline, because if you have to do your faith instead of talking about it, you can't kid yourself. If you talk about your faith, you can actually convince yourself that you're a whole lot better than you are.
I'm not sure about Vancouver's secular voice being such a blessing, but then again, who am I to argue with Judy Graves! 
Thank you Anna Maria Tremonti for persisting with Judy about her faith. And thank you, Judy, for your humble – and humbling – response. A good life's work reflected in a good interview.
The whole interview is well worth listening to, not least for Judy's strong insistence that Canada need a national housing strategy to really grapple with the issue of homelessness across Canada.