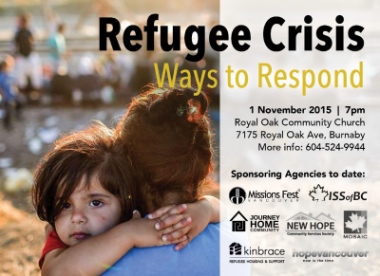 Local Christians have already demonstrated in numerous ways how much they care about the turmoil in the Middle East and the resulting refugee crisis. Three upcoming events will allow churches and Christians to gain practical insights on how to support minority religious groups suffering under oppressive regimes and how to effectively engage with the refugee process.
The first two events will take place over two evenings at Trinity Western University. The first, October 28, will look at 'The Middle East, Minorities and the Islamic State.' The next evening, a panel of experts will address the question 'How Should Canadians Respond to the Problem of Religious Freedom in Iraq and Syria?' before taking part in a candlelight prayer vigil for Iraq and Syria.
The third event will be a 'Refugee Crisis: Ways to Respond' rally sponsored by several agencies which will share their expertise at Royal Oak Community Church in Burnaby November 1.
Middle East Minorities / Freedom of Religion
Paul Rowe is a professor of political and international studies and has written books on Religion and Global Politics (Oxford University Press,2012) and Christians and the Middle East Conflict (Routledge, 2014). He has organized two events at the end of the month to raise awareness and support for Christians and other persecuted minorities in the Middle East (see below for details). Here he explains how we can support them in their trials.
Over the past year, the dramatic events of the Syrian Civil War and the Islamic State invasion of Iraq have drawn our attention to the plight of religious minorities in that part of the world. The Islamic State movement has cruelly targeted Christians and Yezidis in northern Iraq and Syria in addition to terrorizing the Shi'i and Sunni Muslim populations of those countries.
For Christians, the violence has been devastating. Christians have lived in the Middle East since the time of Jesus. In Syria and Iraq, communities of Eastern Rite Catholics, Eastern and Syriac Orthodox, and the Church of the East, in addition to Protestants, have lived among their Muslim and non-Muslim neighbours for centuries. Their history demonstrates that they are among the indigenous people of the Middle East.
Followers of the Islamic State have published videos in which they have murdered groups of Christians.  They have imposed extortion on religious minority communities, denying the basic right of freedom of religion that is the pillar of free societies worldwide. They have abducted and held to ransom hundreds of others, engaging in acts of rape and forced marriage. 
Many have been forced into exile in Iraqi Kurdistan, Jordan, Lebanon and Turkey. Others have fled further afield, to Europe or North America. They have come with the tens of thousands of refugees now seeking asylum. Their homeland is an active battlefield, in some places damaged beyond repair. Their homes have been destroyed or handed over to invaders.
It is normal to feel powerless in the face of such violence and injustice. But communities of Christians throughout the region are responding to the turmoil: organizing to preserve their communities and serve the people affected by the wars in Iraq and Syria, communicating hope to those in the midst of conflict. 
Here in Canada we may welcome them as refugees. We may provide relief and help for those in need in refugee camps across the region. And we can speak out against the injustices and in favour of a peaceful and inclusive Middle East. As Christians we also know that we can pray for those affected.
Come and join us October 28 – 29 at Trinity Western University (TWU) as we focus on the problem of religious freedom in this part of the world. 
On October 28 (Wednesday), Dr. Sargon Donabed – an assistant professor of history at Roger Williams University and an expert on minority communities in the Middle East – will address The Middle East, Minorities and the Islamic State: past, present and future. He will tell some of the untold story of Iraq's indigenous Assyrian Christian people, today living under the dark shadow of the Islamic State. 
On October 29 (Thursday), join us as a panel of experts, including Andrew Bennett, Canada's Ambassador for International Religious Freedom, address the question How Should Canadians Respond to the Problem of Religious Freedom in Iraq and Syria?
Following the panel discussion, TWU students, faculty and staff will lead in a candlelight prayer vigil for Iraq and Syria. All are welcome.
(Rowe has just had an interesting article published in Capital Commentary: Everything I Know About Syria I Learned from the Hunger Games.)
Refugee Crisis: Ways to Respond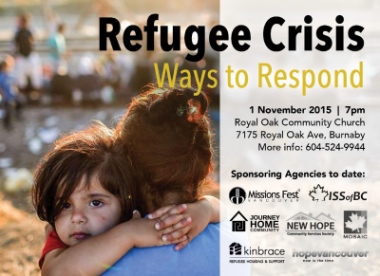 If you have any questions at all about how to help people who have fled the Middle East, Refugee Crisis: Ways to Respond at Royal Oak Community Church in Burnaby is the place to be, November 1, 7 pm.
Sponsoring organizations include faith-based groups such as Journey Home Community, Kinbrace Refugee Housing & Support and New Hope Community Services, along with major agencies Immigration Services Society of BC and Mosaic. Missions Fest and Hope Vancouver are also supporters.
James Grunau of Journey Home says:
There has certainly been a heightened refugee awareness recently and after attending the downtown rally on Labour Day weekend and the Vancouver Town Hall meeting I wondered why couldn't we rally the church community around refugee issues? So a number of groups have partnered to set an information and prayer rally. I think this can serve to keep the momentum alive in churches, provide some much-needed information about specific ways to be involved and encourage a movement of prayer for the global refugee crisis.
The program will include:
1.       Government sponsorship information and perspective
2.       Private sponsorship information and perspective
3.       Refugee claimant (asylum seeker) information and perspective
4.       Possible refugee story
5.       A concert of prayer
6.       Refugee agency exhibit tables and personnel for "after rally" connection