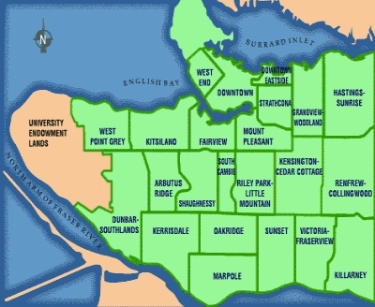 Over the next few weeks I will start a series on Vancouver neighbourhoods. Vancouver is a city of neighbourhoods – kind of. On the one hand, anyone who's been here for a while will know that the character of Point Grey is different from that of Commercial Drive, and that neither is like the West End or Yaletown.
And we desire distinctive neighbourhoods. We all love areas with character, like Chinatown or Main Street near King Edward, for example.
However,  there are relatively few strongly defined neighbourhoods in Vancouver.
Not well defined
Our family went out to Toronto late last summer, to my eldest son's wedding.  His wife Lily was brought up in Toronto, and while she has been generous in her praise of Vancouver, she was (quite) happy to show us how many more natural communities, or neighbourhoods, there are in Toronto than in Vancouver. 
She claims there are at least 100, and I wouldn't doubt it. Based on what we saw, from the two Chinatowns to The Beaches to Bathurst and Bloor – they were all over the place.
How many such vibrant neighbourhoods does Vancouver have, based around ethnicity or around small communities swallowed up by a larger one, or whatever? Ten? Maybe. Our neighbourhoods are less distinctive than those in many other cities, possibly because we're still a relatively young city.
The city isn't sure
Even the City of Vancouver itself isn't sure how to break down the city. Resorting to bland bureaucratic language, they say: "The City of Vancouver is made up of a number of smaller neighbourhoods and communities; however, not everyone agrees on all of the names and boundaries of these areas."
Thus, on its website, the city refers to "areas, not neighbourhoods . . . Each of the 21 city areas has its own page with community-specific information: local services and amenities, city news, projects and initiatives, and a calendar of events. Areas of the city may also include several smaller neighbourhoods that would not generate enough news and events on their own."
The twain shall meet, slowly
Growing up on the west side of Vancouver, the main distinction I recall was between the West Side and East Side. We rarely ventured beyond Arbutus, let alone Main Street.
That divide has diminished considerably, but it does remain. Last time I checked, the line between million dollar homes and those not quite making that cut was Main Street.
And outsiders trying to present Vancouver to the world still take note. About.com, for example, points out: "Rightly or wrongly, Vancouverites generally speak of cultural differences between the affluent Vancouver West Side neighbourhoods and the working class/middle class East Van," while moving2canada.com skips all of East Van (where I now hang my hat) except Commercial Drive and Main Street while advising outsiders on "the best Vancouver neighbourhoods."
It's interesting, too, that the two main ministerials are the Westside Christian Leaders Fellowship and Vancouver East Ministerial Association.
Weekly look at neighbourhoods
Whatever the strength of Vancouver neighbourhoods right now, I have no doubt they will become more significant to both the city and the church over the next few years.
Vision Vancouver and Gregor Robertson faced a surprising amount of organized resistance from neighbourhood groups last year, especially related to the park board's attempt to control community centres and the city's community plans for the West End, Marpole, Grandview-Woodland and the Downtown Eastside.
And churches are keener than they have ever been – since the 1950s at any rate – to really be in, not just of, their neighbourhoods. Local thinkers like Alan Roxburgh and groups such as Forge Canada have been leading the way. (This weekend, C2C Network is bringing in Jeff Vanderstelt from his SOMA Tacoma community to "What if church wasn't a place you go but who you are?" The church planting movement is dynamic in Vancouver, and it's all about neighbourhoods.)
So, beginning next week, I will look at each of the 21 'areas' of Vancouver, considering their history, current demographics, etc. I would love to feature some innovative stories of church involvement in their neighbourhood. Please email me if you know of good examples.