The concert is sold out, but you're still likely to hear the name Leon Bridges around town over the next few days. He will stop over at the Commodore Ballroom November 3 as part of a long tour based on his first album Coming Home.
Reviews have been almost uniformly positive. Bridges is usually compared to Sam Cooke and other soul singers of the 1950s and 1960s. Themes are typical of soul music – love, women and good times – but there is also a strong gospel element.
A recent article in Spin magazine is subtitled: "The Texas retro-soul singer seeks God and finds his roots on his debut LP, Coming Home." Here is a portion:
The intense pride and affection Bridges feels for the Big Easy's Bourbon Street and pecan bun-sticky summer nights – "Even as a kid I would always say, 'Oh yeah, my family is from New Orleans,'" he says, grinning like a boastful school kid – belies a decidedly more mundane upbringing in dusty Fort Worth. "Life was simple, man," he says. "It was only school, work and home." And after a quick pause, he says "Oh, and church."
As such, his album is riddled with biblical references to the river, sin and salvation. On the tambourine-speckled acoustic closer "River," Bridges asks "The good Lord / To wipe [his] slate clean." And on "Shine," a warm mid-tempo number glinting with horns and gospel vocals, Bridges prays, "Use me as your vessel, I want to shine like the candle."
When he wasn't secretly learning to bump 'n grind, the young Bridges was only allowed to listen to pop music free of profanity, or his church's music. "Gospel music played a huge part of my life," he says. "I was too scared to audition for the choir, but through my own music, I was also able to find spirituality for myself."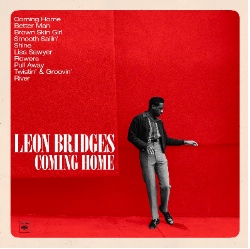 Apparently Bridges needn't have feared the wrath of his congregation, as Claire Rutter reported in the UK's online Mirror:
"I worried about some of my peers who were in the church. I worried that they wouldn't accept me writing music other than gospel," but thankfully, his concerns were unfounded as he's found that everyone has been completely supportive of his career.
Writing for NPR Music, Ann Powers makes the link between the soul world of 50 years ago and the ongoing world of the spirit:
His mother is what ties him physically to the era his music so strongly honors: One song he wrote, 'Lisa Sawyer,' put him on this path, and it's her story, beginning with her birth in New Orleans and moving through a youth in a poor loving family toward her Christian conversion as a teacher. 'Lisa Sawyer,' which features a doo-wop arrangement and a Bridges vocal that's more Nat King Cole than Cooke, is a son's expression of respect and bottomless affection, and it personalizes this project in a way that makes all of Bridges' studied appropriations shine with love. . . .
['River'] is another blatant tribute to Cooke – Bridges was reborn by the river of that man's music, and he's determined to give full and constant credit. But the sensuality of Bridges' lyrics – "dip me in your smooth water," he sings, "I go in as a man with many crimes, come up for air" – are both deeply personal and connected to Golden Era gospel in a way that goes beyond mere posturing. The feeling Bridges and his band uncover throughout Coming Home may be "retro," but the feeling is immediate, and relevant, and profound.
Most of us won't be going to the show, but you could check out Better Man or the Live at Glastonbury full set on YouTube.