Kevin and Julia Garratt are back in the news. Two years ago they were featured in many Canadian media outlets when they were released by China following seven months (for her) and two years (for him) of imprisonment.
The Christian couple had been involved in various good works – working as English teachers, in orphanages and in social enterprises, for example – during their 30 years in China.
At the time of their arrest they had been running a coffee shop in Dandong near the border with North Korea for several years. (Their brand new book tells the story; see below.)
The ill treatment meted out to the Garratts has been referred to broadly in the media since Meng Wanzhou was detained at the Vancouver Airport December 1. The chief financial officer of Chinese tech giant Huawei has now been released on bail in Canada, but still faces a lengthy legal fight over extradition to the United States, which alleges that she has helped her company to avoid sanctions on Iran.
Since she was detained China has threatened that Canada would "pay a heavy price" if Meng was not released immediately.
While some China experts focused on the potential harm to trade between Canada and China, others warned there would be prompt retaliation, likely involving imprisonment for a Canadian living in China. Within days, that fear had become a reality, when former diplomat Michael Kovrig was taken into custody (the same day Meng was released on bail, December 11) and charged with undertaking activities which "harm China's national security."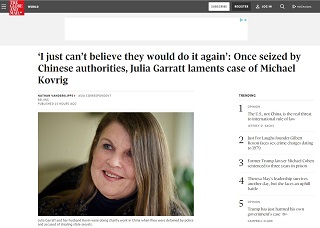 Nathan Vanderklippe spoke with Julia Garratt for a December 12 article in the Globe and Mail. Here is a portion of that interview:
China's detention of former diplomat Michael Kovrig has the hallmarks of "political abduction," says a woman who was detained by Chinese authorities four years ago, in the midst of a different set of extradition proceedings.
"It's really sad. I just can't believe they would do it again," said Julia Garratt, who with her husband Kevin was seized by Chinese authorities in 2014. The couple were detained shortly after a Chinese citizen was arrested in Canada at the request of the United States, which sought his extradition on spying charges. . . .
Like with Mr. Kovrig, their detention was widely seen as connected to Canada's role in extradition proceedings against a Chinese citizen, Su Bin, a businessman wanted in the U.S. on spying charges. Also, like Mr. Kovrig, the couple were taken away by state security agents.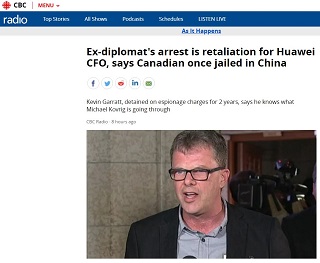 Go here for the full article. CBC's As It Happens also interviewed Kevin December 12.
The Garratts had urged caution in dealing with China, following their release from prison. This CBC News interview from last December gives a sense of their outlook:
"I would advise an abundance of caution, take our time in terms of free trade or whatever Canada wants to do with China," Kevin Garratt told guest host Catherine Cullen. "I think China is an amazing place, we loved it, and still do, but you need to take time to know what you are getting into."
Julia Garratt said building a trusting relationship with China requires not just Canada to trust China, but for China to trust Canada. After three decades living and working in the country, she said she thought she had that trust – but it all came crashing down one day in August, 2014.
"I think it's a much more complex thing than should we trust China or not trust China? And I think that it just deserves some very deep consideration," she said.
Go here for the full article and 10 minute video.
Two Tears on the Window
The Garratts, who now live in New Westminster, have just published Two Tears on the Window, a book about their experiences.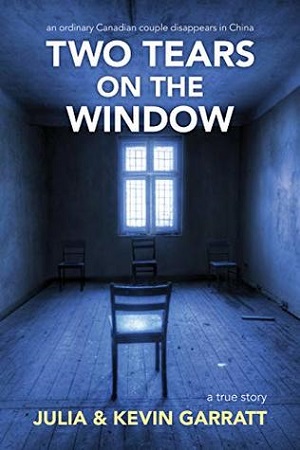 Following is the description of the book on Goodreads:
Two Tears on the Window is Julia and Kevin Garratt's true story of their 775-day abduction and imprisonment in China as pawns in a political play between China, Canada and the United States.
In August 2014 State Security agents grabbed them, accusing them of espionage. In shock, they were unaware of a Chinese spy arrest in Canada, giving the US "some leverage over China to bring a stop to more than a decade of rampant cybertheft" or that they'd become "bargaining chips in China's desperate countermove". (Garrett M. Graff: How the US Forced China to Quit Stealing – Using a China Spy, Wired Magazine. October 11, 2018)
This compelling story of a Canadian Christian couple who spent 30 years working and raising their family in China, involved in aid, education and social enterprise is a unique parallel journey.
From the early days teaching English in a decade of ration coupons and collective work units, Kevin and Julia watched with admiration as China catapulted into the modern age with unprecedented speed. Well-loved in China, the Garratts had always been thanked for their work in education, social welfare, social enterprises and community service.
In 2007, along with two of their children, they moved to the China / North Korea border, opened a popular coffee shop and provided aid and assistance for marginalized communities in Dandong, China and North Korea.
Their sudden disappearance plunged them into a journey where survival took every breath. Through their harrowing ordeal and intense suffering comes life-changing insight.
They find themselves part of new community of those who've tasted yet overcome the pain of injustice. Courage and kindness, friendship and faith, resonates through the ordeal with the heartbeat of a love journey.
Artfully written, Two Tears on the Window combines Kevin's gifted story-telling and humour with Julia's ability to let you see through their eyes and draw readers into deeply painful yet profoundly life-changing experiences.
Vanderklippe interviewed the Garratts about their new book and their experiences for the Globe and Mail November 28.
The book can be purchased at Five Stones Church in New Westminster or ordered on Amazon.
Go here for a December 15, 2016 Church for Vancouver post about the Garratts, shortly after they had arrived back in Canada.