I'm in love.
I was fretful and anxious, but now I'm in love.
The context for my emotional bi-polarity has been the Syrian refugee crisis.
In my anxious phase I posted a great number of guilt-inducing refugee photos on Facebook. I sent money overseas to worthy causes. I applauded the heroic efforts of volunteers and the inhabitants of Lesbos.
But most days I wrung my hands and felt ineffectual and therefore sad and worried.
But then the Halabi* family arrived. The Syrian refugee crisis took on flesh and blood and moved into the neighbourhood (to tweak a phrase from Eugene Peterson). 
To be accurate, the Syrian refugee crisis took on flesh and blood and moved into the guest quarters on our community farm.
This is what the big scary refugee crisis looks like up close:
Hospitable. As I write, I look out my window and into the kitchen window of the Halabis. There I see Asna, who has been cooking constantly for two days. She's cooking a feast of stuffed peppers, eggplants and zucchinis for each of the six families that call this farm home.
The guests have become the hosts and we are the beneficiaries. I can't walk within sight of her door without being invited in for a cup of Arabic coffee (personally imported by Asna herself from a Jordanian market near the refugee camp in which she lived for three years. She brews the stuff so strong I can feel blood vessels popping in my head as I drink!).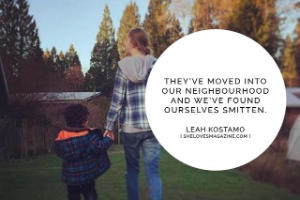 Go to the SheLoves site for the rest of the article.
This is how Leah Kostamo describes herself:
I'm an earthkeeper and storyteller. I'm passionate about helping others live lightly on the earth from a place of joy and hope.
Twelve years ago my husband Markku and I helped launch the work of A Rocha in Canada. Together we founded the country's first Christian environmental centre, which has welcomed thousands of visitors and hundreds of interns. Those who have come have restored salmon streams, grown organic veggies and opened the wonder of creation to children (among a myriad of other things!).
For the inspirational story about how the donation of a 4.1 million dollar heritage property to A Rocha Canada was completed late last year, go here.