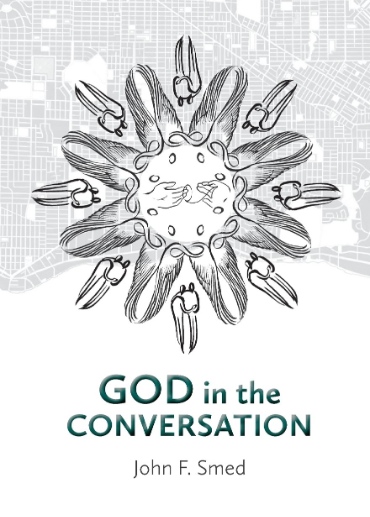 John Smed and Justine Hwang of Prayer Current will lead a day of "evangelism training for prayerful mission" this Saturday (March 19) at Reality Church. The goal of Building Dynamic Prayer Friendships is to:

Be equipped and begin praying to bring your friends to Jesus in prayer. This full day of training will be packed with inspiration, Scripture and plenty of prayer practice.
As you pray for your seeker friends with other like-minded believers, trusting God to open doors and hearts, you will be refreshed in Jesus and will see him multiply your prayer conversations with friends, family and neighbours.
Training will include a copy of Smed's new book, God in the Conversation. Following is an excerpt from the 'Conversations About God and Other Gods' chapter.
A Papa Prays for His Children
He is earnest. "How do you pray?  How should I pray for my children?"
This young man is Muslim. 
Our conversation starts earlier. I am reading a book. We are moving 500 miles an hour at 35,000 feet. Apparently, this heavenward experience frees some people to talk about God. 
He is gazing out the window. I notice he is young – so young I'm surprised when he tells me he is married and has two young children. 
He glances over and asks what I am reading. 
I tell him I am reading a book on prayer. "I want to dive in and go deeper in my prayer life."
He smiles, "I do as well."  
He is curious. So am I. 
"May I ask you a question? Can you tell me, what the difference is between prayer and meditation?"  
He ponders for a moment. "I'm not sure. I know what prayer is but am not sure about meditation. What do you mean by meditation?"
"It seems to me that meditation takes us inside. It's an attempt to connect with one's self. On the other hand, prayer is directed upward and is an attempt to connect with God."
"Yes. I see what you mean. That makes sense. "
I ask him, "Do you pray?"
"Oh yes, I pray to God every day as part of my religion. It is very important to me."
"Are you Muslim?"
"Yes, I am."  
"Do you observe Ramadan?"  
"I am not strict in this." 
Ramadan is the ninth month of the Muslim year, during which strict fasting is observed from sunrise to sunset. It derives from Arabic Ramadan, from ramada 'be hot.' Ramadan can occur in any season; originally it was in one of the hot months.
I ask, "When you pray, what do you ask God for?"
"I pray for my children. I love them deeply. I want to be able to teach them how to live well. I pray they will believe in God and enjoy the life he has given us."
Our conversation turns to parenting and family life. We discuss the challenges of raising children today. His two children are not yet in school. We agree it is a tough time to raise kids. The challenges are real for those who believe in God. How can we help our children understand our beliefs in the current craziness of the internet, social media, advertising and the avalanche of secular beliefs? It's not easy to guide them into a life of purpose and dignity.
"Yes," the young man says, "This is a very great concern to me. I want my children to have real hope – more than prosperity. I am very concerned about this. I pray about it all the time."
His openness is refreshing. 
I tell him, "My wife and I have raised five children. We have grandkids. I understand and very much agree with your concern. I admire your love for your children. I am encouraged to see a father so very prayerful."
At this point an announcement comes over the PA. "We are beginning our descent into Vancouver."
He ignores this and continues the conversation. 
His eyes are lit with intensity. "Please tell me how you pray. I want to learn how to pray better – especially for my children."
What a great question. What a privilege to be asked. 
I take a long minute to think before replying. 
"I am pretty sure I pray for the same things you do – for my children and grandchildren. I want them to grow up with faith in God and to live a life of purpose. I don't want them just to be successful so they can have more than others. I pray for them to have a loving heart towards God and towards others." 
I add, "There is only one significant difference between my prayer and yours."
"What is that? Please tell me."
"When I pray I always pray in the name of Jesus."  
He's not offended. Muslims have a great deal of respect for Jesus. His eyes are wide open. He wants me to continue.
"The Old Testament prophets teach that God is infinitely holy. I know you also believe this. I realize God is holy and I am not. I can never approach God on my own merit. I can't just run into his presence with my prayers.
The problem is deep. No matter how hard I try – no matter how much I pray or how much good I do, I cannot make myself worthy to approach God. One of the prophets speaks these words from God, "Who would dare of himself to approach me?" (Jeremiah 30:31)
"I believe Jesus makes it possible for me to pray. He died on the cross to bring me to God. He wins me forgiveness of sins. He invites me to pray. Now I freely come into the presence of God. I trust in Jesus and come in his name."
This young father takes it all in. I'm sure he understands. He is Muslim so I don't need to explain concepts of holiness and forgiveness. He has a far off look. He is going inside – taking time to think this over. 
Wheels touch down and we taxi to the gate.
He comes out of his thoughts, and turns to me with a smile, "Thank you. I am very glad we had this conversation. Thank you for sharing these things with me."
"I feel the same way. It has been a blessing to meet you."  
I add the Muslim sentiment, "God has meant it to be."
                                             ***********************************
The Appendix to God in the Conversation offers 10 suggestions for how to approach people, though Smed is careful to point out that each situation is different:
If God is in a conversation, it isn't a technique. Technique bypasses people. If it becomes a technique you can be sure God isn't in the conversation.
These are the headers, which are fleshed out in the book:
1. Love people.
2. Expect to make a friend.
3. Put the person first, not their argument.
4. Discern where God is speaking.
5. Tell your story; ask for theirs.
6. Expect revelations and enlightenment while you converse.
7. Be open about your beliefs and convictions.
8. Be informed. Get to know what others believe.
9. Learn to ask good questions.
10. Pray for appointments.