Burnaby author and photographer Marja Bergen has written a new book that she believes is unique in offering comfort and hope to people – and especially Christians – struggling with mood disorders and other mental health challenges.
"You can give them flowers, and that's great. You can give them a card. But what kinds of cards have been written for this specific purpose? There aren't any. You can give them a note card, but what do you write on it? You get stuck," says Marja.
"I don't think there's anything else like this book on the market right now."
Reflections for Our Highs and Lows contains 28 scripture-based devotionals culled from those that Bergen has been writing and emailing weekly to almost 300 people since the start of last year.
Marja, who illustrated the book with her own nature photographs, has herself battled bipolar disorder for close to 50 years. But she also believes people don't necessarily have to be diagnosed with depression – or even Christians – to benefit from it.
"People suffer losses. They have a hard time just because of the bad weather. It could be anything," she says. "And I'm hoping that this little book will be a good gift for a friend to give to them at a time like that, to show that they really care."
Don Dyck, the lead pastor of Brentwood Park Alliance Church, where Marja has been a member for over 10 years, says he hopes people will buy the book even just for themselves.
"We all go through highs and lows," he says. "We all need words of comfort and encouragement in the middle of our lows, and I think this book will also help us celebrate the joy that we experience in our highs."
Reflections is Marja's third book. Her first two were Riding the Roller Coaster (1999) and A Firm Place to Stand (2008). She calls those her "fighting books."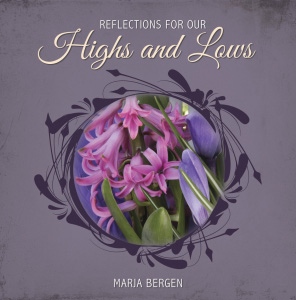 "I was fighting stigma," Marja says. "But with this book, I've stopped fighting, and I just look at what God has to offer. I'm 68. What a good time of life to be sharing my reflections on what life is all about, what God says to me. It's perfect."
In 2006, Marja founded the Living Room, a faith-based support group for people with mood disorders that began meeting at her church. As word of her ministry quickly spread, it became a model for other groups in churches across Canada and even in other parts of the world. She ended up writing curricula for these groups.
Don Dyck says Marja has helped his congregation "come to understand in ways that would not have been possible what it means to live with a mood disorder."
"The reality is that within a church, there's often stigma because there's a tendency to see mental health issues as spiritual issues," he says. "I don't think that was necessarily the case here, but at least she opened up our understanding to say, 'This is what it's like.'"
In August, Marja took the painful step of turning Global Living Room, as it's now called, over to Vancouver-based Sanctuary Mental Health Ministries.
"I felt I was letting God down," Marja says. "I'm not one to give up on things, but I didn't feel I was doing as good a job on it as I should. It needed somebody with a stronger organization to run it."
Sanctuary's mandate is to help churchgoers support mental-health recovery within their faith communities.
Marja says one advantage of no longer being responsible for Living Room is she has more time for writing. And if she does write another book, she says it will likely be a second volume of devotionals.
To learn more about Reflections for Our Highs and Lows, go here.
                                                      **********************************
Following is one of the devotionals: 'Come and Have Breakfast'
9 When they landed, they saw a fire of burning coals there with fish on it, and some bread. 10 Jesus said to them, "Bring some of the fish you have just caught." 11 So Simon Peter climbed back into the boat and dragged the net ashore. It was full of large fish, 153, but even with so many the net was not torn. 12 Jesus said to them, "Come and have breakfast." None of the disciples dared ask him, "Who are you?" They knew it was the Lord. (John 21:9-12)
Imagine how the disciples must have felt after such an unfruitful night. First, they're told by a man on shore to put their nets out on the right side of the boat and they catch all those fish. Then they realize the man is Jesus, welcoming them to "come and have breakfast."
Though a net full of cold slippery fish is impressive, I'm not a fisherman, so that part of the story has never done much for me. What really moves me is the invitation to have breakfast.   
After a long night on the water not catching anything, the disciples must have been exhausted and feeling like failures. On top of that, they were grieving an intense loss. Their Lord, whom they had followed for three years, the person on whom they had pinned all their hopes for a new kingdom, was no longer with them.
I think of how it might be for me, after suffering a long dark night of the soul, feeling lost and alone, distant from God. I think of how I might feel in the early morning light, arriving on shore and having Jesus greet me with "come and have breakfast." The relief, the comfort, the peace, like the embrace of a compassionate friend. Yes, this picture speaks to me. Can you see how the same Jesus who met the disciples on shore two thousand years ago is ready to meet you on your shore today?
Christ promises us that He will be with us – at breakfast, lunch, dinner and in between. And after a period of depression, disappointment or loss, it's so good to recognize once more that He is there and He will provide.