I watched the news of the shooting in Canada's Parliament building with unexpectedly mixed emotions – grief for the families who lost loved ones, woeful curiosity about how this would change my country and disappointment at how the media was portraying the story. 
Michael Zehaf-Bibeau, the shooter, had been a participant at one of the food programs I work with. From a few interactions with him, I remember Michael as an intense, but considerate man. It was evident that his Muslim faith was significant to him, but he still seemed to be respectful of the Christian foundation of the program where we met.
I helped Michael work out what he would eat during Ramadan, the ninth month of the Islamic lunar calendar, when Muslims fast from dawn to sunset, a practice meant to encourage reflection, self-control and devotion to God.
Like many of us, Michael was a little concerned about his weight, and was trying to make better food choices. Michael also had a mental illness, and, I suspect, had tried to self-medicate the difficult symptoms he experienced with illicit drugs. The drug use became an addiction that got out of control, and made him further vulnerable to extremist ideas. 
What he did on Parliament Hill was indefensible, but there must be another way of looking at this situation, than to say of Michael, as Rex Murphy did on CBC's Point of View: "Let us not name him."
The media is portraying the man who ended Michael's life as a hero. Kevin Vickers, the Sergeant-at-Arms, may have prevented more lives being lost through his actions. But let us also recognize some other significant people who touched Michael's troubled life. 
Maybe this tragedy can remind us that there are thousands of other valiant individuals in Canada – the staff and volunteers who work with people with mental illnesses, addictions and other poverty-related challenges, providing food, tangible support and friendship. 
Without the nourishing meals, quiet beds and safe spaces provided by organizations like the Salvation Army, Union Gospel Mission, Catholic Charities and others, we would we see more violence in our country.
Such acts of mercy were not what Murphy was thinking of when he talked about the "honour, sacrifice and solidarity, which are our military's credo, and our country's ideals" – but they are actions I think about when I sing ". . . We stand on guard for thee."
We will never fully understand the complex chain of life experiences, illness and religious commitments that led Michael to shoot a man at the Tomb of the Unknown Soldier. But we can assume that an erratic eating pattern, unsteady income and no fixed address would lead even someone in a healthy state to an unhealthy one in a short time.
I reflected on this while typing up the minutes from a recent meeting of the head chefs and other key food providers in Vancouver's Downtown East Side. Thinking back on our gathering – knowing that I get to work with dedicated, compassionate, thoughtful individuals who are collaborating to find better ways of serving people like Michael – I will return to work with confidence and hope.
While I do have a heightened sensitivity about my personal safety, and the safety of the settings in which we serve community meals, we will continue to advocate for food that provides far more than freedom from hunger.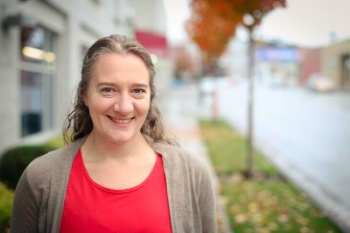 Karen Giesbrecht is a registered dietitian with CityGate Leadership Forum, one of the founding partners of Planted: A Community Food Network, which is helping to cultivate collaboration toward a sustainable and equitable local food system in Metro Vancouver. Within this broader food security network, CityGate nurtures a community of practice for faith-based programs offering a deeper hospitality that moves beyond traditional charity. Karen takes great delight in sharing good meals with her family, friends and those in her community who are hungry.