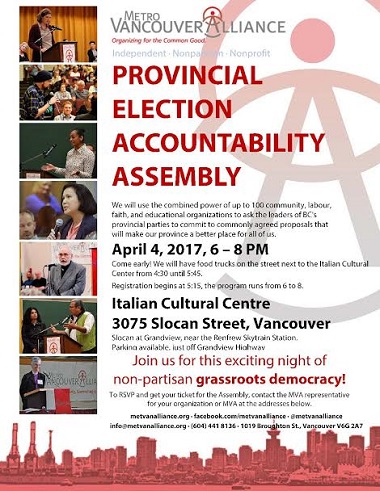 Next Tuesday (April 4), Metro Vancouver Alliance (MVA) will host a Provincial Election Accountability Assembly at the Italian Cultural Centre.
The MVA has invited the three provincial party leaders to address its delegates. Thus far, John Horgan, NDP, and Andrew Weaver, Green Party, have agreed; the MVA is still waiting to hear from Premier Christy Clark, leader of the BC Liberals.
Metro Vancouver Alliance is a broad-based alliance of 57 civil society institutions which work effectively, together, for the common good. Member and sponsoring organizations – faith, labour, community and educational groups (see below) – represent 200,000 people in Metropolitan Vancouver and more than 700,000 people across the province. 
Following is the MVA's program for the evening, setting out what they want our provincial political leaders to agree to:
At our Municipal Election Accountability Assembly October 19, 2014, we received commitments from local politicians on our civic agenda. [On April 4] we will be asking the provincial party leaders to support our efforts on Economic Justice, Affordable Housing, Accessible Transit and a Strong Foundation for Healthcare at the provincial level.
1. The province we want: A fair, equal and poverty-free place, with economic justice for all
BC has the second highest poverty rate in the country and is the only province without a plan to reduce poverty. A comprehensive poverty reduction plan will address social assistance rates, low wages, child care, education and health care.
Persons receiving provincial disability assistance currently have their Canada Pension Plan Disability benefits clawed back by the provincial government, despite having contributed to CPP in their working years. This traps people in poverty, unable to support their basic needs.
 We commit to:
Working with you to develop and build popular support for a poverty reduction plan and the elimination of the Canada Pension Plan Disability claw back.
We ask the candidates to:
Work with the Metro Vancouver Alliance and a broad range of advocates and organizations to develop and implement within one year of the election, a legislated, comprehensive poverty reduction plan for BC.
As a first step in addressing poverty, commit to the elimination of the claw back of Canada Pension Plan Disability benefits for people on provincial Persons With Disabilities assistance.
2. A better housed province
Failure to build new affordable housing units and repair existing housing stock over the past 30 years has led to a crisis in housing affordability. While attention has focused on the spectacular increases in real estate prices, there is also a serious crisis in the rental housing market. Rising land values have led to an epidemic of evictions as landlords have taken advantage of loopholes in the Residential Tenancy Act.
We commit to:
Working with our member institutions and partners to develop innovative solutions unique to each community to address the building crisis 
Making available to BC Housing staff the personal testimony, community case studies and all information needed to identify weaknesses in the current Residential Tenancy Act
We are asking candidates to
Spend $3 billion per year, including matching all of the housing funds transferred from the federal government, to build 10,000 new affordable housing units per year for the next five years to meet the current need and to preserve and re-invest in existing affordable housing stock
Strengthen the Residential Tenancy Act to tie rent to the unit, instead of to the tenant, so that landlords cannot increase rents between tenancies, plus eliminate the parts of the Act that currently allow fixed lease contracts, renovictions and unfair rent increases because of geography.
3. Accessible transit for all
The population of people over 70 years old will continue to increase rapidly in BC over the next decade. There is already a chronic shortage of HandyDART service resulting in social isolation, missed medical appointments and other negative effects. And in 2014 the Government of British Columbia committed to become "the most progressive jurisdiction in Canada for people with disabilities – where disabilities are no barrier to living full lives."
 We commit to:
Provide the Premier, ministers and provincial government staff with political support, testimony and case studies to bolster their funding decisions on HandyDART services
 We are asking candidates to:
Commit to providing funding through a special grant to increase HandyDART service hours by 5% per year for the next four years, 2018 – 2021, for all TransLink and BC Transit HandyDART services. The funding for TransLink would be in addition to the service increases in 2018 and 2019 already supported through municipal property taxes.
 4. A strong foundation for health care
Primary health care (PHC) is the foundation of Canada's health care system, providing access to both health and social services. But services like physiotherapy, counselling, home support and home care are becoming harder to access because patients are confronting a growing number of barriers, including financial and geographic. We support the commitment of the Ministry of Health to increase access to coordinated primary, community and social care services so that patients can obtain the right service from the right provider at the right time.
We commit to:
Work with our member organizations in support of provincial and health authority efforts to increase access to primary health and social care by people across the province. Reach out to the medical profession to encourage dialogue with our member organizations which represent many hard-to-reach and under-served patients.   
We are asking candidates to:
Commit to establishing a primary health care partnership table, including representatives from Indigenous and multicultural communities, to identify strategies to reform BC's primary health care system.
Work with the Metro Vancouver Alliance and the BC Association of Community Health Centres to develop an annualized global funding model for Community Health Centres in British Columbia that encompasses the package of salaried, team-based primary care, health promotion, disease prevention, community development initiatives and social services.
Invest in 20 new community-governed, not-for-profit or cooperative Community Health Centres throughout British Columbia to provide more British Columbians access to primary health care when and where needed.
If your organization isn't affiliated yet – for example a church/faith group, a union, a community group like a resident's association, advocacy group, or non-profit or an educational institution – get in touch and one of our organizers can let you know how your group can join MVA.
These are the 57 civil society institutions which have allied themselves with MVA:
Faith Groups
Canadian Baptists of Western Canada
Downtown Eastside (DTES) Catholic Parishes
Eco-Justice Unit of the Anglican Diocese of New Westminster
Fairview Baptist Church
First Lutheran Church
Gloria Dei Lutheran Church
KAIROS BC-Yukon
Longhouse Council of Native Ministry
North Shore Social Justice Working Group
Presbytery of Westminster Social Justice Action Committee (The Presbyterian Church in Canada)
Oblates of Mary Immaculate
Our Lady of Guadalupe Tonantzin Community
Our Lady of Perpetual Help Roman Catholic Parish
Servant Partners
Sisters Association of the Archdiocese of Vancouver
Sisters of the Instruction of the Child Jesus
St. Augustine's Roman Catholic Parish
St. Catherine's Anglican Church
St. Clement's Anglican Church
St. James' Anglican Church
St. James' Anglican Church Social Justice Group
St. Joseph the Worker Roman Catholic Parish
St. Laurence Anglican Church
St. Mary's Roman Catholic Parish
St. Thomas's Anglican Church
Labour Unions & Locals
Amalgamated Transit Union Local 1724 
BC Government and Service Employees' Union
BC Teachers Federation
Burnaby Civic Employees' Union, CUPE 23
Canadian Union of Postal Workers, Vancouver Local
Canadian Labour Congress, Pacific Region
CUPE Metro
Health Sciences Association Staff Union
Hospital Employees' Union
International Longshore and Warehouse Union, Local 400
Public Service Alliance of Canada, Vancouver Area Council
UNIFOR District Council
United Food and Commercial Workers (UFCW) Local 1518
The Vancouver and District Labour Council

Community Groups
ALIVE (Aboriginal Life in Vancouver Enhancement) Society
Association of Neighborhood Houses of BC (ANHBC)
Burnaby Taskforce on Homelessness
The Centre for Israel and Jewish Affairs
Carnegie Community Centre Association
FCA (Fraser Valley Regional District [FVRD] Citizens Association)
Jackson Avenue Co-op
Habonim-Dror
HandyDART Riders' Alliance
Populace Restaurant
Public Education Network Society (PENS) 
RayCam Community Centre
Reach Community Health Centre
Single Mothers' Alliance of BC
Smart Change
Strathcona Residents Association
Women Transforming Cities
Educational Groups
Bachelor of Science in Nursing Department, Vancouver Community College
Capilano University School of Communication
Capilano Students' Union

Sponsoring Organization
Catholic Archdiocese of Vancouver
Vancity Savings Credit Union
Anglican Diocese of New Westminster