Union Gospel Mission (UGM) is raising money for a Mobile Mission van for the Fraser Valley – where the most recent Homelessness Count reveals a 75 percent increase in men and women facing homelessness – to match the one they've had operating in Metro Vancouver for more than a decade.
Mike's story will surely provide enough motivation for donors to help UGM get the vehicle on the road by early April.
Mike credits an unexpected tap on his shoulder for changing the trajectory of his life. "I was circling the drain and had no idea how to get out of it," he sighs. Mike had been desperately homeless for five years, sleeping in an abandoned Richmond shed, and collecting bottles to survive – until he felt that tap on his shoulder. "It was a Mobile Mission outreach worker," he remembers.
"He asked if I wanted to get sober," says Mike, who felt powerless on his own to overcome a 30-year addiction to alcohol and drugs. "I had already been thinking there must be more to life. So, I asked, 'Where am I going?'"
When the Outreach Worker pointed to his white van nearby, UGM's Mobile Mission, Mike put down his beer, left his bike, and climbed inside. That initial step toward hope grew into a journey that transformed Mike's life.
"When UGM picked me up, they gave me my life back," he shares. "They taught me the tools I needed." Today, Mike is housed, and nine years sober.
Coming full circle, Mike is now a dedicated Mobile Mission volunteer – helping others out of homelessness and addiction in the same way he was saved.
What is Mobile Mission?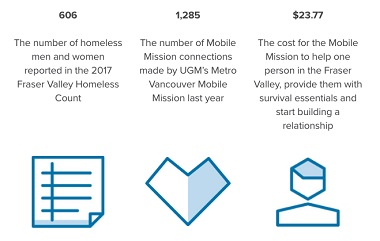 UGM's Mobile Mission is a specially-outfitted custom rescue vehicle, travelling to areas where people struggling with homelessness might reside, such as along streets, under bridges, local parks and concealed alleyways.
The rescue vehicle is stocked with essentials like pre-made meals and coffee, warm clothing, hygiene items, sleeping bags, winter survival gear and more – providing life-saving, emergency relief to neighbours in need.
With each visit, Mobile Mission outreach workers build dignifying connections with men and women, operating under the belief that strong relationships lead to true change.
Ultimately, our goal is to help Fraser Valley's homeless residents find long-term solutions, connecting individuals with local service providers who provide vital resources like shelter, meals, and recovery.
The most recent Fraser Valley Homelessness Count reveals a 75 percent increase in men and women facing homelessness, and an even faster growth rate than Metro Vancouver.
UGM's role
UGM has been providing support in the City of Mission since 1993, but more needs to be done. There are incredible service providers available in the area, but community members that are experiencing homelessness have difficulties regularly accessing them.
Through thoughtful discussions with the local government and non-profit organizations, UGM has determined that dedicating a Mobile Mission van to the Fraser Valley – similar to what we have in Metro Vancouver – is the most effective way to help.
UGM is here to help the Fraser Valley's community. This dedicated Mobile Mission van will be bridging gaps, working alongside local service providers to connect the most vulnerable population to life-saving support.