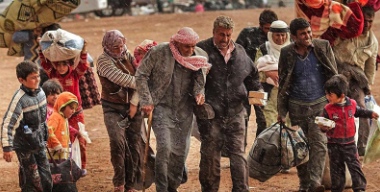 The look in their eyes captures many English words they don't even know yet – overwhelmed, exhausted, relieved, hopeful. You can see the scene playing out at the airport day after day as refugees finish negotiating the final hurdle of the intense screening process they have endured to reach this promised land. At least there is support and a welcome for these current newcomers. In past years this wasn't always so.
Amir, Fatima, Lara, Yana and Jamil* are a Syrian family now successfully establishing their roots in Metro Vancouver. Their story to get here is filled with pain, confusion and isolation. They didn't know the housing market, the transport system, the politics, the financial process or the social climate. Newly converted followers of Jesus, they came knowing no one and not knowing who to trust. They didn't know Canadian culture, the right expressions, the body language, how to read reactions or how to build friendships.
Amir
Amir often still needs a translator, but speaks of his first days with no English at all. His family escaped a collapsing Syria, arrived in Vancouver and claimed refugee status after one month.
His language limitation meant he couldn't get good work. The first times he went for employment a tradesman would hand him a piece of paper with an address. No one would explain to him where the address was or how to get there. Many prospective employers simply got mad and told him to go away. When he found employers who spoke his language he was cheated many times either by not being paid or by being paid cash at only four or five dollars an hour. He now works as a landscaper and is grateful for the work.
Fatima
Fatima speaks of the family being cramped into a bachelor's suite during their first year. By the time rent and bus tickets were paid there was little left for food. "We didn't know how to spend money here." Being a wife in a place where you couldn't care for your family was hard. She spent a lot of the early days crying. She also tried to do work for others but was taken advantage of.
The family had to borrow money from fellow countrymen they met – money they still haven't been able to pay back in full.
The government gave them a lot of paperwork but no translator to help them understand what to do. Lawyers, dentists and doctors refused time or treatment because Fatima could not communicate or understand them. She remembers a doctor telling her she needed "an injection" for her youngest daughter. "What is injection?" she asked over and over. Finally, the doctor had a nurse remove her without treatment.
Good people
The family made it through an intense refugee hearing and eventually gained permanent resident status. Although the system was difficult to negotiate they met many good people along the way.
Leaders at the Arab Friendship Centre and the Fleetwood International Persian Church were vital supports once those connections were made. Pastor Ali assisted them in sponsoring Jamil who had been struggling in Turkey apart from them for four years. He especially helped them when an Arab interpreter seems to have deliberately changed answers on their form, which would cause years of complications and delays in the reunification of their family.
Lara and Yana
Lara and Yana spent their days in school, where they understood nothing. Special classes set up for them didn't help. A transfer to a new school where they had a personal language aide finally allowed them to catch on to what the teacher was trying to communicate. A counsellor and an encouraging teacher provided encouragement.
Lara, 15, is still in school and finds herself constantly focusing on the messages and images of her friends still fighting for their homeland against ISIS.
"It is hard to concentrate about math when 24 hours a day I am thinking about wanting to be with my friends back home." Some new students have been traumatized at school because the school bells sound so similar to the sirens that warn residents in Syria to hide during the recent war. Exams are still terrifying because of the abuse she recalls from Syrian teachers at that time.
Jamil
Jamil was separated from his family for over four years in the process of trying to get to Canada. He survived intense bias and oppression while in Turkey and was so relieved when he received the call of approval to join his family in Canada. When he heard his parents had converted to Christianity he was angry but researched the history and theology of things for himself. He finally came to follow Jesus before arriving in Vancouver.
"During my first three months in school I was a deaf man – I couldn't understand a single word. Everyone around me was writing and I was sitting knowing nothing. I watched three movies a day and also television until I learned to speak properly." He still doesn't know how to build friendships here.
But, after surviving so much adversity, he remains positive about his new life Canada.
"The government is good; workers actually help you and don't expect extra money because of who you are; Canadians are polite; we are treated like equals here without discrimination by real Canadians; we are free to go to the church; we can work and study; there are churches and places like Diversity and Mosaic who know how to assist in our needs; we can travel where we want; the teachers care about us; we are learning our rights."
One of Jamil's strongest memories is arriving at the airport and having a policeman actually smile at him and say, "Welcome to Canada." He has never forgotten that first smile.
* Names and pictures have been changed due to continuing concerns for family members still living as refugees and Muslims in Lebanon, Syria and Iraq.
This article was first published in The Light Magazine and is re-posted by permission.