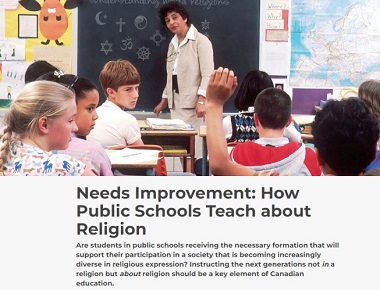 A Cardus report released January 26 – Needs Improvement: How Public Schools Teach About Religion – finds that most provinces fail to teach kids about religion in a balanced and informed way.
Following are the Executive Summary and Recommendations. Go here for the full 26-page report.
Executive Summary
This paper represents an initial exploration of the way in which religion and belief are addressed in primary- and secondary-school curricula in four Canadian provinces: British Columbia, Manitoba, Ontario and Nova Scotia. These provinces represent a diversity of size, geography, and religious and ethnic makeup, and are indicative of the growing pluralism of 21st century Canada.
In undertaking this study, we were particularly concerned to find out how Canadian students in public schools are informed about religion, religious beliefs and practices – key components of this deepening pluralism.
Are students in public schools receiving the necessary formation that will support their participation in a society that is becoming increasingly diverse in religious expression? Instructing the next generations not in a religion but about religion should be a key element of Canadian education.
The public schools in these four provinces take varied approaches to engaging religious topics. We find Ontario to be the stand-out example of a more expansive engagement with religion, both in terms of exploring the various religious traditions' history as well as how they are lived out in the lives of Canadians today.
The curricula of the other three provinces tend to present religion primarily from a distanced, historical or sociological perspective. In some instances, we find that these curricula present some religions or spiritualities in consistently favourable or unfavourable ways, despite the officially secular, non-sectarian nature of public education.
Other religions appear absent from the curricula, despite the particular province, and Canada as a whole, having significant communities that represent these faiths. We argue that these deficiencies do not serve Canadian pluralism well.
The paper concludes with recommendations for provincial ministries of education, teachers, faith leaders and faculties of education at Canadian universities. We urge the provincial ministries of education to undertake their own formal research in order to review and revise the curricula where necessary.
Recommendations
In our introduction we posed several questions to help frame our inquiry. We return now to three of them and offer some recommendations to ministries of education, teachers, faith leaders, and faculties of education.
How can we as Canadians help to ensure through public education that Canada's deepening religious diversity leads not to division but toward strengthening social cohesion? How can we ensure that our public schools support students in learning to respect and form relationships with those who hold different beliefs from them? How can we support curriculum development so that the role of religion in our society is taught in a balanced and informed manner?
Present religion as part of the rich mosaic of Canadian life, in a spirit of hospitality toward one another's religious faith and practices. Guide students in how to engage in respectful conversations about religion and religious differences. Ontario's grades 9 – 10 Canadian and World Studies curriculum, for example, encourages students to consider the role of faith groups in their community and how they contribute to its diversity:
Analyze ways in which various beliefs, values and perspectives are represented in their communities (e.g., with reference to different racial, ethnic and/or religious groups; people with various political beliefs and/or social values; people from different age groups; men and women; First Nations, Inuit or Métis people. . . . What religious structures are in your community? What do they tell you about respect for diversity in the community?
Emphasize the personhood of each student from a holistic point of view. Embrace each student as having his or her own unique perspective and family history across generational time as well as in the present.
Consider the experiences that some students and their families may have had before immigrating to Canada, and how these may affect their religious beliefs today.
Present the correlations between particular faith traditions and ethnicities as appropriate, but emphasize also the Canadian commitment to religious freedom as stated in the Charter, that each Canadian has the right to choose the faith that they wish to adhere to (and the right to choose not to adhere).
Consider religion not only from historical and sociological angles but also from contemporary and more personal (philosophical, humanistic, etc.) angles.
Be alert to biases that may creep into the curriculum, explicitly or implicitly, that work against the goals of public education.
Review and revise where necessary the teacher-training programs in universities and in ongoing professional development in order to equip teachers in the subject of religion and strengthen the commitments that we have listed in the above bullet points.
During K – 12 curricular design, consider consultation with faith leaders for their reflections and suggestions on the curriculum as drafted. Faith leaders may be able to provide helpful insights. Standing councils of faith leaders could be created, with membership proportional and nominated by faith communities themselves. These councils would propose objectives and evaluate annually whether objectives are being met. Ministries of education would report on how objectives are being met in the classroom as the curriculum is implemented. Final decisions would continue to rest with the ministry of education.
Seek to build relationships at the school or district level with local faith communities. Invite faith leaders into the school to enrich the courses that consider religious beliefs and practice. The Ontario curriculum provides a model; teachers in this province are encouraged to reach out to faith groups in the local community to invite them into the schools to discuss their beliefs and practices. Ontario is to be commended overall for its curricular emphasis on engaging with faith communities, so that the faiths can be encountered 'in person' and not only in terms of the churches, gurdwaras, mosques, temples and synagogues that students may observe on their way to and from school.
Religion is ultimately not something that is merely studied but something that is lived. As our country continues to diversify we must not lose our ability to communicate in a thoughtful and informed way with our neighbours about the things that matter to us most deeply, such as why we believe what we believe and how it leads us to act.
Without the ability to speak about religion in the public square, due to a loss of a common vocabulary, we will grow increasingly distant from one another and misunderstand one another.
Inherent to us as human beings is the quest for truth, for meaning, and for answers to the fundamental questions: Who am I? Who am I in relationship to you? Who am I in relationship to truth, to God, to what I believe and confess?
If public education is truly about forming each generation so that they may play an active role in society and contribute in meaningful ways, it must reflect the fact that religion affects and shapes the lives of many Canadians.
As we exit from the COVID-19 pandemic, young people are going to have questions about truth and meaning, and will need to develop skills that help them to build community. Actively engaging and recognizing religion's role in this and drawing from faith communities' deep wells of wisdom about the human condition will be indispensable.
These excerpts make up just a small portion of Needs Improvement: How Public Schools Teach About Religion, which is freely available online.
The Rev. Dr. Andrew P.W. Bennett is Program Director for Religious Freedom and the Director of Faith Community Engagement at Cardus. He served as Canada's first Ambassador for Religious Freedom and led the Office of Religious Freedom from 2013 to 2016. He is an ordained deacon in the Ukrainian Greek-Catholic Church in the Eparchy (Diocese) of Toronto and Eastern Canada.
Cardus is "a non-partisan, faith-based think tank, and registered charity dedicated to promoting a flourishing society through independent research, robust public dialogue and thought-provoking commentary."