As we approach World Refugee Day (June 20), a Trinity Western University sociologist is part of a nationwide team wrapping up two years of research intended to report on and raise awareness for refugee assistance opportunities available to Canadian churches and congregants.
Michael Wilkinson, a sociology professor at Trinity Western University and director of the TWU-based Religion in Canada Institute, spoke with me about the recently-completed project, entitled The Role of Churches in Immigrant Settlement and Integration.
He said the project involved a national research partnership "intended to better equip church groups across Canada to help immigrants and refugees settle and integrate into Canadian society."
One benefit to local churches is the project's 'Guide to Action': Finding Our Way: Immigrants, Refugees and Canadian Churches. Following is the introduction:
By picking up this Guide to Action, you are joining an energizing and momentous Canada-wide project as it moves from research to mobilization. The project name – The Role of Churches in Immigrant Settlement and Integration – points toward the roles that churches currently have, as well as the roles that churches will take on in the future. You can be part of this project!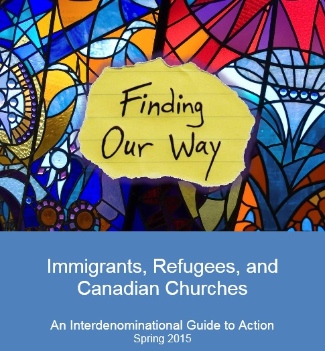 In the first year of the project, we conducted one-on-one interviews, held focus groups, distributed surveys and compiled case studies about how Canadian churches currently are working with recent immigrants and refugees.
We spoke with local and national church leaders and church members, both immigrant and Canadian-born. We heard what they were saying about what lies at the heart of church ministry with newcomers to Canada. Their ideas informed the writing of this Guide, and their direct voices are captured in the quotations throughout.
Overall, the first year revealed contrasting themes, including celebration (e.g. we are well-involved . . . we are more aware of the needs of others), lament (e.g. we are not doing enough . . . we do not seem willing to change based on our relationships with immigrants and refugees) and readiness (e.g. we are ready to retrain our leaders . . . we want to learn from other churches).
The Guide considers several 'Wayfaring Actions.' Some are as simple as visiting another church or community agency; others – such as sponsoring a refugee family – require more commitment.
The whole project was funded by a $200,000 grant from the Social Sciences and Humanities Research Council of Canada (SSHRC), and was led by the Centre for Community Based Research (CCBR), an interdenominational group with "founding partners representing academics, denominational leaders and interdenominational networks."
Wilkinson, who headed up the project's Vancouver site, identified the researchers and their partnership affiliations. They include:
Project Director
Rich Janzen of the Centre for Community Based Research (CCBR) in Kitchener, Ontario.     
Project Coordinator
Project Partners
Joanna Ochocka (CCBR)     
James Watson (The Salvation Army, Toronto)   
Mark Chapman (Tyndale University College & Seminary, Toronto)     
Sam Reimer (Crandall University, Moncton)       
Michael Wilkinson (Trinity Western University, Vancouver)    
Glenn Smith (Direction Chrétienne, Montréal) 
Rick Hiemstra (The Evangelical Fellowship of Canada, Ottawa)
Lorne Hunter (Outreach Canada, Vancouver)  
Peter Noteboom (The Canadian Council of Churches, Toronto)   
Stephen Kabetu (Christian Reformed Church, Burlington)
The team was drawn from many disciplines. Wilkinson and Sam Reimer of Crandall University in New Brunswick were the only sociologists. (Crandall, a Baptist institution, is emerging as an east coast equivalent of sorts to Trinity Western, often regarded as Canada's premier evangelical-based university.)
As leader of the Vancouver site, Wilkinson worked with a team that included Jennifer Adkins and Alida Oegama, also of Trinity Western. (The project sites were based in Vancouver, Toronto, Montreal, Halifax, Moncton and Shediac.)
He said the site task was to report on what churches are doing in the areas of refugee settlement and immigration. "Through face-to-face interviews and focus groups, we brought together people who were, for example, working with refugees or doing English as Second Language programs. . . . who is doing what and what is going on, not just in evangelical churches but in Catholic and mainstream Protestant settings as well."
Another part of the study, done on a national level, surveyed what denominations are doing with respect to refugee work. Wilkinson said it was important to listen both to denominational leaders and people involved in those same denominations' ethnic or immigrant-based congregations.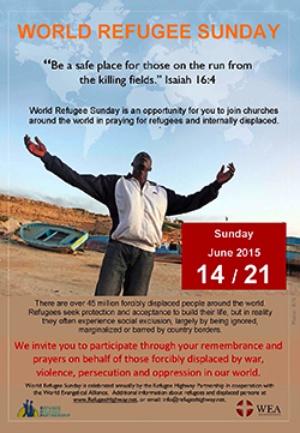 Some findings highlighted that evangelicals brought a good deal of energy to the issue, although mainline Protestants had been involved with immigration and refugees for a longer period. But mainline Christians, Wilkinson noted, are often part of "aging religious communities with declining volunteer bases." Evangelicals are fortunate in that some of their base involves immigrants who understand the issues and bring energy to the solutions.
"Evangelicals [are often] younger people with energy and resources but without the same experience. There is a steep learning curve," he added, indicating that evangelicals are wise to keep in contact with mainline Christians on these issues.
World Refugee Sunday is celebrated on both June 14 and 21 – that is, on either side of World Refugee Day (June 20). The Refugee Highway Partnership has provided resources to help observe the day.