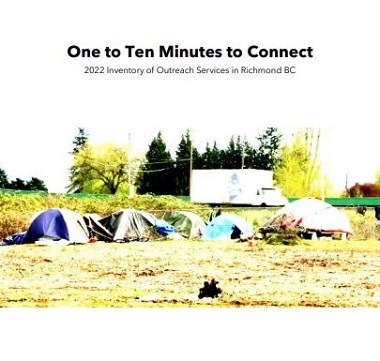 While most of us are settling at home at the end of our work days, a few faithful individuals who have taken on the role of outreach workers – either paid or in a volunteer capacity – are just starting their shifts.
We may be familiar with the term 'outreach,' but few of us know all that it encompasses. To better understand the scope of this vital work, a team from Union Gospel Mission (UGM) inventoried the outreach services that faith communities and other organizations are providing to support people who are homeless or otherwise vulnerable in Richmond.
One to Ten Minutes to Connect
The report, titled 'One to Ten Minutes to Connect: 2022 Inventory of Outreach Services in Richmond, BC,' provides insights into the nature of outreach work and recommends immediate and longer-term changes to the system of supportive services that would lead to better care for people on their journey from the street to stable home situations.
Although focused on one Metro-Vancouver city, the insights in this report are relevant to all communities with a homeless population.
The term outreach can mean different things depending on the needs of individuals requiring support and the capacity of those providing support.
All who do this work agree that trust-building must be the priority, followed by providing basic provisions, assessment of needs, and initial connections to further services.
See the report for a fuller definition of outreach work and necessary characteristics of individuals who do this work. One interviewee talked about how all of this must be done in one to ten minutes, as that is how long he usually has to connect with people each time he goes out.
And while the terms are often used interchangeably, outreach has a different focus than case management, which is helping to establish tangible goals with an individual, and then work step-by-step with them to achieve those goals.
It is also different from advocacy, or addressing barriers and unjust policies and practices, raising awareness about income assistance rates, unfair by-laws and (at times) unfair media portrayal of marginalized people.
The interviews done for this scan made it clear that those who do much of this work – caring individuals from non-profits and faith communities – cannot sustain this work on their own in the long term. Too much responsibility is falling on individuals who have taken on the work as a volunteer or in retirement.
There is an urgent need for sustainable funding, collaborative strategic planning, coordinated implementation and trained mental health workers to respond to needs beyond what a volunteer or outreach worker can manage.
The report provides further details as to the barriers that vulnerable individuals face in accessing needed services, and how we address these barriers – both for immediate and longer term action, which would lead us to a time when no one needs this kind of care. When we support people who are struggling to get back into stable situations, we lessen both human distress and the cost to our healthcare system.
The main authors of the 20-page report are Karen Giesbrecht, Jonathan Bird and Saana Walker. The project was led by UGM, with a goal of assessing the current state of outreach services, gaps and potential actions in Richmond.
They thanked these individuals and organizations for their input, commitment and guidance: City of Richmond, Church on Five, Dena Kae Beno, Deirdre Whalen, the Food Aid Delivery Coalition, Gilmore Park United Church, Hugh Freiburg, Kehila Society of Richmond, St Alban's Anglican Church, St Joseph the Worker Catholic Church, Turning Point, Union Gospel Mission and Urban Bounty.
Karen Giesbrecht is Food Security Coordinator and Dietitian with Union Gospel Mission. She is part of the Church Relations team, which has produced similar reports on Westside Vancouver, Mount Pleasant, Downtown and Mission.
This is how UGM Church Relations describes its work:
Our vision is that the church communities of Greater Vancouver and the Fraser Valley would be woven together, pursuing the common good, and actively participating in Christ's call to human flourishing for all. We trust that these resources will both inspire and equip your church to better love your neighbours and meet the needs of your local community.