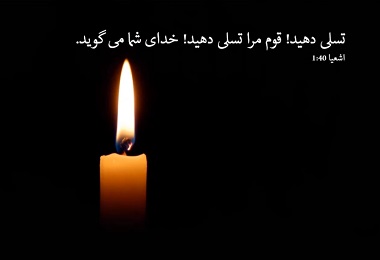 There are now a significant number of Persian Christians in Metro Vancouver, and they have joined in the mourning following the recent downing of a flight over Tehran.
One Iranian Muslim-background believer said, "It has been on my heart to communicate with the larger Body of Christ about the current situation in Iran." Here are some of his thoughts:
As you know, Iran has been on the news a lot this past month. Things in Iran have been very difficult even before the present crisis. There have been economic sanctions and the government of Iran suddenly decided to increase the price of gas by 300 percent.
This resulted in a lot of worry for the people and anger towards the government. The people began rioting and the government responded by shooting randomly into the crowds. Over 1,000 people were killed – young and old.  The economic situation and crisis is ongoing and people have found it hard to put food on the table as the prices of everything has gone up.
The next event was the killing of General Soleimani, the top Iranian General, in Iraq. A massive funeral was held for him in Iran and another 60 people died due to a stampede during the funeral. Iran retaliated by shooting missiles at the American bases in Iraq. A few hours later a civilian Ukrainian plane was shot down over Tehran with 176 passengers who were killed instantly. The majority of the passengers were Iranians, with 63 of them being Iranian Canadians. This has not only affected many families in Iran, but also the whole Iranian community in Canada, who are in deep mourning and despair.
This is a very tight-knit community where everyone knows each other and so everyone is carrying each other's grief. No one knows what to do with their grief. We are trying to comfort families back in Iran and also families here who have lost loved ones. Each person feels like they have lost their own son or daughter. People are feeling devastated and a lot of fear and anxiety about this whole situation. It seems pretty hopeless for them.
Please pray with us:
1. For the families of those who have lost loved ones. That we could comfort them with the comfort and hope that comes from God.
2. For the Iranian communities across Canada who are mourning and feeling a lot of fear and anxiety and hopelessness.
3. That God would protect the people in Iran and open the doors of Iran through this situation. 
4. For the underground church believers in Iran to be emboldened to share the gospel – they have commented how people have been very open during this time to hear the truth.
5. That during this time God will bring good out of this situation and open people's hearts and minds to the gospel.
Thank you so much for your prayers, please don't stop. God is at work in the Iranian people and many are coming to Him. Many have said that the Iranian Church is one of the fastest growing churches in the world despite not having buildings or trained leaders – so your prayers matter.
Thank you.
Following are brief glimpses into the growth of the Persian Christian community in Metro Vancouver and some highlights for prayer regarding Iran.
Persian church growth
There are seven Persian churches in the Lower Mainland, as well as others with good numbers of Persians in attendance. Here are three recent examples of how many Persians are joining local churches:
* Cailey Mogan wrote on the Canadian Baptists of Western Canada Church Planting blog January 20: "I [was at a] gathering on January 4 to celebrate the launch of Emmanuel Iranian Church's Coquitlam campus, a multiplication out of their mother church in North Vancouver. The North Van campus, a young church plant itself, baptized over 300 people in 2019.'
* Pastor Giulio Gabeli wrote on the Westwood Community Church Facebook page January 5: "What a wonderful joy we experienced today in Westwood as we witnessed 20 former Iranian Muslims confess that Jesus is their Lord and Saviour through water baptism. Despite the opposition and possible rejection from their families, without fear they are declaring that they will follow Jesus . . . please remember them in prayer.
* In a 'Pastoral Statement Regarding Flight 752,' Melissa Skeleton, Anglican Bishop of the Diocese of New Westminster, said: "At St. Christopher, West Vancouver on the morning of January 12 . . . I was privileged to be a part of the baptism of four Iranian-born people and the confirmation of those same men and women along with a larger number of Iranian-born Christians who are thrilled to have found the Anglican Church of Canada and St. Christopher's. 
Prayercast: Iran
Prayercast offers brief overviews of most nations while "activating world-changing prayer for the lost." Here is their portrait of Iran:
Prayer points
Pray for a great harvest resulting from faithful believers sharing bold accounts of their faith.
Pray for the church to rapidly multiply and mature despite horrendous persecution against non-Muslim peoples.
Pray for Christians to capitalize on unprecedented opportunities to spread the Gospel via Internet, TV, and media.
Summary
Known as Persia until 1935, today's Islamic Republic of Iran is predominately Muslim (98 percent), mostly Shi'ite. With its proximity to Arabic speaking countries, it is often perceived to be Arabic, but Iran is Persian. The Elamites, descendants of Noah's son Shem, first settled in the area and were followed by the Medes and Persians who established an ancient civilization and world empire. The Bible records the names of some of its most famous: Cyrus the Great, Darius and Xerxes.
Over the centuries, the Persian language (Farsi) and culture have prevailed even with many conquerors crossing through this land. Persians comprise over 60 percent of the 79 million people in Iran and it's as 'Persians' that many identify themselves. 
With coastlines on the Caspian Sea in the north and the Persian Gulf and Gulf of Oman in the south, Iran's large land mass is politically strategic as it shares borders with Iraq, Turkey, Armenia, Azerbaijan, Turkmenistan, Afghanistan and Pakistan.  Geographically in the Middle East and Central Asia, Iran is a recognized regional power.
The 1979 Islamic Revolution overthrew the 2,500 year old monarchy and converted Iran into a Shi'ite Muslim, cleric-ruled country.  A year later, Iraq attacked Iran and an eight year war followed, helping solidify the rule of the Muslim clerics (Ayatollahs) and worsening the already hurting economy.
Currently, Iran's over-dependence on the country's rich oil and natural gas exports, a significant increase in the birth rate in the 1980s and economic reforms that fell short of their targets have resulted in high unemployment and underemployment, double-digit inflation, and almost 20 percent of the people living in poverty.
Furthermore Iran's questionable nuclear program along with its geographic location and attitude toward Israel has stirred up considerable worldwide political concerns for the stability of the region and has resulted in economic sanctions and continued close scrutiny of all Iranian political activities.
In Iran all ethnic Persians and those from Muslim backgrounds (even if not practicing) are considered Muslims. Anyone who converts to Christianity is declared an apostate and could face death. The Iranian constitution recognizes the historic minority religions of Zoroastrianism, Judaism, and Christianity, but it does not allow churches to preach or distribute materials in Farsi and proselytizing is forbidden. 
Yet, the number of Muslim background believers coming to Christ in Iran continues to grow greatly regardless of certain persecution. Believers and non-believers are having Holy Spirit-inspired dreams and visions and are seeing wonders. Many are curious about the Bible, but Bibles and Christian printed materials in Farsi are illegal. Smuggled Farsi Bibles and materials are quickly put to use. The Internet and broadcasts by radio and satellite TV are providing encouragement, resources and training for believers as more come to Christ and more underground house churches are established.