We are in the midst of an exciting time for the church in Vancouver. The recent Walk for Reconciliation helped me think through why that is.
Thousands of church people joined a giant crowd of Vancouverites September 22 for the Walk for Reconciliation – surely a cause close to God's heart. As I walked the four kilometres in the pouring rain – and even more as I think back on the event – I am grateful for a number of things I realized along the way.
I thank God that a group of Indigenous people had the grace to invite the rest of us to seek reconciliation with them.
I thank God that Mayor Gregor Robertson has proclaimed a Year of Reconciliation in Vancouver.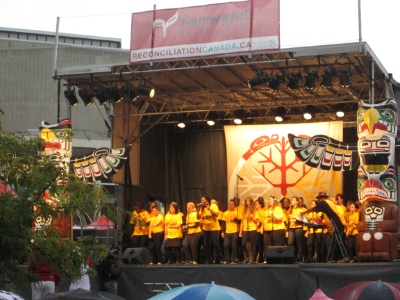 I thank God for the many ways in which Christians participated in the walk. Before setting off we heard a challenging message from Bernice King, daughter of Martin Luther King, heir to his civil rights mantle – and a Baptist minister. We set out on the walk to the joyous sounds of 'O Happy Day,' sung by the VOC Soul Gospel Choir. 
A group of 'Ecumenical Advocates' had worked together for years to prepare for the Week of Reconciliation, capped by walk. United and Anglican churches cancelled services so their people could take part. Catholic churches, First Baptist, Coastal and so many others adjusted service times or otherwise encouraged members to take part. 
All of them took part with a humble, teachable spirit.
Church members turned out in large numbers because we have been learning some important lessons over the past few years.
Perils of church and state
On the one hand, the residential schools tragedy proves once again that taking advantage of state power will always throw the church off course. Truth and Reconciliation gatherings across Canada have forced us to recognize the church's complicity in our government's desire to "get rid of the Indian problem" (Duncan Campbell Scott, 1920).
The church has been complicit, and largely silent, during the 150 year history of residential schools and the even longer – and ongoing – Indigenous experience of other colonial abuses.
Avoid tendency to separate
On the other hand, I thought back to the Marches for Jesus back in the 1990s – taking pretty much exactly the same route as this walk. I participated in them gladly; they were well-intentioned demonstrations of Christian unity and of a willingness to be clear about our faith in the midst of the city.
Looking back, though, we walked alone. Few of our fellow citizens even noticed, and of those who did, some felt we were being intrusive and triumphalistic. 
We are slowly learning to engage with the culture. We are overcoming our tendency – inherited from fundamentalism – to separate ourselves from those around us.
Christians do not have all the answers. God's kingdom plans are greater than our understanding. So, the question is, how can we move beyond our church walls to share God's goodness with our neighbours?
Walking with the people of the city felt like a healthy middle way between attempts to control or to retreat from culture. 
We see through a glass darkly, and our tendency to wander off the track persists – but I believe God will honour the church's willingness to repent, to reconcile and to engage. 
If we are willing to proclaim God's glory in the streets as much as in our church buildings, and then move beyond that to work together for the good of Vancouver, we will see exciting days ahead of us.
I will follow up on this comment in the near future. This piece focuses primarily on the church, using the Week for Reconciliation as a jumping-off point.
But the purpose of the Week was to help the Truth and Reconciliation Commission (TRC) to reach more people with important messages about the Indian Residential School system – and in particular to make sure that the issue of reconciliation would remain on the agenda after the TRC had come and gone.
So, I will find out what Reconciliation Canada plans for the future, and take note of statements and plans by church groups along those lines. The Ecumenical Advocates – with representatives from the four denominations which ran residential schools (Catholic, Anglican, United, Presbyterian), as well as from several evangelical groups including Mennonites, Alliance, Pentecostals and Baptists – played a significant role in the establishment of Reconciliation Canada and will be meeting again soon to determine future actions.