On Tuesday morning, Nisga'a tribe member and residential school survivor Alex Watts will embark on his most noteworthy canoe journey to date. He will lead the 'Nisga'a Friend' in the Truth and Reconciliation Commission's All Nations Canoe Gathering.
Not only will Alex be joined by tribe members who have impacted his life, his canoe will have one paddler that stands out – Union Gospel Mission outreach worker, Rev. Fari Ghaem-Maghami. The profound gratitude for the impact Fari made on Alex's life led to the invitation to join a cultural tradition during the landmark Canadian event, tangibly demonstrating reconciliation, one friendship at a time.
Alex's newfound forgiveness, friendships and his last five years of sobriety are nothing short of a miracle, considering his first 46 years.
Alex's parents died before he knew them. At age eight, he was taken from his family and put in a residential school. It was there Alex faced horrors that no child should face.
"I didn't know all that stuff was not normal until I got older and people started to talk about child abuse and I thought 'What's that?'" he explains. "I daydreamed and tried to suppress the memories. When I was 20 I learned I could drink and suppress them more effectively."
Eventually Alex was moved into a foster home; the sexual abuse ended, but the verbal abuse never did.
"I grew up believing I was worth nothing, that I was a waste of space. When foster parents would hit me, I believed I deserved it," he says. "Until five years ago, I believed that all I could amount to would be a drunk. I hated my own colour. I hated my skin. I hated who I was. When us kids used to play cowboys and Indians, I never wanted to be the Indian."
Alex's life continued to include bullying, foster parental rejection, work without pay and an unjust arrest and sentencing – leading him to self-medicate with illicit substances.
"I was so full of hate," says Alex. "I hated white people, I really did. I hated cops, I hated anybody that was white and stood for authority, especially men."
When Alex's seven-year common law relationship ended, he spiraled down further, ending up homeless. He found bouts of sobriety in various recovery programs, but it never lasted more than three months. 
In 2006, hungry and full of hate, Alex arrived at the doors of Union Gospel Mission in the city of Mission, first looking for a meal. Slowly, he began to soften.
"I got to know the staff – Karen, Yvonne and Greg. They made me feel better about myself," he says. "One day when I was really nasty, I picked a fight with Greg. Later when I apologized he didn't hold a grudge and was understanding. I'd never experienced that. Greg was the first person I started to trust."
Five years ago, Alex told Greg he was "tired of the lifestyle." Greg pulled out an application for UGM's drug and alcohol recovery program in Vancouver that he had filled out in hopes of this day – it had been waiting in Greg's desk for two years.
 "When I came to the program I knew I was going to make it. I had to wait two weeks for a space to open up, but I was ready."
It was at UGM's program that Alex found a true friend in Rev. Fari. "He was the first person to say he loved me," he explains. "I don't know if he realizes how powerful that was, but it filled me with joy and opened up my heart to heal."
The profoundness of this experience has not been lost on Fari.
"I'm deeply humbled and honoured that Alex wants me to participate in this cultural piece of history," says Fari. "I'm privileged to not only join Alex as his friend, but to carry with me UGM's strong support of this reconciliation journey and to represent a part of the church, as we compassionately recognize and move past the evil that's been done in the name of God. I truly hope that this week's events are just the start of the deep healing and restoration that needs to take place."
Since finding recovery as well as inner peace, Alex has reconnected with his Nisgha'a roots and become a traditional dancer. He volunteers in the community and sponsors several men in UGM's recovery program. He's also been involved in planning Nisga'a community events and has been building a strong, healthy relationship with his son.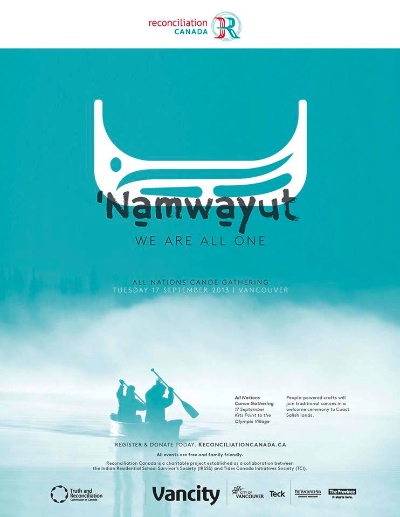 TRC All Nations Canoe Gathering details:
 WHEN:           Tuesday, September 17, 2013
WHERE:        False Creek on the South Side of Science World
SCHEDULE:
·         9:00 – 9:30 Opening entertainment
·         9:30 – 10:00 Welcome, Meaning of the Canoes,  Paddle Song
·         10:00 – 12:00 Welcome Ceremony