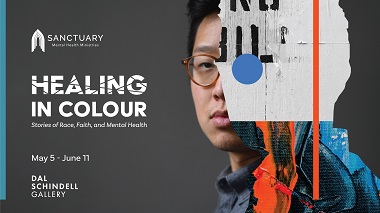 Someone at Sanctuary Mental Health Ministries has a lot of energy – and a creative spirit.
All through the pandemic, Sanctuary has offered a range of free services to the community (including the eight-session Sanctuary Course), while also expanding its work in Britain and beyond.
But they have outdone themselves this month, both in what they are offering and in their participation with other groups.
Healing in Colour
Probably their most ambitious project is Healing in Colour: Stories of Race, Faith and Mental Health. Sanctuary has drawn together 16 artists of diverse backgrounds, both local and international.
Here is how they describe the show:
Healing in Colour explores the intersection of race, faith and mental health. Featuring Black, Indigenous and peoples of colour artists from around the world, the show highlights their experiences, wounds and journeys of healing. The collection includes a variety of mediums, from linocut to dance to acrylic.
Artists reflect on the role their faith plays in how they understand mental health challenges and aspects of the recovery journey, exploring themes of mental illness, stigma, recovery, companionship and self-care.
Through their stories and reflections, artists raise awareness and open the door for conversations about the particular experience of living with mental health challenges for BIPOC individuals, and how their faith and culture have impacted their healing journeys.
Among the local artists are Brian Liu, Jennifer Baker and Randall Barnetson. Milissa Ewing, a descendant of Chief Joe Harris of the Namgis Band of the Kwakwaka'wakw Nation, used to be with Tenth Church, and is now a pastor in Thunder Bay, Ontario.
The best known of the artists, probably, is Makoto Fujimura, who has taught at Regent College. Others contributors live all over the world, including Brazil, Australia, New York and Pakistan.
Sanctuary has answered 13 FAQs on its site, including 'Why is it called Healing in Colour?':
The title Healing in Colour captures various elements of the project: race, the recovery journey, hope, beauty and faith.
The common theme across the pieces is the intersection of race, faith and mental health. In their reflections on healing and recovery, the artists created pieces that highlight the importance of recognizing wounds, naming illnesses, expressing grief, sharing experiences, seeking and receiving companionship, resisting stigma and much more. Healing in Colour explores a wide variety of stories on these themes from Christian artists worldwide.
The exhibition will be hosted in-person and online by the Dal Schindell Gallery May 5 – June 11, following Covid restrictions; viewings and curator conversations are available by appointment.
Healing in Colour is part of an ongoing social media campaign, running from April to July 2021, with specific focus on Mental Health Week in May, National Indigenous History Month in June and BIPOC Mental Health Month in July.
More partnerships, resources
Sanctuary is working with other groups to improve mental health:
Sanctuary is also gearing up for Move for Mental Health, a June 12 – 18 fundraiser: "Throughout that week, our goal is to record 100,000 joyful minutes of movement to raise $100,000 to reach 100,000 people with resources for mental health and wellbeing."
I hope they have plans to take it a bit easier over the summer.