More teenagers in Canada now identify as Muslims than Anglicans, Uniteds and Baptists combined.
That was just one of the findings put forward at Shifting Stats: Shaking the Church, a series of day-long forums for Christian leaders that attracted an aggregate attendance of 814 in 10 cities across Canada during the past few weeks.
Initiated by World Vision Canada (WVC), Shifting Stats drew 75 and 57 Christian leaders, respectively, to their two British Columbia sessions this past week, in Langley and Victoria.
The sessions' resource people were WVC national church ambassador Don Moore and Bruxy Cavey, teaching pastor of the 5,000-strong multi-site church, The Meeting House. Moore told Church for Vancouver that WVC "has been doing such forums each year for a decade, providing research and information designed to assist Christian leaders in their ministries and work."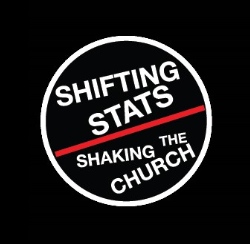 At the forum, Cavey offered insights into how Christian leaders can refocus the purpose of the church in this changing context. And he offered perspectives useful to small groups and congregations as well as larger and multi-site churches.
The broadly-researched statistics which formed the basis for Moore's presentation, will be available online later this year; Church for Vancouver will have information on how to access the data and its analysis within a few weeks.
Among the statistics were:
Immigrants appear to be more religiously observant than native-born Canadians. Some 43 percent of immigrants reported in 2011 that they attended religious services at least once a month while by contrast, 22 percent of native-born Canadians said in 2011 that they attended religious services at least once a month, down from 31 percent in 1998
Fewer young Canadians are exposed to religious institutions than were 30 years ago.  In 2005, Statistics Canada found that one-third (33 percent) of Canadians aged 15 to 24 had never attended a religious institution, compared with one-quarter (25 percent) in 1985. And indications are that the trend is continuing downward.
The above-mentioned relationship between teenagers who are Muslim, compared to those who are Anglican, United and Baptist.
But there is good news as well, Moore noted.
Faith still plays a key role in Canadian life. Some 80 percent of Canadians today say they believe in God. So maybe it's not surprising that the church still has power to attract outsiders.
 This past Christmas, one-third (32 percent) of all residents of this country attended Christmas services. In the words of renowned researcher Reginald Bibby, "that's not a shabby market share for late December."
And it is that news which Cavey and Moore suggest can be the basis for Christian leaders to break new ground in building relationships with their neighbours, no matter their religious or cultural background.
They pointed out the increasing use of social media and the Internet provided opportunities for churches and ministries – and individual Christians – to link with their communities. Noted Moore:
Canadians are increasingly interested in social media: Statistics Canada tells us that just over two-thirds (67 percent) of Canadians who used the Internet in 2012 visited social networking sites like Facebook or Twitter, up from 58 percent in 2010.
There are unexpected upsides to internet usage: In 2010, 14 percent of volunteers said they had sought out volunteer opportunities through the Internet, up from 10 percent in 2007. Interestingly, researchers have also found that moderate Internet users recorded higher volunteer rates and more volunteer hours than non-users.
Asked by CFV about ways to communicate with a growing domestic Muslim population, Moore referred to "low-profile groups of Christians that sometime move in to Muslim majority neighbourhoods, then work to build relationships where it become natural to 'become like them' and share God's love."
One BC leader attending the Langley session was David Warkentin, Praxis and Urban Discipleship teacher at Columbia Bible College in Abbotsford. Following are some insightful comments from his Considerations blog, in which he provides analysis of the Langley forum.
"I didn't find the statistics particularly surprising or new. Canada has been on this trajectory for quite some time. Whenever I hear such statistics, however, I often wonder what an appropriate response is, especially towards declining numbers. Fear? Lament? Celebration? Hunker down and get on with the business of re-Christianizing Canada (or 'transforming' or 'redeeming' or whatever other word you prefer)?
"I don't think the response should be fear or lament. Pining for the 'good ole' days' won't change anything. In fact, it's such an approach that has led to many of the absurd conflicts amongst Christians in recent decades that turns so many people off from church (e.g. worship wars).
"I also don't think the response should be to sound the rally cry and make bold statements about us somehow reclaiming Canada for Christ. First, as Christians, we believe that all of creation is already under the lordship of Christ (Col 1:17). Changing statistics don't change that reality. Second, the task of the church is to witness to God's presence not enforce it. God redeems, not us. The church participates in the presence of God through our love of neighbour and ongoing experience of life together.
"I appreciated Dr. Moore's conclusion. He asked, "Where do we begin now?" For many, the declining role of the church is cause for uncertainty and anxiety. In light of this, his response was simple, but right on: listen, learn, and lead. The church needs to pay attention to Canadian culture, learning from the people we share cities and neighbourhoods with. Only then can we lead the way in responding to these realities rather than only acting in reactionary ways.
"How this looks will no doubt vary. But a posture of listening and learning is critical in a time when religion – Christianity in particular – has a declining public influence. This is the type of Christian leadership we need in Canada today."
                                                              ****************************
All of Don Moore's statistical references are footnoted in the copies of his presentation that will soon be available online. The comprehensive reference list is below:
Citizenship and Immigration Canada. Annual Report on the Operation of the Canadian Multiculturalism Act 2011–2012: Promoting Integration.
Pew Research Center, Religion & Public Life Project: Canada's Changing Religious Landscape, June 27, 2013.
Project Canada Surveys, Angus Reid and University of Lethbridge. The Christmas Onlys: A Wakeup Bell for Canada's Religious Groups.
Statistics Canada. Census in Brief: Fifty Years of Families in Canada: 1961–2011.
Statistics Canada. Individual Internet Use and E-Commerce, 2012.
Statistics Canada. National balance sheet and financial flow accounts, second quarter 2013.
Stunt, Victoria. Generation Y and Religion: As Church Attendance Falls, Young Believers Ponder the Future of Faith. The Huffington Post Canada.
Valpy, Michael and Joe Friesen. Canada marching from religion to secularization. Globe and Mail, December 10, 2010.
Vezina, Mireille and Susan Crompton. Volunteering in Canada. Canadian Social Trends, Component of Statistics Canada Catalogue no. 11-008-X, April 16, 2012.