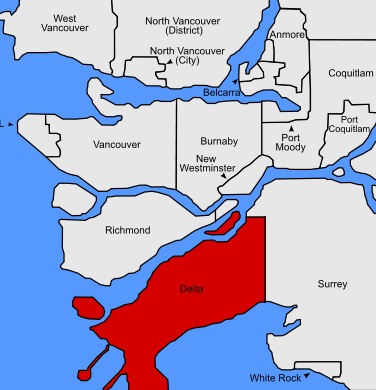 Peter Biggs of The Light Magazine is researching one Metro Vancouver / Fraser Valley municipality each month, and producing a focus on each one. The February issue features Delta.
Three communities
The municipality of Delta is home to roughly 100,000 people who live in three distinct communities: North Delta, Ladner and Tsawwassen (sometimes referred to as South Delta).
Delta is a place of wide open natural beauty, with Boundary Bay to the south and the Strait of Georgia to the west. Its distinct geography is further enhanced by the fact that its northern boundary is the Fraser River.
The area is popular with bird spotters and hikers; environmentally, Delta has unique areas.
Largely unseen from the road is Burns Bog, an ecosystem covering some 8,600 acres. It is globally unique because of its chemistry, form, flora and size, being the largest undeveloped urban land mass on the west coast.
Boundary Bay and Mud Bay also offer sanctuary to birds and wildlife, with a beautiful shoreline park, a little bit of sandy beach and a lot of logs to sit on, with picnic tables, toilets and a large playground for children.
Transportation
Major roads intersect Delta and cross the Fraser River. Highway 91 goes north to Richmond and New Westminster. Highway 99 goes east/west to the Massey Tunnel.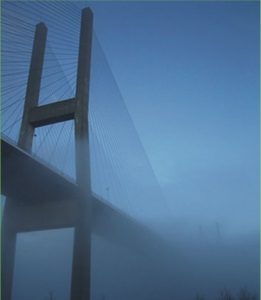 • The Alex Fraser Bridge, which opened in 1986, spans North Delta and Annacis Island. According to an announcement last January, a new lane will be added to this busy six-lane bridge along with a counterflow system. This will require a slight narrowing of the existing lanes and removing the shoulders. More than 119,000 vehicles use the bridge every day.
• The Massey Tunnel tunnel is the source of some controversy with those most affected. City councils seek to address the daily congestion differently – with Delta opting for a 10-lane bridge replacement and Richmond for twinning the tunnel.
The previous Liberal government already had started site preparation to replace it with a costly $3.5 billion 10-lane bridge, but the NDP has put the project on hold and ordered an independent technical review.
• Boundary Bay Airport has recently been upgraded, with two runways and an air-traffic control tower which operates seven days per week.
• BC Ferries' busy Tsawwassen terminal opened in 1960 and is located at the end of a two kilometre man-made causeway.
The terminal handled 73,698 vehicles a month and a total of  2,657,074 passengers in 2017.
Population changes

According to the 2016 Census Ladner's population (22,193) only increased by 0.1 percent. Tsawwassen (21,588) similarly only increased by 0.7 percent since 2011.
Delta Church pastor Jeff Beck observed that in the 17 years he has been in North Delta, lots of people have moved out to the Fraser Valley.
With their increased house value they 'cashed out.' When I arrived here churches were larger, but almost all the North Delta pastors have also moved out.
Because Ladner is surrounded by water and Agricultural Land Reserve, growth is limited. However, a number of Ladner residents described many new condo developments, and feel that in the last year the population is visibly growing.
North Delta
Though bordered by Surrey on the east side of Scott Road (120 Street) and north of 96 Avenue, North Delta people feel a strong distinction from Surrey. Its population is about 54,000.
Annacis Island is in the Fraser River, north of the rest of North Delta; it includes a busy dock that specializes in car-import.
Churches
North Delta has about 18 churches. With a couple of exceptions, attendance is 120 or less. They include small Chinese and Fijian congregations.
Sunshine Hills Church pastor Tom Gardner commented:
We very definitely do not feel part of Surrey and there is quite a community pride. North Delta has quite a high presence of visible minorities." (About 20 percent of his congregation are from visible minorities.)
Wayne Driedger, pastor at New Hope Christian Church said:
I've been here just 18 months, but do feel North Delta is very unchurched. The southern part – Sunshine Hills is wealthier, with a significant Chinese presence. In the north where we are, it has more of a South Asian presence.
Pastors enjoy a high degree of camaraderie, with 12 or so of us (including some from just over the 120 Street border) meeting monthly.
Mark Johnson, of North Delta Evangelical Free Church agrees with Driedger and added: "People from our churches happily attend each other's programs, it's great!" His church hosts the North Delta Food Bank every other Tuesday, with 100 or so using it.
Every Good Friday North Delta churches gather together for a popular joint service.
Ladner
Ladner was created as a fishing village on the banks of the Fraser River. With a population of around 20,000 it still retains a small town feel.
A major feature of Ladner is its central village, a heritage community with wide boulevards, open air cafes and local shops.
Ladner is the location of the municipal hall, police station and the Delta Hospital. The Delta Museum and Archives are in the centre of Ladner Village, along with a town clock.
Churches
Ladner has around 10 churches.
Mike Mawhorter is lead pastor at Ladner Baptist Church. "We don't have an official ministerial," he said, "but there is a fair bit of good will between Ladner pastors."
On Ladner's annual May Days celebration, four or five churches come together; local pastors take turns preaching and they form a joint music team. This joint Sunday morning service attracts 400 or so.
Ladner Baptist has many young families, but also a particular ministry to families with special needs kids called Connect: 
We train 'Big buddies' who have who can then accompany and assist the little buddies (some who have autism, Down Syndrome or other challenges) on Sundays, freeing up the parents to attend the service without worrying.
The church also hosts weekend events for these families and the wider community that have been very successful.
Lee Kosa is lead pastor at Cedar Park Church. He said:
There is a high proportion of single family detached housing in Ladner. Visible minorities are low. I do get the sense that our community is defensive to change such as housing densification. My vision is for Ladner to be a place not just that we 'protect and preserve' but a place open to share and welcoming to the outsider.
Kosa also mentioned the many Hispanic agricultural workers in the area. "We actively reach out to them and are examining translation options." The church also has a support group for those affected by mental illness.
Tsawwassen
Similar in population to Ladner, Tsawwassen is a mostly residential bedroom community. Northwest of the community is Tsawwassen First Nation (population 813), whose members have Coast Salish ancestry.
Churches
Tsawwassen has seven churches.
The largest is South Delta Baptist Church, which is easily visible from Highway 17 at 56 Street – the 'gates into Tsawwassen.' Paul Park is the newly appointed lead pastor.
 He said:
We see around five to six hundred people each weekend, at our morning main service and evening youth service. Around half travel over from Ladner.
Park is candid:
I see a huge trend toward the secular and 'multi ethnicity.' in recent days we've not seen missional effectiveness, and are encouraging community groups and participation in the Alpha Course.
The other larger church is Tsawwassen Alliance. According to Park they enjoy a warm collaborative relationship with both youth groups frequently doing things together.
A note from Delta Mayor Lois Jackson
You may wonder how and why a devout practicing Christian can enter and remain in politics for such a long time. Politicians, after all, are considered tax collectors by many folks – we are told that the people of biblical times had trouble accepting tax collectors! I view my role in my community much differently than simply a 'collector of money.'
I wanted to try to make a better world in which our children could grow and flourish with good deeds and good hearts.
Hopefully I've contributed and worked for people in a way which the Good Lord would want me to, helping people where and when I can. My only wish is that I could have done more . . .
Go here for The Light's complete Delta profile.