Peter Biggs of The Light Magazine is researching one Metro Vancouver / Fraser Valley municipality each month, and producing a focus on each one. The November issue features New Westminster.
Situated in the centre of the Greater Vancouver Regional District, much of New Westminster is attractively located on a hillside overlooking the Fraser River. It is often called 'The Royal City,' as it was officially named the 'City of New Westminster' by Queen Victoria.
The city has a long and storied history. In 1859, it was selected as the first capital of the new colony of British Columbia. A year later it became the first city to have an elected municipal government. Its location on the north bank of the Fraser River was originally chosen in case of invasion by the Americans.
Royal Columbian Hospital in the Sapperton area is the oldest hospital in the province. It is also unique in being next to a SkyTrain station. RCH is becoming one of BC's major hospitals, known for trauma care, neurosurgery, open heart surgery and neonatal intensive care. It currently has 400 acute care beds, and there are plans for extensive expansion budgeted at $1.3 billion.
Downtown and uptown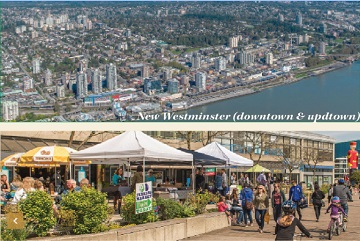 New Westminster has both a downtown and an uptown, with hills and waterfront views. Downtown is centred on Columbia Street, while uptown has the city's main shopping mall – Royal City Centre at 6th Street and 6th Avenue.
Heritage buildings are everywhere. The Queen's Park area has street after street of impressive 'turn of the century' heritage houses.
Westminster Quay was an Expo-era development to revitalize New Westminster and accompanied the development of the SkyTrain line to Vancouver. Unlike the North Shore Quay, however, New West's Quay languished. Responding to the decrease of business, the owners closed it for renovations. It re-opened as River Market in September 2010.
New West's Fraser River waterfront has undergone recent extensive changes, with walkways now running from Sapperton to Westminster Pier Park. A planned pedestrian bridge would allow the walkway to continue to Queensborough (on Lulu Island).
Columbia Street is undergoing gentrification, the most prominent addition being Anvil Centre, which features 18,000 square feet of dedicated conference space, a 364-seat theatre, multipurpose studios and smaller meeting rooms.
Churches
Ten years ago I wrote a similar piece titled Church in the Royal City for BC Christian News. At that time the city had 47 churches, with mostly mainline congregational leaders attending a monthly ministerial, and other leaders gathering informally. Over the last decade there has been a significant decrease in the number of churches. Of the 28 Protestant churches now open, most are under 200 per week attendance. There are also two Roman Catholic churches.
Five Stones Church
Planted in 2003 by Pastor Rich Kao from Minneapolis, Five Stones Church commenced Sunday services in 2005 at Douglas College. In 2010 they found a space for both Sunday services and administration, downtown at 612 Columbia.
They also run an adjacent coffee shop (Hive Cafe) and a design studio (Hive City).
"We felt that there is a psychological barrier to 'traditional' church buildings, so this location is ideal. Plus we have people coming from the many condo towers nearby," Kao says. "There are 20,000 people living within eight blocks. We see around 120 people each week, around half of them from New West."
There had been no church in New Westminster's downtown core since the 1970s. "After renting at Douglas College, finding such a suitable location was a miracle," Kao says. "We believe in prayer. I meet with a small group of pastors on Thursdays for prayer. . . . We have a small team who weekly go and pray outside the mayor's office. But every morning we take two hours or so to specifically pray for the downtown."
Perspectives: Pastors and leaders
Pastor Laura Nelson of Olivet Baptist Church says: "We've seen a definite increase of visible minorities, along with an increase in LGBTQ. New West has always had visible social needs; we run the city's Food Bank out of our building once a week and can see over 300 come."
Commenting on the proliferation of large condo towers: "I'm concerned about the chronic loneliness, likely the experience of many in these towers. But along with other leaders I am not sure how we reach those that live there."
Every fall, Olivet Baptist organizes a street party, closing off the street. "This brings people out and it has proven very successful." Olivet's summer VBS has also steadily grown. "This year we had over 80 kids, many mixed race attendees. But I see families as being so busy, often both parents have to work full time to pay for housing – it's a challenge!" she says.
Anne Ferguson, principal of John Knox Christian School states: "I think of New West as a 'town' – it has a small town feel, with many walkable places – enhanced lately by the Pier Park. It used to be a place with relatively affordable housing that didn't require crossing a bridge. In the last 10 years we've seen a huge increase of immigrants, but they seem to be transitional and [don't] stay in New West. They include many Eastern Europeans and Africans. The social needs of the downtown seem less visible; however I think they are still there."
Bill Wong has headed Union Gospel Mission in New Westminster for the last 19 years: "The small size of New West has meant that city-wide networking and collaboration has been very doable. I belong to the Homelessness Coalition that involves 40 social agencies."
Dan Eagle, pastor at Connaught Heights Pentecostal Church comments: "Although we do not have any huge churches in New Westminster, we do have many healthy and growing congregations led by wonderful pastors. Several pastors meet on Thursday mornings to pray for the city and for each other. I believe there is optimism that God will touch our city and bring many to faith in Jesus Christ."
Fr. Martin Moser has been at St. Peter's Catholic Church since 2005 and is involved with the ministerial. The church was started in 1860 by French Catholic missionaries. "New West is a fairly 'spiritual' town and we are seeing many young families coming," he says. "We will be starting the Alpha Course in January." The church sees over 1,000 every weekend, and 60 – 100 for daily masses. "Our congregation is comprised of 25 percent Caucasian, 25 percent Filipino and 50 percent Latin/Asian/African – this has steadily grown over the last 10 years or so."
Marlys Moen has been pastor at Zion Lutheran Church for 15 years and is convenor of the New Westminster ministerial. "We have around eight churches very involved," she says. For the past 14 years the ministerial has facilitated a four-week annual 'Lenten Series' of lectures, with over 80 in attendance from all churches. There is also a very visible Good Friday 'Stations of the Cross' walk in the downtown.
"There is a higher proportion of Anglican/Presbyterian/United churches in New West because of the British foundation of the city." She also notes the rise of immigrants coming in along with the high demographic of seniors in the city.
Rich Kao, pastor of Five Stones Church, describes the spiritual climate of downtown New West: "In the past I would have said 'cool to hostile – polite but resistant!' But lately we feel that this is changing – things are warming. We've seen more people coming with an openness and a curiosity.
John Knox Christian School
John Knox Christian School is one of many schools formed by the Christian Reformed Church. It was established in 1955 with 65 kindergarten to grade 7 students and four teachers. By any standards the school has enjoyed tremendous success.
In 2000 they began to explore adding grades 8-12. Carver Christian High School was established in 2005, in partnership with Vancouver Christian School. With continuing growth their elementary school building was extensively expanded and opened in 2010.
"After the rebuild we saw huge demand," principal Anne Ferguson says.
"We are now building a brand new high school (grades 7-12) on the old site of Calvary Worship Centre." [The site is at 12th Street and 3rd Avenue, just above Stewardson Way.]
Queensborough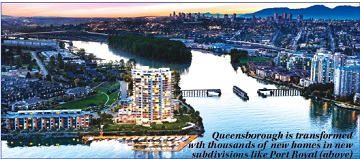 Historically the small community of Queensborough was largely Italian and composed of small houses with large lots. It was under-developed and had something of a stigma of being run-down. A strip-bar and small general store served the small population. Only one road (off the 91A) allows access in and out. Since 2005 Queensborough has hosted the casino that used to be at the Quay.
Fr. David Hughes is the priest at Queensborough's Holy Spirit Catholic Church. He says, "Around 2005 developers came here. Huge subdivisions were built. Queensborough was the last large undeveloped patch of non-ALR land." There is a large Filipino community, he adds: "Many of them are Catholic but they will often travel out of our community to church. We see around 150 – 200 parishioners a week."
The only other church in Queensborough is St. Joseph the Damascene Orthodox, though Bethany Baptist Church is nearby in Hamilton, a small residential area in the farthest eastern section of Richmond.
Lead pastor Stefano Piva says: "We see around 450 people each week and offer simultaneous Mandarin translation to around 30 individuals. Our congregation is made up of around 50 percent Caucasian, the other half being Chinese, Filipino and other visible minorities."
Because of the church's easy access by road and central location they have members who come from a number of neighbouring cities.
Go here for The Light's complete New Westminster profile.