Several elders from the the Squamish Nation addressed members of their community from the steps of St. Paul's Squamish Nation Church on the North Shore May 31.
They gathered "to honour children and survivors who attended Indian Residential Schools," following news that the remains of 215 children had been found buried on the site of the former Kamloops Indian Residential School.
Two days later, Michael Miller, Roman Catholic Archbishop of Vancouver, offered his "profound condolences to the families and communities that have been devastated by this horrific news" and acknowledged that "the Church was unquestionably wrong in implementing a government colonialist policy."
St. Paul's
Elder Sam George sent out the call to gather at the church. He told the assembly that he had spent nine years at St. Paul's Residential School. Several others in the crowd had also attended, and a number had also been sent to the Kamloops school.
Some hard words were spoken about the Catholic Church, but St. Paul's deacon Rennie Nahanee, himself a member of the Squamish Nation, said the gathering was more a remembrance and an opportunity to recognize the significance of the Kamloops finding than something aimed particularly at the church.
Fr. Thomas Kurudeepan (who goes by 'Father Tap'), attended the gathering. He said, "I was there with the community in solidarity. I was glad the elders were there; it was beautiful."
Identify unmarked graves
Two elders voiced suspicions that some children are buried on the grounds of the former residential school – just a stone's throw from the church and now the site of St. Thomas Aquinus Regional Secondary School.
The Squamish Nation released a statement the same day, announcing that it wants action:
The Kamloops Indian Residential School and St. Paul's Indian Residential School in North Vancouver were just two institutions where thousands of Squamish, Musqueam, Tsleil-Waututh and other Indigenous children were forced to attend.
These children would have been Elders and members of our communities today, and we must honour them by joining forces to urgently call for Action 75 of the Truth and Reconciliation Commission, to identify all cemeteries, residential school sites and unmarked graves at which Indigenous children have been buried.
Vancouver mayor Kennedy Stewart has called for the "expert examination" of all residential school sites in Canada, including St. Paul's Indian Residential School, which was attended by an estimated 2,000 Squamish, Musqueam and Tsleil-Waututh children between 1899 and 1959, according to a recent Vancouver Sun article.
Not the end
Nahanee, who was First Nations Ministry Coordinator for the Archdiocese of Vancouver until he retired last May (and still does some contract work on "things that are Native"), said that whatever happens next . . .
. . . This is not the end. I would compare it to a puzzle. This is just one piece of the big puzzle – which is the genocide of the Indigenous people of Canada.
He pointed out that Indian Affairs often sent children to schools far from their homes so they couldn't easily run away, adding:
I don't know what happened when those children died, but what bothers me is I don't even know if the parents were notified or if records were kept. There is nothing to indicate those children ever existed – no crosses, no tombstones. If it was a mass grave I would be very angry.
Nahanee does hope there will be records at the Royal BC Museum in Victoria, where the Oblate missionaries, who ran the Kamloops Indian Residential School, sent their records.
Apology
Archbishop Michael Miller apologized June 2 for the role of the Catholic Church in the creation and operation of the Kamloops Indian Residential School between 1890 and 1969.
He wrote:
Dear First Nations governments and all Indigenous communities, families and citizens,
In light of the heartbreaking disclosure of the remains of 215 children at the former Kamloops Indian Residential School, I am writing to express my deep apology and profound condolences to the families and communities that have been devastated by this horrific news.
Each time new evidence of a tragedy is revealed, or another victim comes forward, countless wounds are reopened, and I know that you experience renewed suffering.
I take this opportunity to reflect upon the apology I gave publicly before the Truth and Reconciliation Commission in 2013, words to which I remain committed and accountable:
I wish to apologize sincerely and profoundly to the survivors and their families, as well as to all those subsequently affected, for the anguish caused by the deplorable conduct of those Catholics who perpetrated mistreatment of any kind in these residential schools.
The Church was unquestionably wrong in implementing a government colonialist policy which resulted in devastation for children, families and communities.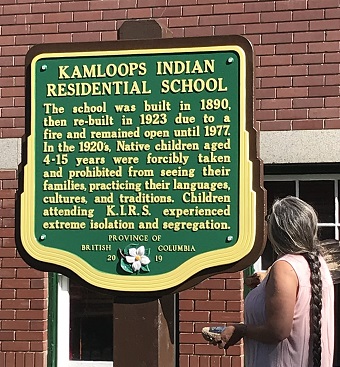 Miller also stated that words of apology must be accompanied by tangible actions. He committed to these first steps:
We will be fully transparent with our archives and records regarding all residential schools, and strongly urge all other Catholic and government organizations to do the same. Our records regarding the Kamloops Indian Residential School (Tk'emlúps te Secwépemc) were provided to the Truth and Reconciliation Commission and will remain available for review.
We will offer and support mental health support and counselling for family members and others whose loved ones may be buried on the site of the former Kamloops Indian Residential School.
We will offer to assist with technological and professional support to help the Tk'emlúps te Secwépemc and other affected Nations in whatever way they choose to honour, retrieve and remember their deceased children.
We commit to supporting the same process and resources to all Nations in whose territories Catholic-run residential schools were forcibly located, and which fall within the historical boundaries of the Archdiocese of Vancouver.
We will renew our efforts to listen to Indigenous Peoples to hear from you how we can best walk with you along the path of justice.
There had been been numerous calls (here and here, for example) for the Catholic Church to offer an explicit apology, in the wake of expressions of "deep sorrow and regret"  by the Archbishop (May 28) and "deepest sorrow for the heartrending loss" by the Canadian Conference of Catholic Bishops (May 31).
Murray Sinclair's view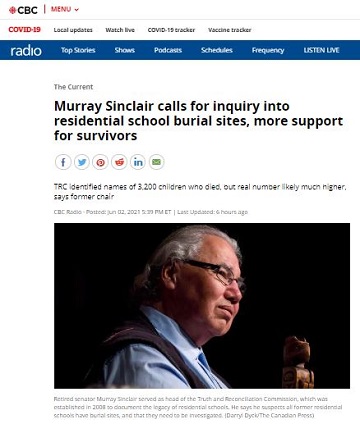 Matt Galloway interviewed Murray Sinclair on CBC Radio's The Current, June 2.
Sinclair chaired the Truth and Reconciliation Commission of Canada, which heard from residential school survivors, their families, members of their communities, former staff of residential schools and others in various cities across Canada before releasing its final reports in 2015.
Sinclair said:
And so I think what we really need to know is really the number – how many children are we talking about.
We don't know that. We give a rough estimate based upon the research that we did at the TRC; we had names of 3,200 children who died in schools. But we know that the number is much larger than that. It could be in 15-25,000 range and maybe even more . . .
Galloway asked Sinclair:
Are we any closer to getting the answers to those questions that the working group on the missing children in unmarked burials posed? There are four questions. How many students died? What did students die from? Where are they buried and who went missing? Are we any closer now to getting answers to those questions?
Sinclair answered:
We are not at this point in time, mainly because there is still resistance from the churches that ran most of the schools and from the government of Canada, which has so far declined to participate in any kind of funding of a research project, an adequate research project to discover the information.
But we have moved the yardsticks a bit because now I think the public recognizes the magnitude of this and the importance of this, because you could just imagine for a moment what it would be like to have lost a child at an institution – that the child was taken away from you for no good reason, and placed in – and you were never told what happened, where that child is and and whether or not you would have any further information.
And so I think the Canadian public, who have largely come to see the importance of this story to our history and the importance of coming to a proper resolution of this story are now beginning to see that maybe there is some merit to the argument that survivors and their communities have said to this point in time, that we need to get to the bottom of all of this story.
Go here to listen to the interview, and for the full transcript.
Responses, resources
Some Indigenous commentators are expressing frustration that many of those expressing outrage over residential schools are treating it as something that has just come to their attention. In fact, they have been pointing out the generational traumas resulting from such treatment for many decades
I remember featuring shocking images of residential schools on the front page of BC Christian News (then Christian Info News) back in 1990.
Gloria Dei Lutheran Church on the North Shore featured the art of Jim Logan, whose purpose was to instruct the church, and broader culture, about residential schools.
So, it is important to listen to those who have been grappling with the issue for years, and then to study some of the (readily available) resources. There are so many; here are a few:
1. Truth and Reconciliation reports
The National Centre for Truth and Reconciliation (NCTR) makes available digital copies of important and relevant Truth and Reconciliation reports for survivors and their families, researchers, media and the public.
2. TRC Calls to Action
The Truth and Reconciliation Commission issued 94 Calls to Action, including four (58 – 61) dealing with 'Church Apologies and Reconciliation' (including a call for the Pope to apologize). Six (71 – 76) pertain to 'Missing Children and Burial Information.'
3. Indian Residential School Survivors Society
The Indian Residential School Survivor Society (IRSSS) is a provincial organization with a 20-year history of providing services to Indian Residential School Survivors.
4. Squamish Nation elders at St. Paul's
Watch the video of the May 31 gathering on the steps of St. Paul's Squamish Nation Church. It goes for just over an hour, with much of it being drumming and singing; elders speak starting at about the 21st minute mark.
5. Sarah Bessey: Origin story
In her always-vibrant style, Sarah Bessey makes the case that 'It's not just a chapter, it's an origin story.' And provides a very strong list of resources.
6. Douglas Todd: Chief Robert Joseph profile
The story is four years old, but still valuable: 'Residential school story becoming over-simplified says chief.'
It is also timely that the federal government has designated June as National Indigenous History Month, and June 21 is National Indigenous Peoples Day.