Pastor Luke Suriya came very close to losing his brother in one of the Easter church bombings in Sri Lanka. Three congregations were among the targets – two Catholic churches on the west coast and Zion Church on the east coast.
Pastor Luke's brother would normally have gone to Zion's morning service, but decided to go to the evening service instead. His life was spared, but more than 25 others died there that morning.
The attack cut close to home for Luke, who pastors Bethel Shalom Tamil Church in Surrey. Most of his people are from Sri Lanka. He grew up in Sri Lanka himself, but lived some of his life in the Punjab in India, so he speaks Hindi and some Punjabi along with Tamil. Bethel Shalom shares the Punjabi Masihi Church building on 72nd Avenue.
Pastor Luke took part in two vigils for Sri Lanka at Holland Park in Surrey April 22 and 23. During the second and smaller one, which I attended, some 15 Sikh, Muslim, Hindu and Christian leaders, along with a few politicians, spoke briefly.
Two themes which emerged were the need to educate and influence the next generation regarding tolerance and to increase meetings between faith groups.
Immediately following the gathering, host John Yajalla wrote this on the Vancouver Area Telugu Association Facebook page:
In the wake of attacks, which targeted Roman Catholic churches holding Easter services and high-end hotels favored by foreign tourists, where the death toll had risen to at least 350 with about 500 others wounded on Easter Sunday April 21st in Sri Lanka, Telugu Christians have given a call to all faiths . . . to extend their solidarity for them with a Candlelit Prayer.
Tamil, Malayalam, Punjabi Christians, Muslims, Hindus and Sikhs have voluntarily come forward in short period to demonstrate their support to Sri Lankan Christians and other victims of the massacre. We appreciate your support.
Dear Sri Lankans, we are there for you in prayers and deeds in coming days. Terrorism in any form is not acceptable for World Peace. Yesterday was New Zealand mosques and today is Sri Lankan churches and hotels. We as humans have gathered here . . . to reiterate the importance of Peace on the Planet for the present and future generations.
Canada stands for freedom of religion and the right to worship safely. Collectively we must find the will and the answers to end such violence.
Speakers from several religious backgrounds said things such as "terrorism has no faith, no name . . ." or "As a Muslim, these people [the terrorists] have no religion . . . they're not Muslims, they are criminals."
A representative of the BC Muslim Association read a statement from the main page of its website. It reads:
The British Columbia Muslim Association condemns in the strongest terms the atrocious attacks at various churches and hotels in Sri Lanka during the last Easter weekend. . . . These acts of terrorism do not adhere with any religious principles, nor are these actions in compatible with any form of human and moral values. We stand by the good people of Sri Lanka during this difficult times and pray for the innocent victims.
The Quran set the ground rules for human relationships as, " O mankind, indeed We have created you from male and female and made you peoples and tribes that you may know one another. Indeed, the most noble of you in the sight of Allah is the most righteous of you. indeed, Allah is knowing and Acquainted. " 49-13.
Our prayers are with our Christian faith communities, neighbours, family and friends who are grieving at this most sacred time of Easter on the Christian calendar
Spread of radical Islam
The atmosphere was more than collegial at the vigil, and all involved clearly abhorred the bombings. Missing, however, was reference to Islamist terrorism.
In its annual World Watch List this year, Open Doors International pointed to three key trends in the persecution of Christians.
One of those was 'the spread of radical Islam from the Middle East.' While they focused on sub-Saharan Africa, recent events in Sri Lanka demonstrate that the alert can be applied much more broadly:
The third noticeable trend in this year's World Watch List is that, while the violent excesses of Islamic State and other Islamic militants have mostly disappeared from headlines from the Middle East, their loss of territory there means that fighters have dispersed to a larger number of countries not only in the region, but, increasingly, into sub-Saharan Africa. . . .
The World Watch List 2019 Africa analyst said Islamist militias 'instrumentalize' existing identity-based conflicts to forge alliances to strengthen their base and widen the risk they pose to global security. There are signs of this possibly happening in a number of the countries where persecution of Christians is already at a 'high' level.
Go here for the full article. Muslims have been on the receiving end of intimidation and persecution from the Sinhalese majority, causing some to become radicalized and, apparently, join forces with international Islamists.
Sharp increase in violence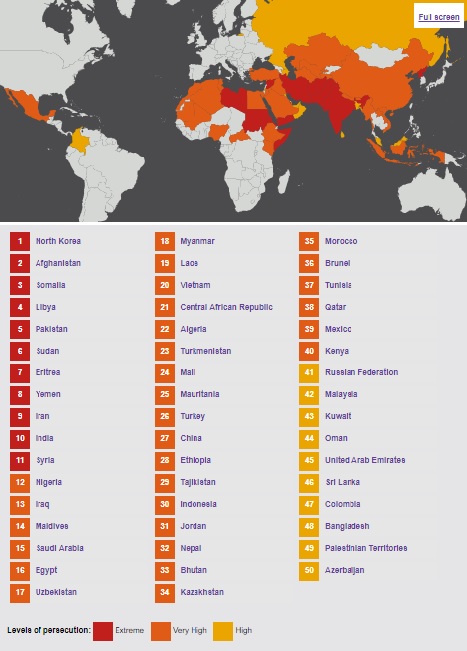 Unfortunately, the other two trends apply to Sri Lanka as well:
1: State authoritarianism: more countries add laws to control religion
Another World Watch Monitor article (October 29, 2018), which documented sharp increase in violence against Christians, made this point:
In August the Sri Lankan Supreme Court confirmed that the right "to propagate" one's religion is not protected by the Constitution, which gives Buddhism the "foremost place" among all other religions and places it under state protection.
2: Ultranationalistic governments and societies where minority Christians are seen as 'alien
A third World Watch Monitor article states:
"To be Sri Lankan is to be Buddhist" is the commonly-held belief by more than 70 percent of Sri Lanka's population who follow its philosophy. Race and religion are so intertwined that a 30-year war took place for the majority Buddhist Sinhala race to eventually reiterate their dominance over the minority Hindu Tamils.
The belief that, in Sri Lanka, Buddhism is tied to national identity is key to understanding the locals' fear and opposition to minority religions, especially Christianity (7 percent of the population), Hinduism (12 percent) and Islam (9 percent) says Mahesh De Mel, Missions Director of the National Christian Evangelical Alliance of Sri Lanka (NCEASL): "Now, in Sri Lanka, we are the only nation in Asia – in the world – which is majority Sinhalese.
"To locals, to be Sinhalese is to be Buddhist, so they always try to protect our being a Sinhala Buddhist nation."

Many commentators are saying they did not see this attack coming. That is understandable, but it also fair to say that World Watch Monitor described themes which seem to have come together in a perfect storm of terror. Go here for more information about their work.
Needs more attention
In the wake of the New Zealand mosque killings, we heard of little but the need for more scrutiny of white supremacy. It would now be good to hear more concerted commentary about Islamist terrorism and the threat to Christians around the world.
There are signs that a greater awareness is developing.
Writing for The Atlantic, Emma Green wrestled with why Christians were the targets in Sri Lanka, when they have not been, primarily, in the past. She concluded with these words:
It's only been two years since the Easter Sunday bombings at two Egyptian Coptic Christian churches that killed and injured dozens. Just a few years before that, Christians in Nigeria were killed on Easter by a suicide bomb. Easter is supposed to be a time of celebration, when Christians around the world gather to proclaim that Christ rose from the grave. Instead, it has become an anniversary of death.
Go here for the full article.
Writing for The Guardian, parish priest Giles Fraser was more pointed. Under the header 'As the Sri Lanka attacks show, Christians worldwide face serious persecution,' he said:
I was talking the other day to the classicist Mary Beard about Christian persecution in Roman times – all that stuff about lions and the Coliseum. She was of the opinion that it might not have been quite as big a deal as later Christians made it out to be. And no doubt there is nothing quite like a few overegged stories of gory martyrdom to deepen a sense of group solidarity among a struggling religious community.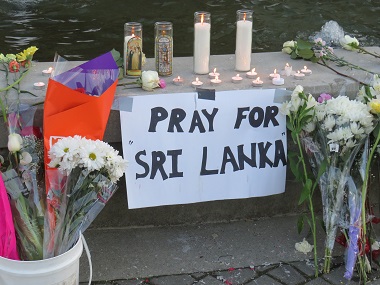 Well, I bow to Mary's greater knowledge of classical Rome. But while it may have been true that too much was made of Roman persecution, the very opposite is true now. We are living though one of the most serious phases of Christian persecution in history, and most people refuse to acknowledge it.
Go here for the full comment.
There are many good articles about the situation, but two by Sri Lankan author and Youth for Christ leader Ajith Fernando might be particularly helpful:
The five ways to pray, summarized, are: for holy-love, for faithfulness, for healing, for comfort and strength, and against unrest.