Is our culture going to hell in a handbasket? Most days I can be persuaded that we are not, but last Saturday was not one of those days.
I went down to check out the 4-20 party at Sunset Beach in the West End. Everything looked very peaceful as I watched from Kits Point, along with some cops who, attentive to city policy, were keeping their distance.
All very polite it was, and without arrests, even though:
The event (and its Cypress Hill concert) had no permit from the Vancouver Park Board.
Police watched hundreds of vendors sell cannabis from tents but didn't arrest anyone.
The park at Sunset Beach has now been closed to the public for 10 weeks for repairs.
As Kirk LaPointe, editor-in-chief of Business in Vancouver wrote shortly before 4-20:
The black market remains, very conservatively, three-quarters of the market. Illegal dispensaries outnumber legal ones by what seems to be 50 to one in the province. . . .
The 4-20 fiasco deserves the new mayor's attention, but he has chosen not to exercise authority as the city's leader and the police board chair.
While observing 4-20, I thought about Mary Wagner, who had been arrested a couple of days earlier for entering an abortion clinic and peacefully offering a pro-life message. She spent Easter in custody and will have her first hearing May 1.
LifeSiteNews reported on the arrest:
Canadian pro-life rescuer Mary Wagner remains in jail following her arrest Tuesday at a Vancouver abortion centre.
Wagner, 43, was arrested at the Everywoman's Health Centre, 2525 Commercial Drive, at about 11:15 am, a little over an hour after she and a companion, who identifies only as Baby Jane Doe, entered the abortion facility.
They carried red and white roses. Attached to each rose was a Miraculous Medal and a pro-life message for mothers who were there to abort their babies. They attempted to talk to people in the waiting room and offer alternatives to abortion.
According to Baby Jane Doe, who did not risk arrest, abortion centre staff attempted physically to remove her and Wagner before the police arrived and warned the women they would be arrested if they did not leave.
"Mary said 'I'm going to stay with the babies' and she knelt down, and I knelt down," Baby Jane Doe told LifeSiteNews.
"We both talked to the officers about what they were doing, about cooperating with evil," she said.
She was then ushered out by a police officer, and shortly afterward, police officers carried Wagner from the building to a waiting police vehicle.
Wagner has been charged under the Criminal Code with "mischief, obstructing the lawful use of property," as documented online at justice.gov.bc.ca.
As is her practice, Wagner refused bail conditions requiring her to stay away from abortion centres. She will therefore remain in jail at least until her first court appearance, scheduled for May 1.
A native of British Columbia, Wagner has spent five years in jail so far, much of that in Toronto, for her peaceful attempts to save women and children from the violence of abortion.
Go here for the full report, including her scripture-based explanation for her actions.
Agnieszka Ruck wrote a good story about Wagner for The B.C. Catholic last December: 'Pro-lifer spending first Christmas out of jail in 7 years.'
Lookout for Dal Schindell Gallery
The Lookout Gallery has been renamed. Here is what Regent College had to say about it:
Regent College's on-campus art gallery (formerly the Lookout Gallery) has been renamed in honour of its creator and former director, Dal Schindell. The unveiling of the new name took place at a special ceremony in the gallery April 2.
The unveiling ceremony was a surprise to Dal. Led to Regent on a ruse, he was greeted by president Jeff Greenman and escorted to the gallery accompanied by his wife, Kit Schindell. There, they were welcomed by dozens of friends and former colleagues including two former Regent presidents, past and present staff and faculty, friends of the college and a number of artists who have exhibited in the gallery.
Dal has been part of the Regent College community for nearly five decades. A student in Regent's second class, he returned in 1979 to begin work as Regent's director of publications. In his three decades on staff he also served as a member of Regent's faculty, teaching courses in Christianity in the Arts and guiding hundreds of students through their Integrative Projects in Arts and Theology (IPIATs).
Dal created the Lookout Gallery in 1990 and served as its director until his retirement from the college in 2012.
On arriving in the gallery, Dal was invited to unveil its new name. Pulling aside a black curtain, he discovered The Dal Schindell Gallery inscribed on the wall, flanked by a large charcoal portrait of him by Vancouver artist Grace Tan.
Go here for the rest of the article.
Good Seed Sunday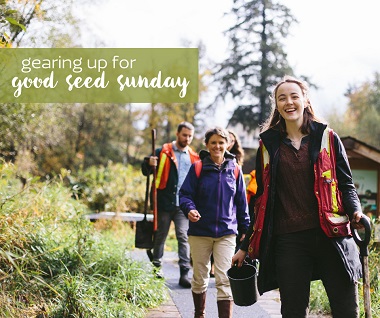 A Rocha Canada
, based in Surrey, is suggesting
five ways to take action
this
Good Seed Sunday
 (April 28), or any time really:
1. Plant a community garden
Looking for a way to serve your neighbourhood? Community gardens connect people directly to creation, their neighbours and to the source of their food. In addition, they are a wonderful way to provide fresh produce to those in need. If your church is looking for a place to start, check out our Community Garden Network.
2. Support organic farmers
Know thy farmer! As the seasons turn toward spring and summer consider buying your veggies from local sources like a farmers' market or a locally owned co-op. Both are great ways to receive the best quality produce without going through the normal market channels. And if you're in BC, consider being a part of our Community Shared Agriculture Program to join in on local, seasonal eating (spaces are currently still available!).
3. Be open to learning
Day camps and Sunday school programs are a great way to teach kids about the world we live in from a theological grounding. Check out our children's resources for fun and practical activities they can do from home or church (or sign the kids up for our Spring Break Day Camp). As for us adults, seminars and special workshops are a great way to learn about current issues while inspiring new ideas. If you're in the Manitoba area, consider participating in the upcoming Silent in the Seasons Retreat.
4. Organize a community clean-up event
Cleaning up garbage and beautifying the surrounding land, especially well-used areas of your neighbourhoods or churches, is a great way to bring people together for a short and impactful activity. It not only improves the aesthetic and health of the space, but is also a great conversation starter and reminder of the importance of caring for our local area in a tangible way. Consider a clean up along a local shoreline to help our oceans be a place of hope, not plastic. Check out A Rocha International's guide for how to organize a litter clean-up as a place to start.
5. Host a movie and discussion night
Everyone loves a good movie (and good popcorn of course). Set up a movie night where everyone is invited to watch a film that has a powerful message, then have a discussion about what significance it could have to the local community. Our interns recently enjoyed Tomorrow, a thought-provoking documentary on how we can change the way we live for the sake of our planet. For movie (and book) suggestions, check out our resources here or better yet, join an A Rocha movie night in Manitoba on March 29.
A Rocha adds, "We'd love to hear how you and your church community will be celebrating this year. Share you activities by tagging us in your posts using #GoodSeedSunday."
Apr 2019
Church Leaders Forum: Ken Shigematsu – From Surviving to Thriving
– April 25, 2019 at 9:30 am - 12:30 pm
Cherry Docs
– April 25, 2019 - April 28, 2019 at 8:00 pm - 10:00 pm
Windows into Heaven: an Introductory Guide to Icons
– April 26, 2019 at 7:00 pm - 8:30 pm
Income Tax Ministry (Tuesdays & Saturdays)
– April 27, 2019 - April 30, 2019 at 9:30 am - 2:00 pm
Community Land Trusts: Housing Civic Academy (part 2)
– April 27, 2019 at 10:00 am - 3:00 pm
The Lived Experience of People with Dementia
– April 27, 2019 at 6:00 pm - 7:30 pm
Gospel Music Festival
– April 27, 2019 at 6:30 pm - 9:30 pm
Good Seed Sunday
– April 28, 2019 at All Day
Jazz Vespers @ St. Andrew's United Church on the North Shore
– April 28, 2019 at 4:00 pm - 5:00 pm
Jazz Vespers in the Valley: Cory Weeds
– April 28, 2019 at 4:00 pm - 5:00 pm
Young Life North Shore Annual Fundraiser with the Panic Squad
– April 30, 2019 at 7:00 pm - 9:30 pm
May 2019
David Lyons: Christians in a Culture of Surveillance
– May 1, 2019 at 7:30 pm - 9:00 pm
Welcome to Worship
– May 2, 2019 at 10:00 am - 12:00 pm
spirit(us): Exploring Pathways to Art, Earth and Us
– May 2, 2019 at 7:00 pm - 9:00 pm
Punjabi Masihi Church 25th Anniversary / Annual Convention
– May 3, 2019 - May 5, 2019 at 7:00 pm - 5:30 pm
Regent College Convocation 2019
– May 3, 2019 at 7:30 pm - 9:00 pm
Diane Lines' Jump
– May 3, 2019 at 8:00 pm - 10:00 pm
BC God and Government Conference
– May 4, 2019 at 8:30 am - 5:30 pm
Faith & Work Conference
– May 4, 2019 at 9:00 am - 4:00 pm
Flourishing Congregations: From Understanding to Practice
– May 4, 2019 at 9:00 am - 4:00 pm
160th Anniversary Celebration of St. John the Divine
– May 4, 2019 at 10:00 am - 2:00 pm
Living Single Again (Saturday mornings)
– May 4, 2019 at 10:00 am - 12:30 pm
Spring Has Sprung Giveaway
– May 4, 2019 at 10:00 am - 12:30 pm
Spring Concert
– May 4, 2019 at 2:00 pm - 3:30 pm
The Wondertale of Naomi and Ruth
– May 4, 2019 at 7:00 pm - 9:00 pm
Yom HaShoah; Honouring Holocaust Remembrance Day
– May 5, 2019 at 2:30 pm - 4:30 pm
Song of Love: A Choral Concert of Worship
– May 5, 2019 at 7:00 pm - 9:00 pm
VOS Youth Singers Spring Concert 2019
– May 5, 2019 at 7:30 pm - 9:30 pm
Unsettling the Word: Stories & Songs for Unis'to'ten
– May 6, 2019 at 7:00 pm - 8:30 pm
The Prophetic Voice: Pastors Conference 2019
– May 7, 2019 - May 9, 2019 at All Day
Spirituality Conference: Inspiring Person Centredness – A Call to Action
– May 8, 2019 - May 10, 2019 at All Day
The Carr Lecture: Santa Ono – Liberal Arts in the 21st Century: More Important Than Ever
– May 8, 2019 at 7:00 pm - 9:00 pm
Book Launch: Dietrich Bonhoeffer's Christian Humanism
– May 8, 2019 at 7:30 pm - 9:00 pm
Courageous Woman Conference
– May 9, 2019 - May 11, 2019 at All Day
Whispering Grass by Haitao Yin
– May 9, 2019 at All Day
March for Life Victoria (including church services and gala dinner)
– May 9, 2019 at 12:00 pm - 8:00 pm
Christian Witness in Cascadian Soil
– May 10, 2019 - May 11, 2019 at 8:30 am - 4:30 pm
Her Story: an Open House Café
– May 10, 2019 at 9:30 am - 11:30 am
High Bar Gang
– May 10, 2019 at 8:00 pm - 10:00 pm
Faith in Action: Practicing Biblical Advocacy
– May 11, 2019 at 9:30 am - 3:30 pm
Renovate Worship: Including Mixed Ages and Abilities
– May 11, 2019 at 9:30 am - 4:30 pm
Lighthouse Harbour Ministries Spring Luncheon
– May 11, 2019 at 12:00 pm - 2:00 pm
SIM Monthly Mission Meeting
– May 11, 2019 at 12:00 pm - 2:00 pm
Alzheimer Café
– May 11, 2019 at 2:00 pm - 4:00 pm
Borders to Beginnings
– May 11, 2019 at 5:30 pm - 8:30 pm
Gloria Dei Chorale: Spring Concert
– May 11, 2019 at 7:30 pm - 9:30 pm
Getting Our Story Straight with Brian Fikkert
– May 12, 2019 at 7:00 am - 8:30 am
Jazz Vespers in the Valley: Glenda Rae Trio
– May 12, 2019 at 4:00 pm - 5:00 pm
The Eisenhauers
– May 12, 2019 at 7:00 pm - 10:00 pm
Tax Preparation (Mondays)
– May 13, 2019 at 10:00 am - 3:15 pm
Persistence of Light: A Reading by John Hoyte
– May 13, 2019 at 12:15 pm - 1:30 pm
VST Convocation 2019
– May 13, 2019 at 7:00 pm - 9:30 pm
John Swinton: Hearing Voices – Human and Divine
– May 13, 2019 at 7:30 pm - 9:00 pm
Dr. Stanley Hauerwas: Revitalizing the Church Workshop
– May 14, 2019 at 9:30 am - 2:00 pm
Canadian Viewpoints: Concealed and Revealed – Opening Reception
– May 15, 2019 at 4:30 pm - 7:30 pm
Provincial Leaders Dinner
– May 15, 2019 at 6:00 pm - 8:00 pm
Peter Harrison: The Shifting Territories of Science & Religion
– May 15, 2019 at 7:30 pm - 9:00 pm
Xtreme Theatre: Les Misérables School Edition
– May 16, 2019 - May 18, 2019 at All Day
BC Leadership Prayer Breakfast
– May 16, 2019 at 7:15 am - 9:00 am
Book Launch: I'm the Bob & Cathy's Kid
– May 16, 2019 at 12:15 pm - 1:30 pm
Journey 101 (Thursday evenings)
– May 16, 2019 at 7:00 pm - 9:00 pm
Brave Love Women's Gathering
– May 17, 2019 - May 18, 2019 at 6:30 pm - 9:00 pm
A Garden Green CD Release Party
– May 17, 2019 at 7:00 pm - 10:00 pm
African Children's Choir: Just as I Am Tour
– May 17, 2019 at 7:00 pm - 9:00 pm
Bruce Hindmarsh & Steve Bell: Praying the Psalms in Spirit and Song
– May 17, 2019 at 7:30 pm - 9:00 pm
spirit(us) - Exploring Pathways to Art, Earth and Us
– May 18, 2019 at 7:00 pm - 9:00 pm
African Children's Choir: Just as I Am Tour
– May 19, 2019 at 6:00 pm - 8:00 pm
African Children's Choir: Just as I Am Tour
– May 20, 2019 at 7:00 pm - 9:00 pm
Jeffrey Greenman & Mark Glanville: Improvisational Leadership – a jazz-talk
– May 20, 2019 at 7:30 pm - 9:00 pm
Miriam Kovalishyn: Thy Kingdom Come – Exploring a Biblical Vision of Justice
– May 22, 2019 at 7:30 pm - 9:00 pm
Long & McQuade Presents Rashid Williams
– May 23, 2019 at 7:00 pm - 9:00 pm
Multiply: Let's Celebrate Together
– May 23, 2019 at 7:00 pm - 9:00 pm
Jazz & Spirituality: Digging into Worshiping in Jazz
– May 23, 2019 - May 25, 2019 at 7:30 pm - 4:00 pm
Tom Reynolds in Concert
– May 23, 2019 at 7:30 pm - 9:00 pm
BC Home Learning Conference
– May 24, 2019 at 12:00 pm - 5:00 pm
Historymaker 2019
– May 24, 2019 - May 26, 2019 at 6:00 pm - 12:30 pm
The Sojourners
– May 24, 2019 at 7:00 pm - 10:00 pm
From the Old World to the New: Concert with Cathedral Organist Denis Bédard
– May 24, 2019 at 8:00 pm - 10:00 pm
Revitalize: Your Church and You
– May 25, 2019 at 9:00 am - 2:00 pm
Walk for Life
– May 25, 2019 at 9:00 am - 1:00 pm
WMI Spring Conference
– May 25, 2019 at 9:30 am - 6:30 pm
A Toolkit for Spiritual Survival Retreat with Fr. Rolheiser & Dr. Higgins
– May 25, 2019 at 1:30 pm - 4:30 pm
Good Noise Vancouver Gospel Choir: The Return of Soul Gospel
– May 25, 2019 at 3:00 pm - 5:00 pm
Ember
– May 25, 2019 at 7:00 pm - 9:00 pm
Worship Invasion
– May 25, 2019 at 7:30 pm - 10:00 pm
Good Noise Vancouver Gospel Choir: The Return of Soul Gospel
– May 25, 2019 at 8:00 pm - 10:00 pm
Jazz Vespers in the Valley: Seven Women in Jazz
– May 26, 2019 at 4:00 pm - 5:00 pm
Jazz Vespers – Sunday, May 26 at 4 pm
– May 26, 2019 at 4:00 pm - 5:00 pm
African Children's Choir: Just as I Am Tour
– May 26, 2019 at 7:00 pm - 9:00 pm
Duncan Africa Fundraiser
– May 26, 2019 at 7:00 pm - 9:00 pm
Religion & Violence: Inter-Religious Studies Conference
– May 26, 2019 - May 28, 2019 at 7:00 pm - 5:00 pm
Focus on Life 21st Annual Gala Dinner
– May 27, 2019 at 5:30 pm - 9:30 pm
The Role of the Laity in the Reform of the Church: A Modest but Urgent Proposal
– May 27, 2019 at 7:00 pm - 8:30 pm
Wesley Hill: Retrieving Asceticism – how contemporary Christians are retrieving an ancient theme
– May 27, 2019 at 7:30 pm - 9:00 pm
12th Annual NightShift Charity Golf Classic
– May 28, 2019 at 9:30 am - 7:00 pm
Jesuit Scotch Tasting Reception
– May 28, 2019 at 5:00 pm - 7:00 pm
Maxine Hancock: Costly Grace & Severe Mercy – theological resonance in Louise Penney's 'Three Pines' mystery novels
– May 29, 2019 at 7:30 pm - 9:00 pm
Thy Kingdom Come
– May 30, 2019 at 7:00 pm - 9:00 pm
The Cake
– May 30, 2019 - June 8, 2019 at 8:00 pm - 10:00 pm
Walk in the Spirit of Reconciliation
– May 31, 2019 - June 2, 2019 at All Day