Update: I have just learned that First Baptist Church has a Strike Camp as well. I've added a brief description and link at the end of the article, and will add others as I become aware of them.
No doubt there has been plenty of prayer for BC students as they have been unable to return to classes this week. But some churches have gone the extra mile, and are offering 'strike camps' or 'strike care' in their buildings. Here are a few examples:
Strike Camp: Tenth Church

Tenth Church has a strong history of providing community programs from its building, which is a couple of blocks west of Main Street on 10th Avenue. In particular, they operate several active student ministries throughout the school year.
So it is no surprise that Tenth has set up Strike Camp 1, running from September 2 – 5; additional weeks will be made available if teacher's strike continues.  
Details: Daily, 8 am – 4 pm; $30 per day or $125 per week. Subsidies available if needed.
Kid City Strike Camp: Emerging Generations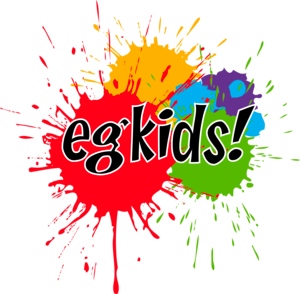 The folks at Emerging Generations (a Friday night church / student ministry of Vancouver Chinese Pentecostal Church) have been hard at work all summer with children, but they're still ready to press on. Here is their statement from late last month:
Kid City Day Camp just wrapped up an awesome summer filled with kids, activities, field trips, swimming and more. By this time, we are usually prepping for our school-year program, eagerly awaiting kids to come join us for EG Fridays! But the reality is, there could possible be a strike. And knowing that many parents will be stressed, concerned, worried, etc. about what to do, we hope to make it a little easier for you!
The Kid City Strike Camp will host 30 children who are entering kindergarten to grade 7 from 8 am – 5:30 pm daily, until school starts, at Vancouver Chinese Pentecostal Church (on the corner of Main Street and 18th Avenue.
A typical day will consist of primary indoor activities such as cooking, crafts, singing, etc, with time outdoors in the afternoon. They stress they are not a licensed child care provider.
Strike Care Camp: St. Andrew's-Wesley United Church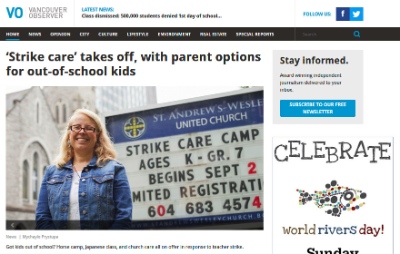 A recent Vancouver Observerarticle noted that churches have joined "a veritable new industry of 'strike care' options":
"It's important to us to reach out – to love thy neighbour," said Jen Cunnings, with St. Andrew's-Wesley United Church.
Her downtown Vancouver church [located on the corner of Burrard and Nelson] opened its first 'strike care' program Tuesday morning. Price is $25 or whatever parents can afford, said Cunnings.
"Families are struggling and hurting, and this is an opportunity as a community of faith to reach out and serve. I approached our church board executive in August when the threat was real. [We] put the pieces together last week," said Cunnings.
Strike Care Program: Shaughnessy Heights United Church
Shaughnessy Heights United Church
, at 33rd and Granville, is offering strike care for elementary-age children affected by the continuing teachers' strike. The good news is that they are offering "fun days of wacky crafts, awesome out-trips and making new friends!" The bad news is that they are currently accepting registration for the waitlist only.
"Due to the uncertain nature of the teacher's strike," they say, "you may only register for the first two weeks of September. Registration for further weeks will be posted during the second week of September, when more is known about the duration of the strike." 
Details: Daily, 8:30 am – 3:30 pm; $30 per child per day (financial assistance available).
Strike Day Camp: North Shore United Churches
Three North Shore United Churches will hold Strike Day Camps, although they won't start until next week. The program is administered by Highland United, and the first camp will be based there September 8 – 12. Lynn Valley United and Capilano United will both host camps September 15 – 19.
(North Shore News featured an upbeat March 9 piece which noted North Vancouver Capilano United Church marks 100 years, but a July 6 follow-up said Programs at Capilano United Church in limbo and services are suspended due to declining church attendance.)
Details: Daily; 9 am – 3 pm; cost $150 per week, including lunch, snacks and activities; aimed at children entering kindergarten through grade 6.
                                              ***********************************
Presumably most of the spaces in the church strike camps will be full (and there are many other agencies offering similar services), but I will add the names of other churches opening their doors to students as I become aware of them.
In the meantime, here are a couple of other good news stories involving churches and schools:
Jazz Camp at Legacy Church
In Jazz campers don't miss a beat at Surrey Church, Now writer Gord Goble told the story of a church stepping in to save the day for a free week-long jazz camp. When the program was unable to use a public school building because of the strike, Legacy: A Church of the Nazarene provided a home for the camp.
Equip North Shore Students
When the labour dispute does end, there will be new backpacks, binders and other school supplies available for students who can't afford them. North Shore Alliance Church is collecting such items through its Equip North Shore Students program.
                                       ***********************************************
As I become aware of more Strike Camps I will add them here:
First Baptist Church: Strike Camp
From Justin Kim: "I just wanted to let you know that we at First Baptist Church (Vancouver) are offering strike care for children entering K through Grade 7. Strike Camp #1 will run from September 8 – 12 (M-F). Additional weeks will be considered if the strike continues. The care program begins at 8 am and ends at 4 pm. Children are asked to bring their own lunch. Cost is $150/week ($30/day). Snacks are provided. I can be reached through
[email protected]
.
"In addition, parents have the option of reserving a spot for their child for the following camps: Strike Camp #2 (September 15 – 19) and Strike Camp #3 (September 22 – 26)."
MB camps remain open for business
Stillwood Camp and Conference Centre
near Chilliwack has decided to offer day activities for grades 1 – 7 during the strike. Bus pick-up is available from several locations in Abbotsford and Chilliwack. Average daily attendance runs around 50 children, some just attending for a couple of days a week, but in all, more than 180 students are registered.
Other Mennonite Brethren camps are doing the same thing. For the story go
here
.
North Shore Alliance Church
Fun & Educational!
Kindergarten to Grade 7
Activities: Sports, Math, Music, Language Arts, Crafts, & More
$150 per child