Arne Bryan is the ideal subject of a biography: he's led an interesting life, he's made a difference in his community and he's lived a long time. Beth Carson has now told his story in Pioneer of Prayer Canada.
Arne is best known these days for his prayer ministry, particularly the way he has encouraged believers to pray for and with political leaders. But he has worked at a wide range of jobs along the way, from cowboy to Navy commando to pipeline crew supervisor to insurance agent.
As he approached retirement, he developed a vision to pray for Canada, and began calling others to pray with him. Though he started close to home, in Surrey, his movement soon took on a Canada-wide focus.
A story by Jenny Schweyer in The Light Magazine last year described it this way:
Gradually, and with the help of a growing team of supporters and 'prayer commandos,' as Arne is fond of calling the faithful, Prayer Canada began establishing other prayer venues and meetings. Today this includes a quarterly prayer breakfast, 275 prayer posts across Canada and regular prayer meetings throughout the day, several days a week at Prayer Canada's Surrey headquarters.
They are organized and meticulous about praying for Canada, because he believes it is a serious calling that demands a specific response. The organization maintains a detailed prayer handbook with the name, location and position of every government official in every province of Canada, from the Prime Minister down to each member of Parliament and provincial premier. The handbook also contains the names of government leaders in other strategic countries, like the United States, Israel, Great Britain and Australia.
Speaking of the Prime Minister, Arne was photographed with, and encouraged by, Stephen Harper on his recent swing through British Columbia.
Rob Parker, founder and director of the National House of Prayer in Ottawa with his wife Fran, says, "Arne has ploughed the way." Peter Fassbender, Minister of Education in BC, adds, "Arne is one of those inspiring people who is a passionate prayer warrior. Having been the recipient of his prayers over the years, I know that the power of prayer can move mountains."
Now 95, Arne is going strong. I saw him in action just this week, at the Vancouver Pastors Prayer Fellowship. He's still clear-minded, still a leader, still a man of prayer. As was pointed out in the Light interview:
The discipline he learned as a Navy commando he carries into his own prayer life, and [is something] he tries to inspire in others who are part of his ministry. A commando is trained to respond to the commands of a higher authority. "You don't question authority," Arne says. "When he says 'do it!' you don't argue. You just do it! When God asks you to pray, you do it!"
Beth Carson has partnered with her husband Dave in a wide range of ministry. Her first book was a biography of Bob Birch: Pastor Bob: Statesman of Prayer for Canada. You can email [email protected] to order a copy of Arne Bryan: Pioneer of Prayer Canada.
Kyiv Symphony Orchestra and Chorus in town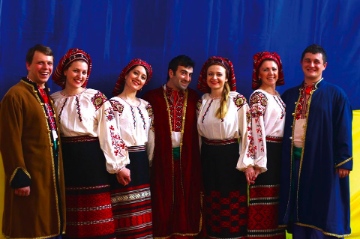 More than 40 Ukrainian musicians will tour Canada during September, bringing powerful renditions of sacred music from their turbulent homeland. Beginning in Chilliwack September 9, Kyiv Symphony Orchestra and Chorus will perform almost every night across the western provinces and Ontario, until October 11.
Local concerts will be held at Bakerview MB Church, Abbotsford (September 10); University Chapel, Vancouver (September 11); Clearbrook MB Church, Abbotsford (September 12); Bakerview MB Church (September 13); Willingdon Church, Burnaby (September 14); North Langley Community Church (September 15); Bethany Baptist Church, Richmond (September 16).
Hosting the concerts will be Wes and Kim Janzen, who are from this area, but now spend most of their time in Ukraine. The Kyiv Symphony Orchestra and Chorus is the musical arm of Music Mission Kiev. It "shares the gospel through great sacred classics, which once were forbidden in the former USSR." MMK provides spiritual and humanitarian assistance to hundreds of widows and pensioners, and cares for a growing number of refugees. For more about the Janzens' involvement with Ukraine, see our earlier story here.
Wes writes about the situation in Ukraine on his Facebook page: "Please pray for Ukraine. Foreign invasion is increasing. Many more are dying. Please pray for another shipment of food aid that we are sending east to people who are suffering, hungry and oppressed. Pray for the safety of the driver, vehicle and goods. Pray for our people who are serving many refugees in very significant ways. Pray for our wonderful musicians – they are traumatized – that they would have health, strength, courage as they travel and serve through their formidable talent, passion and humanity. The load is very heavy. Canadians can help!"
Pacific Theatre guide to the Fringe Festival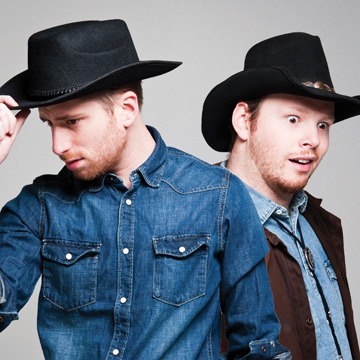 The Vancouver Fringe Festival takes place September 4 – 14. It's tough to know where to start; there are so many shows to choose from and the quality varies. A good starting point is to check out the "PT-friendly" guide to the festival; they note that the "Fringe Festival's calendar is full of PT artists doing their thing. (Glad to see the guide doesn't include God is a Scottish Drag Queen II.)
Among the artists mentioned (all of whom have taken part in Pacific Theatre shows) are:
* Peter Carlone, who co-wrote Peter 'n Chris and the Kinda Okay Corral: "Canadian Comedy Award Winning Sketch troupe Peter n' Chris are back with a brand new, hilarious, wild-west adventure! These festival favs have earned several Best of Fest awards nationally and internationally, gaining a following for their hysterical, inventive and physical sketch comedy style."
* Craig Erickson, whose Jesus Made Me Funny is about "an insurance salesman, fearful of slipping into a mid-life crisis, [who] becomes increasingly convinced and inspired that God wants him to be a stand-up comedian, and perhaps even the next big reality TV superstar."
* Stephanie Elgersma (My Beautiful Monster); Jeff Gladstone, Steven Greenfield and Lois Dawson (The Chariot Cities); Daniel Arnold (Little One); Beverley Elliott (. . . Didn't See That Coming); Robert Salvador, Emmelia Gordon and Alison Kelly (Dirty Old Woman).