Ten years ago Craig Greenfield moved with his wife and kids from the slums of Phnom Penh in Cambodia to Vancouver's Downtown Eastside (DTES). Then they moved back again. Not surprisingly, he's got quite a story to tell.
He gave the short version to a full house of old friends on Cordova Street in the DTES April 26. Technically the occasion was a book launch – Subversive Jesus was hot off the presses – but it felt more like a family reunion/party. Lively conversation, hugs, junk food in the kitchen, a couple of old favourite songs led by Greenfield on his guitar, backed up by a visiting banjo player and a First Nations drummer . . .
"A bunch of you guys are in it," he said of the new book. "That's why I changed some of the names!" Pictures and a brief video reminded the assembled of good times shared over the years.
A couple of pictures showed several of the community dressed up as 'pirates of justice' in an attempt to raise awareness about the deplorable labour standards on some cruise ships in the port, just blocks from their home.
Greenfield told the story of Kevin Knight (written about in Subversive Jesus under the heading 'A Wasted Life Turned Around': "When I first met Kevin, he had been mired in addiction – crack cocaine, alcohol, heroin – for most of his adult life. . . ."). Now Knight and his Cambodian wife (and now a child) run a ministry in a poor village on the outskirts of Phnom Penh. (I told some of his amazing story here.)

Greenfield told a couple of stories on himself. In one, excerpted below from the book, he described how hard he sometimes finds it to prioritize relationship over efficiency.
He also explained why he and his family returned to Cambodia. "We planned to be lifers here," he said. "It breaks my heart to not be with you guys." But he described being diagnosed with cancer four years ago – "It was the beginning of a pretty awful year."
He asked himself, "What would I do if I only had five years left. I knew that I wanted to pour out my life for the most vulnerable, the poorest of the poor." The cancer is gone, but Greenfield and his family are still in Cambodia, where they have started Alongsiders International – "something like an Asian, Christian version of Big Brothers."
During their time in the Downtown Eastside, he said, "We realized that a human being needs connection."
The Alongsiders website describes how they go about making those connections:
In the developing world there are millions of vulnerable and marginalized children. Their deepest, most heartfelt need is to be loved, welcomed into family and community, and encouraged to be all that God made them to be. . . .

Today, the populations of developing countries are disproportionately young (under 30 years old) – up to 70 percent in some nations. . . . We equip compassionate young Christians in poor nations to walk alongside those who walk alone: to love, welcome and encourage the most vulnerable children and orphans, in their own communities. . . .
After 10 years in Cambodia, Alongsiders launched internationally in 2013, establishing movements in Indonesia and India. We are now working to see the movement spread further, into Asia, Africa and beyond.
Greenfield wrote Subversive Jesus as a challenge to the rest of us to come alongside in our own way. In the preface he said:
I'm convinced Jesus wants to take everything you think you know – about family and faith, service and suffering, justice and joy, and yes, even about Jesus himself – and turn it all upside down. . . . I've learned that where you stand determines what you see, so I'm going to invite you to stand with me for a while – in the slums and ghettos of the world, among the poorest of the poor. And see Jesus with fresh eyes.
Writer and activist Shane Claiborne once wrote, "Most good things have been said far too many times and just need to be lived." So, as you savour this story and grapple with its implications, allow my journey to inspire your own journey.
Subversive Jesus is an inspirational read for anyone; even more for Vancouverites (and, I suppose, Phnom Penh-ers).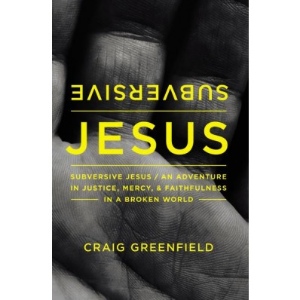 Following is an excerpt about life in the Downtown Eastside from Craig Greenfields's Subversive Jesus. 
                Community
One night, we gathered in our home for a Bible study about love: love is patient, love is kind, love is long-suffering, that kind of thing. There were some new friends from the street with us, and I hoped they would hear about love and want to know more about God.
Patrick had come to our house like a lost boy from never-never land. With his long, black, dread-locked hair bundled inside a red, yellow and green beanie, I took him for a Rastafarian at first – and indeed, he refused to eat meat, saying he was a vegan. Innocent to the streets and the drugs that made this neighbourhood go round, Patrick viewed the world through wide eyes and seemed to be looking for a haven. I thought he'd find it in our living room that night.
When the Bible study started, Beth spoke. Whenever Beth came by our house in her bulky winter coast, she'd flash her toothless grin and wrap me in a warm bear hug.
"My sista from another mista," I'd say, even though she was probably 20 years older. And she would always counter with a punch on my arm. "My brotha from anotha mudda." Though she stood a full foot shorter than me, even with her curly Afro, her presence in the room was mighty. And that night, it was mightier than usual.
She talked of the love she felt for the young girl lying drugged in the alleyway. She talked about scolding the pimps and the abusers. She was like a miniature Martin Luther King Jr. with a lisp – feisty and not afraid of the Big Bad Wolf. My mind wandered to an image of the pimp she was referring to; a giant dude standing on the corner, overseeing his girls, ready to bite if they stepped out of line.
Still, Beth talked. I glanced at my watch and noticed that the time had come to wrap things up. Then Beth launched into another story about her love for another desperate young woman on the street. I groaned inwardly. Time's a tickin'.
Love is patient. The words floated into my mind. Love is kind. Yeah, yeah, I know. Hilarious, God – good one! Love is long-suffering. Here I was, stuck in an object lesson of my own making, with God having a great big chuckle.
When Beth finally stopped talking, I gave her another bear hug. "My sista, thanks for teaching us about love and patience and long-suffering."
"You got it brotha," she lisped, then launched into her raucous laugh.
Throughout Beth's monologue, Patrick had been quiet, but as our meeting devolved into laughter and chatter, I saw him huddled in the corner with our roommate Justin, poring over Justin's Bible. And I knew they were talking about God's love.
When we try to describe the love of God in words, it's like listening to a street preacher talk about salvation. Our words can rarely speak as powerfully as the lives we live together, so when people get together and create a space of welcome for others, the Spirit moves, and everyone experiences the love of God embodied. This is especially magical for those who are used to being excluded, rather than welcomed.
It is the radical welcome of Christ with skin on.
This excerpt is posted by permission from Zondervan.