As I sat in the back row at Tenth Church, three speakers revealed that their mission field for the next 12 to 15 years was Cambodia. Listening, I heard God speak to me: "This is where the village is, where I want you." I hadn't yet surrendered my life to Jesus, but he was calling me.
Kevin Knight will be back at Tenth Church this weekend, but this time he'll be up front telling stories of his village in Cambodia. A lot has changed in his life over the past seven years. Then he was trying to get off drugs (read his dramatic testimony below); now he and his wife Leakhena Phan are living and working with people who have been evicted twice from their homes.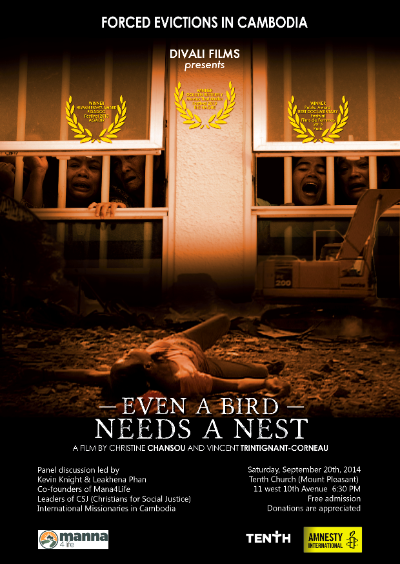 Kevin and Leakhena will be in Vancouver for just a week or so, long enough to catch up with friends, family and supporters, but also, this Saturday (September 20), to show Khmers Without Land: Even a Bird Needs a Nest, an award-winning documentary about Cambodian slum evictions, a practice that has become widespread.
This movie show how corporations, supported by the police, forced people from their homes in the Boeung Kak District of Phnom Penh, which was then bulldozed. A group of courageous women led by Kevin and Leakhena's friend, the charismatic Tep Vanny, continued to protest and resist.
The content of the movie overlaps with Kevin's own experience. He moved to Phnom Penh in 2010; within three weeks, his new neighbours were evicted from their homes. This is how he described the situation in 2011:
In January 2009 I stood beside my friends in the Dey Krahorm community as they were being violently evicted by a development company in collusion with a corrupt government. God broke my heart for this community. The link to [a video of] their eviction is here . . .
This community has been violently evicted twice in the last three years and are now located 38 kilometres [north of] Phnom Penh. They were dumped in an empty field miles away from the city and possibility of employment. The family unit has been broken apart as they cannot afford to travel daily to look for sporadic work in the city. Mothers, grandmothers or older siblings are left to take care of the children as the others in the families look for work in the city hoping to send back some money for food for their families.
Kevin first went to Cambodia with Servants Vancouver, but is now with Manna4Life, "a local Cambodian Christian NGO functioning to serve the poorest of poor and oppressed in Cambodia through holistic community development and advocacy." He says they still work with Craig and Nay Greenfield (who founded Servants Vancouver from their base in the Downtown Eastside before they moved back to a Phnom Penh slum and established Alongsiders International).
In a phone conversation, Kevin said that "one of the biggest motivations for going to Cambodia was when I learned the true definition of compassion – 'to suffer with.'" That is necessary, he adds, if one wants to have a deeper relationship with people.
"Nothing happens unless it's generated from the community," he added. The poor don't have a voice and they're often looked down on – but "they're the first in God's upside down kingdom."
Kevin says he has experienced many "pay days" in Oudong Village, as the community is now called, despite the materials hardships. For example, one man told him: "You Christians are different, you guys have God in your heart."
He says that tears often come to his eyes – something that is not culturally acceptable for Cambodian men – when he talks about the evictions. In one situation, he felt tears coming as he addressed a group of men. They began to clap for him, so he could compose himself, to allow him to save face. When he apologized to one of the elders after the event, the man said: "Those tears are not a sign of weakness, they're a sign of you suffering with us."
Manna4Life will be opening a new primary school in the village November 1. Kevin says their decision to plant 500 trees at the new village site was one of their best decisions, and they have built many new houses and a water filtration system. He is also very encouraged that the community has now raised $4,000 toward the purchase of a farm.
(Their website: http://www.manna4lifecambodia.org/who-we-are.html.)
************************************
Kevin Knight's testimony, as it appeared in BC Christian News in March 2010
My parents grew up in social housing in Scotland, and immigrated to Canada in 1964. Through their hard work and perseverance, we became an upper middle class family, with a lifestyle that included sports and holidays in Jamaica.
But this idyllic upbringing had its holes . . .
Everything came easy to me, especially school. Not needing to study, or put in much effort to succeed, left me with a lot of free time to search for something more. This search seemed to be fulfilled as I put a bottle to my lips at age 15.
The first time I drank, I got violently ill; but instead of that being a warning, I continued to indulge as often as possible. I was always the last one up at parties, drinking through the night till sunrise.
I also experimented with marijuana, LSD, mushrooms, meth and cocaine.
I tried college, but found the same problem as in high school: the classes were too easy, and the lure of the party life too strong.
This led me to the construction industry, where the work hard / play hard mentality fit me perfectly. I eventually took up plumbing, and was a foreman on jobs while still an apprentice. I worked on numerous highrise projects in Calgary and Vancouver. The whole time, I was a functioning alcoholic.
The death of my father deepened my depression, and my drinking became worse.
The vision
My mother and brother asked me what was wrong. I told them about my search for more meaning in life. I realize now that it was God who had planted that vision. I told them: "I am not meant to do this. I am not meant to build square boxes for rich people. I am meant to bring water to a village."
I wish I had acted on that vision then.
My lifestyle deteriorated to the point that I was drinking and using cocaine regularly. Spending every dollar feeding my addiction, I lost my apartment, my friends and my foreman's position.
I ended up in a cockroach-infested room on Vancouver's Downtown Eastside. I was still employed, as construction was booming; but everything was spent on cocaine. I would blow my $3,000 pay cheque in a couple of days, and then rely on the food provided by Union Gospel Mission (UGM) to get me through until the next cheque.
I didn't go to church for the message; I would read a book or newspaper. But two preachers finally caught my attention. John Ricci passionately talked about the transformation he had experienced in his life by surrendering to Jesus. Rene, a soft-spoken giant, said: "You only get what you accept." Those words reverberated – until finally one day, I no longer accepted the situation I was in.
My darkest day
I spent eight hours watching a TV show called Intervention, where families were encouraging their loved ones to get into rehab. I was injecting drugs the whole time, and crying that no one was coming to save me.
The next day, I woke up – and felt the darkness closing in on me. I was never more afraid in my life. I got down on my knees and cried out: "God, help me. I don't know how to stop."
I have an image of God leaning over me at that moment, his arms spread wide and his radiance holding back the darkness, and saying: "Just ask me, son."
I asked, and Jesus answered. The next day, I didn't use drugs. On Monday, I walked down to the mission, and was told there was an opening for me in the rehab program on Tuesday.
As I walked out the door, the enemy invaded my thoughts, telling me: "Now you have to tell your family you're an addict. You will never get another foreman's job. Be a man and do it yourself." I was thinking the four month program was a long time.
At that moment, a guy rode by on a bicycle and said, "Time flies." It freaked me out how he could be reading my thoughts. This angel gave me the strength to enter the program the next day.
The Word
My first day in the program, I went to a Bible study run by the same preacher who had shared about the transforming power of Christ. A guy named Peter handed me his personal Life Recovery  Bible, and said: "You get this when you graduate, but I think you could use it now."
The following Sunday, someone asked me to church. I wasn't ready for church yet, but it was Peter's baptism – and, out of respect for Peter, I went. As I listened to the  testimonies of those being baptized, I had a sense of God's presence.
I felt that first church was not where I was supposed to be, so I searched out another. As I sat in the back row at Tenth Church, three speakers revealed that their mission field for the next 12 to 15 years was Cambodia. Listening, I heard God speak to me: "This is where the village is, where I want you." I hadn't yet surrendered my life to Jesus, but he was calling me.
I walked up and took communion. When I got back to my pew, a warm feeling overwhelmed me.  As it reached my eyes, the tears started to flow, purging me of sin. I accepted Christ as my saviour on October 26, 2007 –  and he has taken me on an amazingly fast journey.
Personal calling
I submitted to the recovery program, and everything they asked me to do. I couldn't get enough of the Word, and was doing Bible studies and programs that weren't part of the curriculum.
I completed the program in February 2008, and was introduced to Servants, a missions group that lives incarnationally among the urban poor all over Southeast Asia – with one group in Vancouver's Downtown Eastside.
Ian, a friend from the program, knew of my calling and shared it with Craig and Nay Greenfield, who had spent six years in the slums of Cambodia. They invited me over. As we were talking, we realized that Craig had been one of the speakers that first day at Tenth Church.
Since coming out of the program at UGM, I have been a servant at its morning drop-in centre. This involves everything from mopping floors to engaging the brokenness of the community. God has blessed me with the opportunity to preach every Wednesday morning, sharing his love with others who are where I was a short time ago.
I am also a member of the Servants community on East Hastings. God blesses us by allowing us to enter into the sufferings of others and to share the hope that comes from him. We invite our neighbours suffering from addictions and loneliness into our home, and encourage them as they wait to get into recovery.
I lived in the slums of Phnom Penh, Cambodia, from January to March 2009, confirming God's calling on my life. I will be leaving to join the Cambodia Servants team July 1.
I still cry many tears as I share what Christ has done. These are not tears of hopelessness, despair or addiction, but tears of love for those whom society calls the least – but whom God, in his upside-down kingdom, places first.