"Young Christians urgently want to stand with the church on climate change." That was the theme of a survey unveiled during a presentation at Tenth Church April 19.
(The full 24-page report can be accessed here.)
Representatives of Tearfund Canada and A Rocha Canada (initiators of the survey) and guest speakers took part in three such events across Canada this week, in Winnipeg, Vancouver and Toronto.
Five key findings
Philip Reilly, the Vancouver-based National Director of Development and Mobilization with Tearfund, laid out the five key findings from the survey:
An overwhelming majority of young Christians are worried about climate change and nature loss.

91% believe it is important to ACT NOW.

Young Christians believe that Creation Care is an Essential Part of the Gospel.

Young Christians are eager for the church to lead, but admit it is absent from the conversation.

By engaging with climate and nature concerns, churches can cultivate new ways to share the Gospel.
Reilly commented briefly on each point, including:
"What did stand out for us is just how worried they are."

"This view doesn't come out of alarmism but out of genuine concern."

"They want biblical and Christian guidance on the issue."
Responses to survey
The Vancouver speakers picked up on various elements of the major findings.
Karen Reed has served as a board member with A Rocha Canada and World Vision Canada, was a Vancouver pastor for many years before moving into one particular neighbourhood as an urban worker and community connector.
She said: "Creation care is not [just] another issue." Acknowledging that hers was "a very slow awakening," she has come to recognize that "God always works in the particular, in our places. Young people especially yearn for a tangible faith."
Three panelists responded to the study:
Andy Harrington, CEO, Canadian Foodgrains Bank

Laura Solberg, Executive Director, Kentro Christian Network

Whitney Buckner, Tatalu Conservation Residency Coordinator, A Rocha Canada
Asked what stood out for him, Harrington said, "I think it's urgency," adding that churches must pay attention because there are many other avenues through which young people can become engaged in issues of concern to them.
He lives in the Fraser Valley, but spends about one-third of his time overseas (flying out to Kenya and Somalia in a few days, for example).
He often spends time with vulnerable populations who are particularly harmed by climate change – a theme that will resonate with young people, given that global poverty is the only concern that ranked higher than climate change in the survey.
One page in the report – referred to during the presentation – focuses on the challenges facing Tearfund (which works to end extreme poverty around the world):
As global temperatures rise, rains are becoming less reliable and droughts, floods and storms are becoming more frequent and extreme.
One of the areas where this is painfully evident is in Borena, Ethiopia. People here depend on livestock and agriculture to survive. But after an unprecedented three years of drought, grazing lands and water sources have all dried out.
Livestock and crops have perished. Millions of people are now at the risk of starvation.
By video, acclaimed climate scientist (and Christian) Katharine Hayhoe said:
Climate change is a threat multiplier, exacerbating natural weather disasters and amplifying social crises. It stands between us and a better future in every sense of the word."
Solberg, who lives in Vancouver, though her work with Kentro extends far beyond the local scene, built on Harrington's comments.
Noting that 10 years ago these issues were barely on church's radar, she said there is room for a certain amount of optimism because now climate issues are receiving at least some attention:
"We can recognize the opportunity to connect the heart of God with the heart of young people."
Buckner works at A Rocha's Brooksdale Environmental Centre in south Surrey. She said it is important to "honour the power of imagination," while recognizing the lack of imagination thus far in the church. Start small, she said: "Doing tangible small things embodies hope," which in turn leads to greater imagination.
The report devotes two pages to 'embracing the opportunity,' beginning with three steps:
Responding to the call of Christ: "We're told that creation was made by Jesus, through Jesus and for Jesus – Colossians 1:16."

Talk about it: "The church has the opportunity to open up new conversation: not one of fear but of hope!"

Start small: "Caring for creation is a marathon, not a sprint."
The gathering was hosted by Meisha Watson, Executive Producer at Crossroads Media. She invited everyone to take part in a National Day of Creative Action:
On Saturday, May 27, join or lead a National Litter Pick Up day in your city to put your faith into action. You will be joining with churches and individuals from across the nation who want to make a difference and declare that God's creation is good and worthy of our care.
Executive summary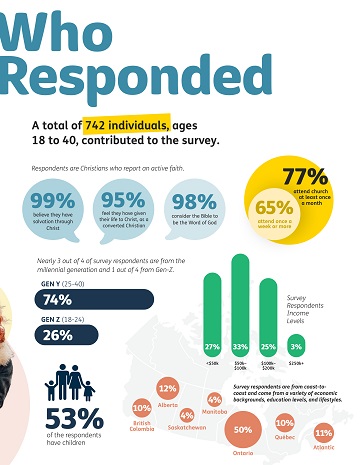 Here is the executive summary of For All the Earth:
Over 90% of young Christians surveyed say that they are worried about climate change and nature loss, with 60% stating that they are "quite" to "seriously worried." 88% say that they believe that creation care is an essential aspect of the Gospel message.
These are striking numbers.
If it was any other issue – racism, persecution, poverty – the church, would be talking about it: What does scripture say? What part do we have to play? How can we engage and disciple each other?
Oddly though, this isn't the case. A full 1 in 3 young Christians say that the church isn't doing enough and another 1 in 3 haven't even heard it mentioned. Only 17% said that the church and church leadership influences their thinking on the matter – only politicians ranked lower!
This is unfortunate because God has a lot to say about his love for the world and our caring for creation! Creation was made by Jesus, through Jesus and for Jesus (Colossians 1:16). Time and time again the scriptures praise God for the wonderful world he has created.
As God's representatives here on Earth we're tasked with continuing the work that was started on the cross. To advance God's Kingdom and bring in a new era of Shalom.
In a world that is increasingly starved for hope the church is well positioned to shift the narrative away from anxiousness and fatalism to one of hope. Young Christians have a desire for the church to do more. They are looking for mentoring, action, and spiritual guidance. By engaging young Christians on creation care – and young people in general – churches can cultivate new ways to demonstrate the Gospel.
Together, let's look forward to following God's call to steward creation in a way that brings glory and honour to him.

Resources
The report includes resources. For example: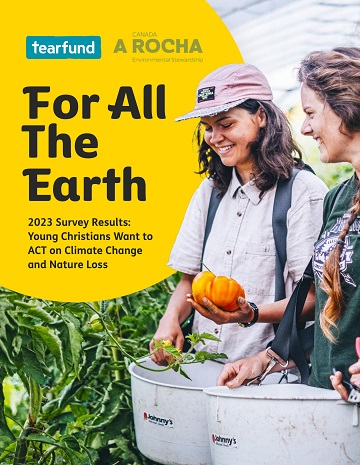 • Check out A Rocha Canada's opportunities to get involved (in-person and online) including the next Monthly Church Earthkeepers Meetup.
• A Rocha's Tatalu Conservation Residency is an immersive program that invites participants to learn to care for creation while following Christ.
• Field Notes is a podcast that explores the ideas, practice and tangible impact of creation care
by interviewing conservation scientists, artists, entrepreneurs and theologians from around the world.
• A Rocha Canada's resources for churches includes sermon outlines including Creation Care 101.
• Lausanne Global Classroom and A Rocha created an excellent Creation Care Study Guide video series that is excellent for small group discussion.
There are lots more resources in the For All the Earth report (page 21).
Tearfund and A Rocha Canada surveyed 742 young Christians and held focus groups with over 120 people: 26% were aged 18 – 24 and 74% aged 25 – 40; 65% attend church weekly with 78% attending at least once a month; 99% believe they have salvation through Christ; 98% consider the Bible to be the word of God; 50% identify as evangelical.