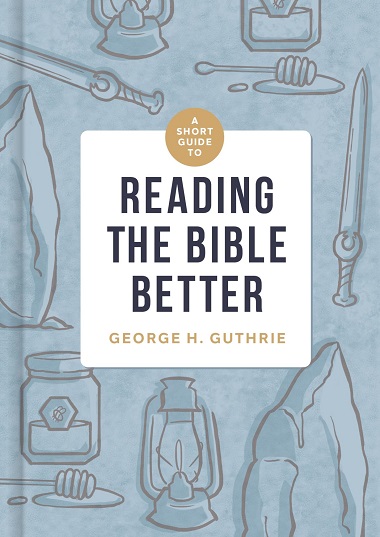 Local authors continue to write good books at quite a rate. This is my first round-up of 2023 (on books published late last year and early this year), but I have about the same number in reserve, and more are on the way. 
This week I will look at seven books, mostly from academic types – though most are very much suitable for general readership – along with a couple of devotional / inspirational titles.
The write-ups are generally from Amazon and publisher / author sites.
George H. Guthrie: A Short Guide to Reading the Bible Better

(B&H Publishers)
The number one predictor of a person's spiritual health is the regular practice of personal Bible reading.
 
But this is precisely the point where many Christians stumble. Why? For many reasons, but one of them is simply that reading the Bible can be challenging. Even when we set aside the time and space, we don't always know where to begin, understand what we're reading, or know how one part connects to the next.
 
Wouldn't it be helpful to have a guide for reading the Bible better?
 
A Short Guide to Reading the Bible Better is an accessible handbook to help you better read God's Word, whether you are new to the Bible or have been reading it faithfully for decades. This book was designed to be read together by an entire church, studied by a small group, or engaged by an individual looking to sharpen his or her Bible reading skill.
 
A clear and concise roadmap for reading God's Word well, this book will equip you to open God's Word with intention, purpose and context every time, so that you may see God transform your hearts and minds as you read. 
George Guthrie is Professor of New Testament at Regent College. He has taught the Bible all over the world, and has a passion for equipping church leaders and laypeople to read and live the Bible more effectively. George and his wife Pat live in Vancouver where they are called to teaching, mentoring, hospitality and a bit of gardening and fly fishing. They have two grown children.
Jenny-Lyn de Klerk: 5 Puritan Women: Portraits of Faith and Love (Crossway)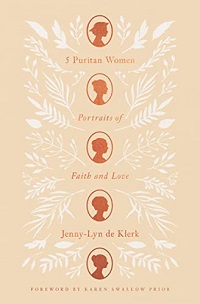 The writings of the Puritans have had a recent resurgence, but many Puritan women have often been overlooked or misunderstood. As mothers, daughters, grandmothers and wives, the vibrant faith of Puritan women has much to teach modern day readers.
In 5 Puritan Women: Portraits of Faith and Love, Jenny-Lyn de Klerk shows how the lives and writings of Christian women encourage the beauty of holy living and provide practical wisdom for the home and the church.
Each chapter portrays a different Puritan woman – Agnes Beaumont, Lucy Hutchinson, Mary Rich, Anne Bradstreet and Lady Brilliana Harley – telling their stories of devotion, lament and family. By studying their faith journeys, modern readers can learn more about their roles in church history and glean insights into the Christian life. 
Jenny-Lyn de Klerk (PhD, Midwestern Baptist Theological Seminary) works as an editor at Crossway and has multiple degrees in church history and historical theology, specializing in Puritan spirituality. She has also written articles for Themelios, the Midwestern Journal of Theology and the Gospel Coalition, and contributed to the Lexham Dictionary of Church History. Jenny-Lyn and her husband, JD, live and attend church in Tsawwassen. She wrote a guest column about 5 Puritan Women for TGC.
Colin Godwin: Anabaptist Meditations: Thirty Days of Biblical Reflection from the Founders of the Tradition (Pandora Press)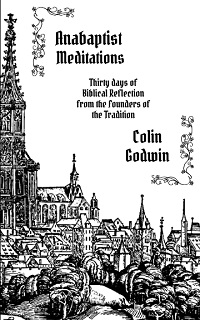 Five hundred years ago, a movement emerged in Europe that took seriously the call to follow in the footsteps of Christ. The Anabaptists developed a new form of Christian spirituality and practice in response to the political changes, spiritual confusion, violence and the economic disparities that they saw around them.
Their new faith went beyond carefully crafted creedal statements and instead, they developed a new understanding of Christian discipleship based on their reading of the New Testament and centred on the life and teachings of Christ.
In Anabaptist Meditations, Colin Godwin offers 30 devotional readings carefully crafted to guide you to the heart of the Anabaptist tradition.
Five themes will challenge you to a more engaged and Christ-centred spiritual life: choosing faith (voluntarism), following Christ (discipleship), Christian community (church), separation (nonresistance) and witness (mission).
Each entry begins with a biblical passage, followed by a short meditation and quotation from an Anabaptist writer, and concludes with questions for reflection and a prayer.
Colin Godwin serves as President of Carey Theological College. He was born in Belgium and educated at the University of Guelph, the University of St. Michael's College, McMaster University, and the University of Wales. was a Baptist missionary in Belgium, Rwanda and Kenya alongside the love of his life, Karen, and their four children. Colin is also the author of an exploration of 16th century Anabaptist missiology, Baptizing, Gathering and Sending, and articles on Baptist and Anabaptist history, church planting and missiology.
R. Paul Stevens: The Kingdom of God in Working Clothes (Cascade Books)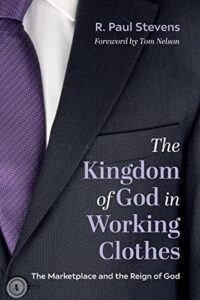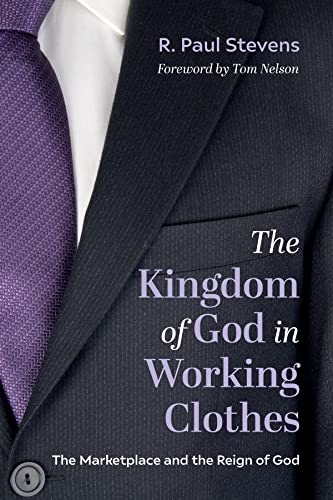 Work occupies most of our waking time, whether it is in a factory, office, school or at home. But unfortunately most people of faith separate their working life from their worshipping life. Dualism is a pernicious heresy that has infected believers worldwide – namely, that church work and missionary service are holy and our everyday work is secular.
In this timely volume Stevens explores the connection of the kingdom of God – the master thought of Jesus – with the marketplace.
Traditionally people have either related the kingdom of God – God's new world coming – either exclusively for the present or only for the distant future. But it is both, now and coming. This gives meaning, hope and endurance to our work in the world.
So daily labour in the marketplace gets reoriented through salty values and ingrained virtues. We become double agent spies exploring the new world coming in everyday life. We can also grapple helpfully with the resistance we face daily in the workplace.
There are many books on the kingdom of God and many on work. Few have brought these two vital arenas of everyday service together. It is indeed part of the good news.
Paul Stevens is Professor Emeritus in Marketplace Theology, Regent College, and chairs the Institute for Marketplace Transformation. He has written widely on everyday life themes and the workplace in particular, including The Complete Book of Everyday Christianity, Taking Your Soul to Work (with Alvin Ung), Money Matters (with Clive Lim), Marriage Spirituality, Work Matters and Doing God's Business. 
Andrew T.J. Kaethler: The Eschatological Person: Alexander Schmemann and Joseph Ratzinger in Dialogue (Cascade Books)
Both Alexander Schmemann and Joseph Ratzinger insist that the human person remains shrouded in mystery without God's self-disclosure in the person of Jesus Christ.
Like us, Jesus lived in a particular time and location, and therefore time and temporality must be part of the ontological question of what it means to be a human person. Yet, Jesus, the one who has time for us, ascended to the Father, and the bride of Christ awaits his return, and therefore time and temporality are conditioned by the eschatological.
With this in mind, the ontological question of personhood and temporality is a question that concerns eschatology: how does eschatology shape personhood?
Bringing together Schmemann and Ratzinger in a theological dialogue for the first time, this book explores their respective approaches and answers to the aforementioned question. While the two theologians share much in common, it is only Ratzinger's relational ontological approach that, by being consistently relational from top to bottom, consistently preserves the meaningfulness of temporal existence.
Andrew Kaethler is Academic Dean and Assistant Professor of Theology at Catholic Pacific College, on the campus of Trinity Western University. He holds a PhD in systematic theology from the University of St Andrews. He and his wife have six children.
Grace Fox: Fresh Hope for Today: Devotions for Joy on the Journey (Aspire Press)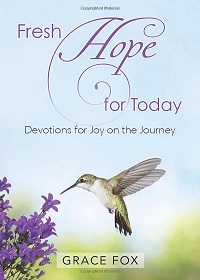 Sometimes the road we travel feels lonely or steep. It winds through dark valleys, follows unfamiliar ways and leaves us weary from the inside out.
Ninety daily devotions will refresh your soul and lead you to a place of joy on the journey. Read and reflect on these gems, and let their truth remind you of God's presence and care. You don't walk alone, my friend.
Each day's devotion offers a key Bible verse, insights on which to pause, an application question to ponder and a sentence prayer. You'll also find an encouraging quote from others who walked a difficult journey but discovered joy along the way.
Consider purchasing the devotional book and a set of four beautifully designed notecards as a set to encourage loved ones. Each blank card features a different Scripture verse.
Grace Fox is an author and speaker whose passion is to connect the dots between faith and real life so her audiences might live the life God intends. Drawing from Scripture and from personal experiences learned while living on Canada's rugged coastline, in urban United States and in Nepal's Himalayan mountains, she uses the written page and the public stage to build Christ-based confidence in audiences worldwide. She lives in Vancouver with her husband. They are national co-directors of International Messengers Canada, which offers creative missionary opportunities in 31 countries.
Ann Griffiths: Reignite Your Leadership Heart: Inspiring Women to Unleash Their Full Potential (Redemption Press)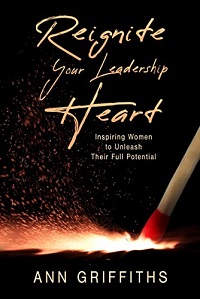 How can a woman who has it all – a happy family, an effective ministry, a thriving business and the respect of her community – detour into a wilderness journey and a secret that threatens to cost her everything?
Ann Griffiths is a successful leader and a woman of faith. But when she experiences deep loss and God's calling takes a backseat to her business ambitions, she finds herself in a dark place she can navigate only with God's amazing grace.
A passionate mentor to women who are called to positions of leadership, Ann Griffiths encourages others who may be lost in their own wilderness and in need of that same hope and grace.
Through biblical examples and her own story of struggle and restoration, Ann invites you to ignite – or reignite – your full potential and leave a timeless fingerprint that inspires others. Here, you will find hope in your own situation, discover what it is to be an effective leader and learn practical skills to help you grow.
Ann Griffiths has launched programs for women in leadership and is the author of A Mentor's  Fingerprint and Grandma's Fingerprint. She currently serves as ministry director at Mill Lake Church in Abbotsford. She and her husband have two children, four adult grandchildren and in-loves who've been added to the family along the way.