The BC Leadership Prayer Breakfast is always a stirring event, but there was something special in the air this year.
Around a thousand people assembled at the Hyatt Regency June 9 for the 56th annual prayer breakfast, There were, as usual, many business people, politicians and church/ministry leaders.
Premier David Eby and Mayor Ken Sim were on the stage, and read from the Beatitudes and the Psalms respectively.
But the highlight, for me, was the Indigenous influence.
The event could have been a disaster. Keynote speaker, former Chief of the Assembly of First Nations Phil Fontaine had spoken the night before at a related dinner, but then had to be taken to hospital. His wife, prominent human rights lawyer and professor Kathleen Mahoney, told us his prognosis was good – and then stepped in for him. (The Director of Ceremonies was also not well, and had to be replaced.)
A young woman began with our national anthem, "O Canada, our home on native land." Johnna Sparrow-Crawford from the Musqueam nation asked us to think carefully about what it means to be on native land.
Although Fontaine was unable to attend, we did see a portion of a video (shown here) made by his stepdaughter, Tara Mahoney.
It was moving to hear about his 10 years of residential school experience, and his visit with Pope Benedict XVI in 2009 (followed last year by time with Pope Francis in Rome) – and particularly his willingness to forgive.
Kathleen was then interviewed by her daughter Tara. She made several perceptive comments, but one moment has stuck with me. She shared a story "about reconciliation and recognition" which she heard at a conference she had organized prior to Canada's Truth and Reconciliation Commission, in order to hear from people who had taken part in similar processes.
The wording is not be exact; I've taken it from an earlier interview:
One member of South Africa's Truth Commission, Rev. Bongani Finca, told this story.
He said there was a gentleman called Tabo, a black South African who had a cow. One day Mr. Smith, a white South African with greater economic and political power, took Tabo's cow away from him without permission or without compensation.
Tabo suffered from the loss of the cow. He lost his livelihood, he became poor, he became depressed. He couldn't provide proper housing or education for his children or get them the things they needed to have a successful life.
Many years later the Truth and Reconciliation Commission brought Tabo and Mr. Smith together in a process of reconciliation. Mr. Smith offered an apology and Tabo accepted it. They hugged, they kissed, they had a cup of tea together and they even shared a few jokes.
At the end of the day Mr. Smith got up to leave and as he was going through the gate Tabo asked Mr. Smith, "What about the cow?" Mr. Smith said, "Tabo, you are messing up this thing about reconciliation; it's got nothing to do with the cow."
The story resonated at the time, but over the weekend it came back to me as I remembered that people in West Point Grey are waiting to hear about some dramatic changes to their neighbourhood.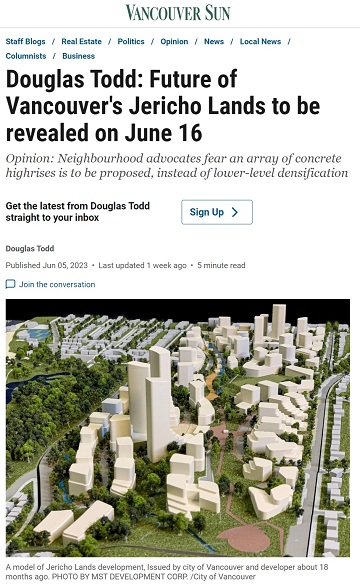 Douglas Todd recently wrote about the future of the Jericho Lands project:
As West Side residents who live near the rolling hillside overlooking Jericho beach anxiously await, the city of Vancouver has confirmed that the latest conceptualization of the development is to be released June 16.
The last time the public was given a hint of what was in store for the Jericho Lands – a swath of property almost three times the size of Granville Island that was formerly owned by the Department of National Defence and the B.C. government – was 18 months ago.
That's when MST Development Corp., a joint venture of the Musqueam, Squamish and Tsleil-Waututh Nations, released documents showing plans for 10,000 housing units for almost 20,000 residents. The population of the entire surrounding neighbourhood, Point Grey, is 14,000.
Members of The Jericho Coalition – "a group of engaged and concerned volunteer citizens" – have adopted the motto, "No Towers at Jericho! Yes to Livable Housing at a Human Scale."
As a former Point Grey resident who played soccer weekly just below Trimble Park, overlooking the ocean and city, my head sympathizes with Mr. Smith, but my heart feels for Tabo. Or vice versa.
Also keep their story in mind as you read critiques of the development at Sen̓áḵw (Snauq), under the west end of the Burrard Street Bridge. A CBC News article last year ('Out of the ashes') spoke with Anne Whonnock (Syexwáliya), a councillor and spokesperson for the Squamish Nation:
In 1913, Syexwáliya's grandfather came home from fishing season to find an empty village burned to the ground. . . .
In the next decades, Sen̓áḵw languished while the federal and provincial governments argued over title. The land eventually housed the Vancouver Maritime Museum, a housing complex, criss-crossing rail lines and Vanier Park.
The Squamish nation sued the federal government over the land in the 1970s.
In 2002, it struck a $92-million deal: a prime, Y-shaped slice of land on the shores of False Creek was returned to the nation.
One helpful new resource, as one wrestles with these issues, is Becoming Vancouver (Harbour Publishing, 2021) by Daniel Francis.
Despite being (rightly) described as a "brisk" chronicle of Vancouver, the book does a good job of  describing the various ways in which Indigenous groups were dispossessed of their land.
Francis, who also grew up "in a comfortable corner of West Point Grey," includes this telling conversation in 1932 between Major James Matthews, the city archivist, and August Jack Khahtsahlano, born in Sen̓áḵw.
Major Matthews asked, "How many Indians do you suppose lived around Burrard Inlet and English Bay before the white man came?" Without a pause, August Jack responded, "About a million!" He may have been exaggerating for effect, but his point was made.
"There was a settlement at E-yal-mough (Jericho)," he reeled off the names, another at Snauq (Burrard Bridge), at Ay-yul-shun (English Bay Beach), at Stait-wouk (Second Beach), at Chay-thoos (Prospect Point), at Xway-xway (Lumberman's Arch), at Homulcheson (Capilano), at Ustlawn (North Vancouver), at Chay-chil-wuk (Seymour Creek) – there was nothing at Lynn Creek – and more settlements up the inlet besides the one at Kum-kum-lye (Hastings Sawmill)."
Just 110 years ago, Squamish residents were forced off the Kitsilano Reserve and others were pressured to sell their land in Stanley Park for fear that it would be taken from them.
Thank you, BC Prayer Breakfast, for bringing together our premier, our mayor and many other local politicians and leaders to hear from Phil Fontaine, Kathleen Mahoney, Mr. Smith and Tabo.