John Oakley did not have an auspicious start to life – but he has determined to finish well. And his journey was recognized June 9, when he was awarded a Coastal Mental Health's Courage to Come Back Award.
The awards celebrate "British Columbians who have overcome illness or adversity and have 'come back to give back' to their communities, and to inspire others to do the same."
Here is what they wrote about Oakley:
Born into a dysfunctional family, John faced physical and verbal abuse from a young age. By 10 he had turned to alcohol and drugs to escape, the beginning of 40 years of addiction.
As a result, he spent years in and out of juvenile detention and then prison, quit school at 14 to fund his habit, and was discharged from the army after going AWOL on a binge. Two marriages broke down and he lost contact with his daughters. He spent years without a home in Calgary and Vancouver, trying and failing to find recovery, and unable to ask for help. He had no family or friends to support him and was completely alone.
A spiritual experience led him to find God and Union Gospel Mission, where he graduated from the Drug & Addictions program and went on to become an outreach worker. Around this time, he was diagnosed with bladder cancer, and had to fight hard not to turn to alcohol or drugs. Having been told he was worthless throughout his childhood, he proved the opposite, graduating high school and Bible college.
John has now been in recovery from addiction for almost 15 years and dedicates his life to giving back to those in need. He co-published two poetry books, raising funds for charities and selflessly shares his story of hope with media, at schools and at churches.
He volunteers at a seniors' home and is on the board for the Canadian Bible Society. Along with his wife Elsa, he serves food, water and hope to folks in need in Vancouver, as well as running a ministry in Mexico, where he will be moving later this year to lead a congregation. He has reconnected with two of his daughters and aims to shine the light of hope for all those he meets.
John and Elsa lead Freedom's Doors Society, which works in Puerto Vallarta, Mexico and Vancouver. He recently made this announcement:
We truly are excited to announce that we will be moving to Puerto Vallarta on July 1, full time and will become the new pastor couple for First Baptist Community Church (English Speaking congregation).
This is the church we have been ministering to the homeless out of since 2017, working alongside of head pastor Jorge Guzman, who leads the Spanish congregation and Phil and Carol Bailey, whom Elsa and I will be replacing as they retire this year. . . .
We will also miss our home church, Coastal Church and our church family here in Vancouver.
I posted a related article in 2014: 'A marriage made in heaven: John and Elsa . . . and Union Gospel Mission.' And I am reminded of another story i posted, about Kevin Knight and his wife Leakhana: 'Former Downtown Eastsider lives with evicted Cambodian community.'
Five British Columbians receive Courage to Come Back Awards each year. One of the other winners this year is Danielle Laviolette, who was diagnosed with autism. Among other pursuits, "she is a dedicated and spirited volunteer at Metro Kids Society," a ministry which bases its work on biblical truths.
Two local chaplains were featured in a recent Christianity Today article: 'Seafarer Ministries See Spiritual Needs in Rough Economic Waters.'
Beginning with a story about a man who almost lost his life after being washed overboard, the article continued:
"We need a service onboard this ship," the man said, and [Gary] Roosma, a chaplain at the Port of Vancouver with the Christian Reformed Church (CRC) Ministry to Seafarers agreed to lead them in prayer and worship that day.
Roosma was reminded, yet again, of the point of this unusual ministry. As the psalmist said in Psalm 107, "They that go down to the sea in ships, that do business in great waters; these see the works of the Lord, and his wonders in the deep" (vv. 23–24, KJV).
Seafarer ministry chaplains are called to point that out to the men and women working on cargo ships.
Seafarers' ministries are not new. They've been around since the 19th century, and there are now hundreds like the one in Vancouver in ports around the world. Those involved in these ministries say the need has felt especially urgent in recent days, as the shipping industry goes through rough waters, taking a toll on merchant marines.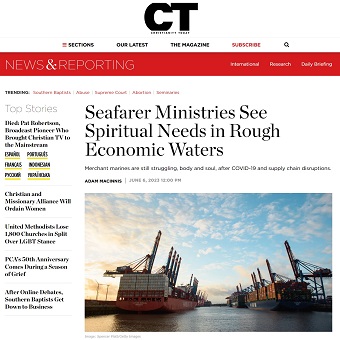 The shipping industry has always been turbulent, but the challenges in recent years have been especially difficult. COVID-19 restrictions required many seafarers to work longer hours and receive less shore time.
Supply chain issues have impacted the world economy, leading to cost spikes and subsequent drops that impact sailors' livelihoods. Amid all that uncertainty, they've also had to cope with the ripple effects of the Russian-Ukraine war.
A 2022 Review of Maritime Transport put out by the United Nations Conference on Trade and Development was aptly named Navigating Stormy Waters.
Also interviewed was Ray Hanna, port chaplain at Lighthouse Harbour Ministries in North Vancouver and Fraser Surrey Docks.
Go here for the full article.
TWU welcomes ASEAN
Trinity Western University (TWU) has worked hard to develop its international networks in recent years. Here is part of a TWU report which describes one recent meeting:
On June 8, Trinity Western University was honoured to welcome a delegation from the Association of Southeast Asian Nations (ASEAN) that included the consular representatives of Thailand, Vietnam, Indonesia, Malaysia and Philippines.
The ASEAN delegation visited TWU Richmond campus' Minoru location as part of a Richmond study tour led by Councillor Chak Kwong Au from the City of Richmond that introduced the delegates to the region's strengths.
TWU President Mark Husbands, Vice President of Innovation, Global and Academic Partnerships Phil Laird and Executive Director of TWU Richmond Rebecca Swaim welcomed the ASEAN delegation. . . .
Since its founding in 1962, Trinity Western has grown in significant ways. Today TWU welcomes over 6,000 students from more than 80 different countries. In addition to opportunities to study at TWU's four Canadian locations – Langley, Richmond-Minoru, Richmond-Lansdowne and Ottawa – students may also choose to study online or through one of TWU's FAR CENTRE™ Programs, hosted in partnership with several educational institutions around the world.
Jun 2023
Servant Partners: Community Transformation Certificate (two days) – June 10, 2023 - June 17, 2023 at 9:00 am - 3:00 pm
Marketplace Mornings: Finding God in the Valley with Greg Roberts – June 15, 2023 at 7:00 am - 8:30 am
What is it like to be a Christian Observer at a UN Climate conference? – June 15, 2023 at 4:00 pm - 5:00 pm
Wild Light – June 15, 2023 - June 17, 2023 at 7:30 pm - 9:30 pm
MVA: Foundations of Community Organizing Training – June 16, 2023 - June 17, 2023 at 5:30 pm - 5:00 pm
Celebrate Juneteenth / Father's Day with Marcus Mosely – June 18, 2023 at 1:30 pm - 5:30 pm
2023 Vancouver Gospel Festival – June 18, 2023 at 6:00 pm - 9:00 pm
Danny Michel – June 18, 2023 at 8:00 pm - 10:00 pm
Worship for Justice Tour presents Don Moen & Paul Baloche, with Brooke Nichols – June 19, 2023 at 7:00 pm - 9:30 pm
Sam Rocha Trio @ The Princeton – June 19, 2023 at 9:00 pm - 10:00 pm
Second Annual Skidmore Foundation Golf Tournament – June 21, 2023 at All Day
Jazz Evensong @ Brentwood: Mennonite Jazz Committee – June 21, 2023 at 8:00 pm - 9:00 pm
City-wide Worship Night: Worship in the City – June 22, 2023 at 7:00 pm - 9:00 pm
God Said This by Leah Nanako Winkler – June 22, 2023 - June 24, 2023 at 8:00 pm - 10:00 pm
Filmmaking Basics Workshop – June 23, 2023 - June 24, 2023 at 8:30 am - 3:00 pm
Refugee Support and Volunteer Training – June 24, 2023 at 8:45 am - 3:00 pm
House of James: 50th Anniversary BBQ – June 24, 2023 at 11:00 am - 2:00 pm
Worship Invades Pitt Meadows – June 24, 2023 at 7:30 pm - 10:30 pm
Jazz Vespers with Carman J. Price – June 25, 2023 at 4:00 pm - 5:00 pm
One With Them: A Day for Christian Captives – June 25, 2023 at 4:00 pm - 5:00 pm
Mark D. Roberts: Faith-Work Integration – New Learning for a New Day – June 26, 2023 at 7:30 pm - 9:00 pm
Church Earthkeepers Meet-Up – June 27, 2023 at 5:00 pm - 6:00 pm
Strategic Leadership for Christian Higher Education Administrators: (1) Having Difficult Conversations, and (2) Onboarding New Faculty – June 28, 2023 at 8:30 am - 12:00 pm
Mabiala Kenzo: Developments in Postcolonial Theology – June 28, 2023 at 12:00 pm - 12:45 pm
Jazz Evensong @ Brentwood: Karen Graves & Miles Black – June 28, 2023 at 8:00 pm - 9:00 pm
Christian Climate Observers Program at COP28 (2023): Application – June 29, 2023 - July 14, 2023 at All Day
Surroundings by Cara Bain – June 29, 2023 - August 16, 2023 at All Day
Surroundings by Cara Bain: Opening Reception – June 29, 2023 at 4:30 pm - 6:30 pm
New Roots 2023 – June 29, 2023 at 8:00 pm - 9:30 pm

Jul 2023
Summer Worship update – July 2, 2023 - August 27, 2023 at 4:00 pm - 5:00 pm
FLO Summer Soccer Camp 2023 – July 3, 2023 - July 7, 2023 at 1:00 pm - 4:00 pm
Vince Bantu: The Global Roots of the Christian Faith – July 3, 2023 at 7:30 pm - 9:00 pm
Vince Bantu: The Specificity of Church History Around the World – July 5, 2023 at 12:00 pm - 12:45 pm
BC Christian Ashram: On Earth as in Heaven – July 7, 2023 - July 8, 2023 at All Day
Retreat and Launch 2023 – July 7, 2023 - July 8, 2023 at 9:00 am - 6:00 pm
West Coast Gospel Music Summer Caravan – July 7, 2023 - July 8, 2023 at 7:00 pm - 10:00 pm
David Ley: Postmodern Urban Spaces – a City Tour – July 8, 2023 at 9:00 am - 1:00 pm
Wine & Soul – July 8, 2023 at 10:00 am - 3:00 pm
Soccer Camp – July 10, 2023 - July 14, 2023 at 9:00 am - 12:30 pm
Bishop Todd Townsend: Taking the Plunge – Biblical Patterns for Coming to Faith in Christ – July 11, 2023 at 7:00 pm - 8:30 pm
Joy Marie Clarkson & James Smoker: Art, Spiritual Formation & Community – July 12, 2023 at 12:00 pm - 12:45 pm
John W. Walton: What in the World are We Supposed to do with the Old Testament? – July 12, 2023 at 7:30 pm - 9:00 pm
Arthur Boers: Peril & Promise in Penning Memoir – Grace-Filled & Faith-Filled Challenges – July 13, 2023 at 12:00 pm - 1:00 pm
Servant Partners Training – July 15, 2023 at 9:00 am - 3:00 pm
David Lyon: Everyday Life in a World of Digital Surveillance – July 17, 2023 at 7:30 pm - 9:00 pm
Alexander Chow: Chinese Christian Thought – July 19, 2023 at 12:00 pm - 12:45 pm
CMUS 205 Symposium on Variations of Violin Hymns (two evenings) – July 20, 2023 - July 27, 2023 at 7:30 pm - 9:00 pm
Ruthie Foster: Fort Langley Jazz & Arts Festival 2023 – July 21, 2023 at 8:00 pm - 10:00 pm
Jeffrey Greenman: The Bible's Deep Logic – the Inseparable Connection Between Believing, Belonging & Belonging – July 22, 2023 at 9:30 am - 11:45 am
Fraser Lands Community Day – July 22, 2023 at 11:00 am - 3:00 pm
Mary McCampbell: Prophetic 'Deconstruction'? Literary Critiques of Cultural Christianity – July 24, 2023 at 7:30 pm - 9:00 pm
Brittany Kim: The Every Voice Kingdom Diversity Project – July 26, 2023 at 12:00 pm - 12:45 pm
Jonathan Pennington: What is the 'Good Life' and How Do We Find It? Christianity's Surprising Answer – July 26, 2023 at 7:30 pm - 9:00 pm
Jesus the Great Philosopher: An evening with Dr. Jonathan Pennington – July 27, 2023 at 7:00 pm - 8:30 pm
Joint Missions Convention: Go into all the World – July 28, 2023 - July 30, 2023 at All Day
Healing Hearts Transforming Nations Retreat – July 30, 2023 - August 3, 2023 at All Day
Jazz Vespers with Joelle Lush – July 30, 2023 at 4:00 pm - 5:00 pm
Hans Boersma: Dionysius & Hierarchy – Why Modernity is Oppressive – July 31, 2023 at 7:30 pm - 9:00 pm