Pastor Peter (Jonghuen) Yang has been spending much of his time at Oppenheimer Park in the Downtown Eastside for more than a year, offering Sunday services and providing food, along with masks and sanitizer to protect against coronavirus.
Now orders have been given for everyone living in the tent camp to move out.
Yang wishes them well as they are being dispersed, but he hopes to continue to see them even after they have moved into new housing.
Time to move out
The provincial government announced April 25 that homeless people in three tent cities – at Oppenheimer Park and two locations in Victoria – will be moved into hotels by May 9. Almost 700 hotel and community centre spaces have been identified in Vancouver.
A CBC News story stated:
Ministers Mike Farnworth, Shane Simpson and Judy Darcy made the announcement Saturday morning, along with representatives from BC Housing. The plan is supported by an order under the Emergency Program Act and the ongoing provincial state of emergency. . . .
Once in the accommodations, people will have their own living space, as well as meals, laundry, washroom facilities, health-care services, addictions treatment and harm reduction and storage for personal belongings. There will also be designated spaces for women.
"At this point we believe the vast majority of people will move willingly, we're hopeful of that," said Simpson. . . .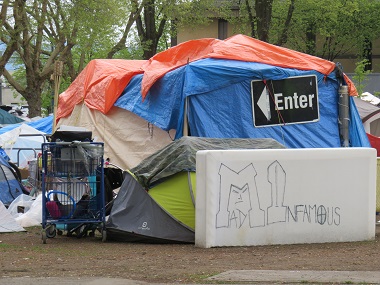 Farnworth said the plan to dismantle the camps is a public safety order and not a health order.
"As an order, police and other compliance officials are able to enforce violations of this act," he said. "We know there will be challenges ahead."
Vancouver Mayor Kennedy Stewart issued a written statement in support of the measures, saying they would help reduce overdoses and encourage physical distancing.
Union Gospel Mission spokesperson Jeremy Hunka said in an email to me:
We are definitely happy this housing is being offered to the most vulnerable, and want to encourage the government to continue to build on these announcements because we believe that they will make a huge positive difference in our community. At the same time, the need is staggering across the region so we'd like to see more of what is needed: housing with supports.
UGM is not directly involved in the move, but Hunka has commented about it on several media outlets, including CBC Radio's On the Coast, where he said:
I was actually down at Oppenheimer Park earlier this afternoon, and I spoke to a handful of people, and for the most part there was a little bit of uncertainty as to when this was happening. . . . However, the majority that I spoke to were relieved and hopeful that housing was coming. So that is positive, but there will be some anxiety and some stress.
Go here for the full interview.
Pastor to Oppenheimer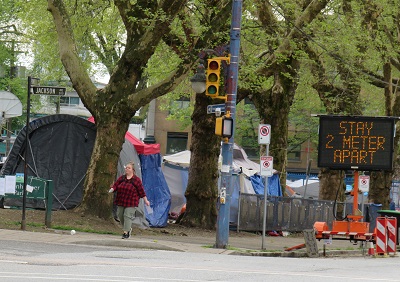 Pastor Yang has seen the threat of COVID-19 draw near; he described how the threat came to seem much more immediate last week:
I was very surprised on the evening of Tuesday (April 22). An elder who helps Antioch Mission, my homeless missionary group, said, "Pastor! Be careful. I saw on the news that 27 employees at the United Poultry Company were collectively infected with the coronavirus."
The factory is just across Cordova Street from the park, half a block east. We have canopy tents at the park, worship with the homeless every week and share our after-worship meals. On Wednesday we share many kinds of food in Oppenheimer Park. I was stunned to hear that there was a mass outbreak of the COVID-19 infection nearby. There were a lot of worries in my head.
Thus far the rate of infection in the Downtown Eastside remains low, but provincial officials are clearly concerned. With thousands of homeless and poorly housed residents who have little opportunity to practice social distancing, prospects for the rapid spread of the disease remain serious.
Mike Farnworth said: "We are at a confluence of two of the most challenging health emergencies our province has ever faced [COVID-19 and the opioid crisis], and we cannot leave our most vulnerable behind."
Not a safe place to live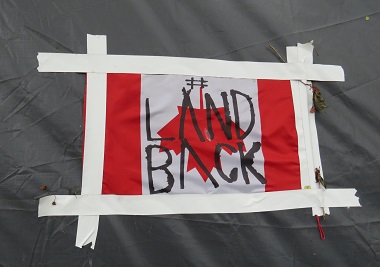 Vancouver Mayor Stewart Kennedy has been grappling with how to resolve the situation at Oppenheimer Park ever since he was elected in October, 2018. Last fall he faced resistance when he tried to take over responsibility for Oppenheimer from the Parks Board.
A CTV News story from November 1, 2019 said:
Police continue to warn about serious crime at or near the camp, including several shootings – but some residents say there is nowhere else they feel safe.
In an interview on Friday with CTV Morning Live, Stewart said he'd still like the Vancouver Park Board to give the city jurisdictional control of the park, a step that would allow the city to possibly move to evict the people tenting there. . . .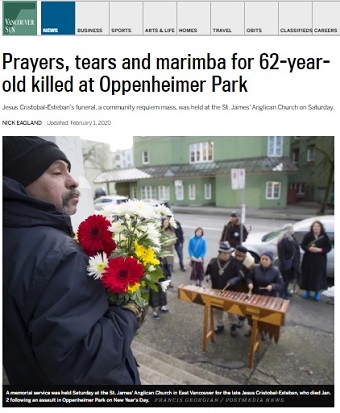 Stewart said he goes to Oppenheimer Park frequently, and characterized the people who live there as being part of "three groups: There are a number of criminals, who probably need to be arrested. There are some activists who are making a point. But then there are people who are very mentally ill who need really high levels of service.
Early this year Jesus Cristobal-Esteban was killed in Oppenheimer Park. He was a member of St. James Anglican Church, just one block west of the park along Cordova Street.
A Vancouver Sun story marked the event:
More than 150 people packed the pews to sing and pray their hearts out for Cristobal-Esteban, a beloved volunteer, activist and community member.
Cristobal-Esteban died in hospital surrounded by friends on January 2 after he was assaulted while visiting the park on New Year's Day. . . .
Cristobal-Esteban regularly visited Oppenheimer Park to spend time with friends, and worked in the community garden and kitchen there for many years.
Go here for full article.
Presence in the park
I met Pastor Yang at the park yesterday afternoon. He was there with his wife and daughter and volunteer Chungyun Kim to distribute meals at a table they set up. Kim is with NAIM (North America Indigenous Ministries) and is interning with New Beginnings Church in Strathcona.
Antioch Church's work is supported by some people who have read Yang's ministry reports online; some pray and some have donated money and supplies.
Yang says, for example, that he has received support from pastor Park Sang-chul of the Vancouver First Presbyterian Church, pastor Duk-Soo Jang of Sung Jin Church and Sung-ja Jung, director of Zion Mission Choir.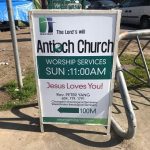 The Salvation Army has also donated food to the Antioch Church; North Delta Salvation Army provided the meals handed out yesterday.
Yang, who moved from South Korea to Canada 11 years ago and is part of the Korean American Presbyterian Church, became aware of Oppenheimer Park at the end of 2018. Before long the park became an important part of his life.
"The Holy Spirit led me here last year, February 10," he said. "God gave me a vision to help these homeless people; I was crying."
He said that offering food and, more lately. masks and sanitizer, has allowed him access to many individuals in the community.
Pastor Yang also makes sure he presents the gospel, saying:
Have you been saved? Jesus is the only son of God. He died on the cross for your and my sins, and came back to life three days later. If you believe in Jesus, you can be saved. Would you accept Jesus as a Saviour in the centre of your heart? If he or she says yes I do, I have them follow the prayer of Jesus as their Lord and Saviour, and ask them to come to Antioch Church in Oppenheimer Park by 11 o'clock to worship God together!
The tent camp is scheduled to be cleared out by May 9, but Yang plans to retain a presence. Every Sunday morning he and his team set up a canopy for their service, which is normally attended by about 20 people – about half Koreans and half locals, according to Kim.
Yang says Antioch Church will continue to meet Sunday mornings in Oppenheimer Park after all the tents are gone.
Good news in the neighbourhood
As I write this article, Union Gospel Mission, based just a couple of blocks from Oppenheimer Park, tweeted an article by Rachael Allen. 'The Business of Hope during COVID-19' looks at the broader picture in the Downtown Eastside:
In the midst of hardship, we know it's still possible – and essential – to maintain hope. I know, I know, how can we possibly say that while stores are boarded up, livelihoods are put into question, and everyone is struggling?
While all completely true, this pandemic is most definitely also bringing out the best in people – especially business-minded entrepreneurs and professionals who are now conduits of something that the world needs now, more than ever: hope.
Here at Union Gospel Mission we've seen some incredible and inspirational acts of generosity and kindness from businesses who are 'giving where they're living.' This needs to be celebrated! Here are six local organizations shining beacons of hope into our current storm:
1. Securing Up our Front Lines: Rogers Sugar/Lantic
2. Showering the Community in Kindness: LUSH
3. Face Shields Forged in 3D Printers: Industrial Pixel VFX
4. Distanced 'Doorstep Family Portraits': Beloved Films
5. Grab a Bowl of Goodness: Bovine Rice Bowls
6. Collaborative Meals Network: SRO Food Distribution Operation
Go here for the six write-ups.