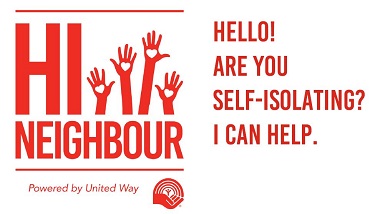 United Way of the Lower Mainland is making a special effort to find out how church communities are doing during the COVID-19 pandemic, and offering  support for churches/people who want to help out in their communities.
Many churches have organized support networks, of course, but no doubt there are many which could use the resources offered and even more who would enjoy working with a group like the United Way, which offers such a diverse array of services to improve community life.
A United Way rep sent me this description of how they approach churches to explain their Hi Neighbour initiative:
I hope this finds you healthy and well. My name is Chanelle and I am a Community Builder with the United Way. Currently, I am working to support folks in the community through this time of uncertainty.
Firstly, how is your church community doing? I wanted to touch base in case there were any vulnerable or newly vulnerable families that could use support. This vulnerability could be defined in several ways including families self-isolating, seniors or essential workers etc.
Through United Way, we have a number of screened, criminal record checked volunteers that are able to help with things like urgent supply or grocery drop off (contactless), friendly calls, posting mail etc. We also are able to provide resources in the community for any families concerned about food security or other essential services. . . .
She followed up with this:
In the past, United Way has done work in several churches throughout the Lower Mainland and is always happy to work with church communities to fill specific needs.
The current initiative (Hi Neighbour) is in response to COVID-19. Through this, we are checking in to make sure we reach vulnerable folks who could use some extra support. We have over 4,000 screened, criminal record checked volunteers ready and willing to help 
 Through my contact (listed on the card/poster I sent you), folks who have the capacity to volunteer can also get registered to do so. This volunteering could look like grabbing groceries, mask making, friendly phone calls, etc. 
For more information about Hi Neighbour, go here. Or contact Chanelle at: [email protected] | 604.294.8929
Help available

On April 15, the City of Vancouver contacted 100-plus faith leaders who had taken part in an April 7 conference call with provincial leaders. (Premier John Horgan first consulted with faith leaders about COVID-19 March 11.) The city requested input on several surveys, but also suggested sources of funding for faith groups available during the pandemic:
Sources of funding:
The Vancouver Foundation is accepting requests for grants between $10,000 to $50,000 from the Community Response Fund  to support  front-line services to vulnerable populations impacted by COVID-19.  Donations can also be made to this fund via the Vancouver Foundation webpage or the City of Vancouver's Give A Hand platform.
Second Harvest has a new funding program to help local community organizations from across the country to ensure food makes its way to those who need it most.
Food Banks of BC has been asked by the Provincial Government to distribute $3 million in special funding to assist food banks experiencing an emergency need during the Provincial State of Emergency declared in response to the COVID-19 pandemic. These funds include directives from government to remove barriers to food bank recipients and to allow drive-through and delivery opportunities, larger hampers, increased home delivery capability, and to remove the requirement of means' testing.
The United Way's iVolunteer platform can connect organizations needing volunteer support with community members interested in helping out.
CBC has developed an interactive hub of information on the benefits the federal government, provinces and territories are offering to people financially affected by the coronavirus.
Hello, Church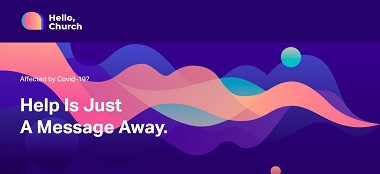 Some churches have been very intentional about reaching their communities. For example, Christian Life Assembly lead pastor Derrick Hamre introduced Hello, Church April 18:
This is a new initiative of the Churches of Langley available to our city and neighbours in need. During the pandemic, individual and family needs have risen exponentially. The idea is simple: let Langley know that the churches of our community are ready to help them in any way we can.
This love and care may take the form of prayer, errands, counselling or benevolence. We will be a resource to help point people towards federal and provincial relief, as well as helping to connect people to our Boxes of Love campaign in local schools. Hello, Church is a single pathway to gather needs and then distribute them to participating churches.
How will the community know about Hello, Church and how do people find their way to CLA?
There is an advertising campaign that local churches are paying for that will include traditional and online platforms. People will hear about Hello, Church through local churches, the local newspaper and ads on Facebook, Google, and other social media sites. Hello, Church has also set up a website, check it out at www.hellochurch.ca
Go here for the full article.
Westside Anglicans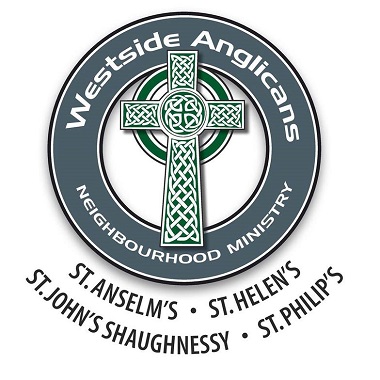 The Westside Anglicans Neighbourhood Ministry has a long history of working with homeless people on the west side of Vancouver, and is now focused on helping out during the pandemic:
The COVID-19 pandemic has affected many of us in so many different ways, some more significantly than others. In spite of these varying effects, the pandemic is a reminder that we are all connected. It is a time for us all to show love and support to people around us, most especially, the people in need.
Starting immediately, and throughout the COVID-19 crisis, we will collect non-perishable food and seasonal clothing from parishioners. Each week, those contributions will be passed on to two Westside organizations that are offering take out dinners to our neighbours in need, and to two city homeless shelters.
Let us be encouraged to give of the love of God. Love God, love your neighbour for there is no greater law.
Drop-off points are St. Philip's Anglican Church and St. John Shaughnessy Anglican Church, or call 604.312.1241.
Go here for an article I posted last year about Westside Anglicans Neighbourhood Ministry.
Maundy Café re-opened

Anglican Archbishop Melissa Skelton announced earlier this week that The Maundy Café would re-open at Christ Church Cathedral April 29:
I am proud to say that, in direct response to this need [people being affected by the pandemic], we are reopening the Maundy Café with the encouragement of the City of Vancouver. We will be able to continue serving those who are hungry in our community – in a new way.
We have secured a grant of $80,000 from Community Food Centres Canada's Good Food Access Fund. The grant will enable the Cathedral to provide emergency food relief to those in the community who are increasingly struggling with the economic effects of COVID-19. Funding is provided in part by the Government of Canada's Local Food Infrastructure Fund, as part of the Food Policy for Canada, and is meant to be spent before the end of June.
The Maundy Café page described its normal routine, and its recent status:
Prior to the pandemic, the Cathedral operated the Café as a five day per week sit down meal staffed by 75 volunteers each week. In 2019, the Cafe served 22,754 meals.
With the onset of COVID-19, the Cafe temporarily closed on March 18, 2020 in order to adapt and reopen in ways that satisfy current public health best practice, and provide vulnerable members of the community with access to the food that they need.
The Cathedral offers takeout meals on Wednesdays . . .
l posted a story last May about by Andrew Stephens-Rennie about the vision underlying The Maundy Café.
Apr 2020
Virtual Event: Business as Calling – Speaker Donna Cheung
– April 30, 2020 at 11:00 am - 12:00 pm
Missional Commons Webinar: God and Neighbour
– April 30, 2020 at 1:00 pm - 2:30 pm
Reaching Your World: How to Share Hope During Social Distancing
– April 30, 2020 at 5:00 pm - 6:30 pm
May 2020
Virtual Book Launch with David Taylor
– May 1, 2020 at 12:00 pm - 1:30 pm
Livestream with Graham Ord
– May 1, 2020 at 2:00 pm - 3:00 pm
Postponed: Faith and Work Conference: Knowing Your Why in Life & Work
– May 2, 2020 at 8:30 am - 3:00 pm
Webinar: A Call For Christian Marketplace Leaders: Facing The Economic Challenges of the COVID-19 Pandemic
– May 6, 2020 at 9:00 am - 10:00 am
Webinar: Creating an Environment of Hospitality on Alpha
– May 7, 2020 at 9:00 am - 10:00 am
Online Event: 'Round the Kitchen Table, hosted by Journey Home
– May 7, 2020 at 7:00 pm - 7:45 pm
A Rocha Volunteer Day
– May 9, 2020 at 9:30 am - 2:00 pm
Life Week
– May 11, 2020 - May 15, 2020 at All Day
Livestream: Iwan Russell-Jones: God in the Painted Caves – Prehistoric Art & the Quest for Meaning
– May 11, 2020 at 7:30 pm - 9:00 pm
Missional Commons Webinar: What Do We Want to Bring With Us?
– May 12, 2020 at 10:00 am - 11:30 am
Postponed: Pat Barratt: Build My Life Worship Nights
– May 12, 2020 at 7:00 pm - 10:00 pm
Conservative Leadership Candidates by Zoom
– May 13, 2020 at 6:00 pm - 8:00 pm
Livestream: Amanda Russell-Jones: Sister in the Wilderness – Hagar in Art, Music & Literature
– May 13, 2020 at 7:30 pm - 9:00 pm
Virtual National March for Life
– May 14, 2020 at 12:30 pm - 3:00 pm
Missional Commons Webinar: What Do We Want to Bring With Us?
– May 14, 2020 at 1:00 pm - 2:30 pm
Cancelled: The Trip to Bountiful by Horton Foote
– May 15, 2020 at All Day
Free Income Tax Service (Tuesday & Saturday mornings)
– May 15, 2020 at 9:30 am - 2:00 pm
LIvestream: Darrell Bock: Mind the Gap – From Living Event to Gospel Story
– May 18, 2020 at 7:30 pm - 9:00 pm
Virtual Night of Power Prayer Meeting
– May 19, 2020 at 7:30 pm - 9:00 pm
Alpha for Youth Webinar: Reaching Your Friends, With Ben and Jason
– May 20, 2020 at 1:00 pm - 2:00 pm
Postponed: The Road to Healing: an evening with Kim Phuc Phan Thi
– May 20, 2020 at 7:00 pm - 9:00 pm
Livestream: Diane Stinton: Immanuel, Image of God –Aspects of Popular Christology in Sub-Saharan Africa
– May 20, 2020 at 7:30 pm - 9:00 pm
Alpha Canada Webinar: Prayer, Leadership and Evangelism in a Season of Separation
– May 21, 2020 at 10:00 am - 11:00 am
Webinar: Hope in the Midst of Crises – COVID-19, Climate Action and Faith
– May 21, 2020 at 7:00 pm - 8:00 pm
Cancelled: HistoryMaker Weekend 2020
– May 22, 2020 - May 24, 2020 at 6:00 pm - 12:30 pm
Cancelled: Do Justice, Love Mercy
– May 22, 2020 - May 23, 2020 at 7:00 pm - 3:00 pm
Ecumenical Faith Break: Together in the Risen Lord
– May 23, 2020 at 10:00 am - 11:15 am
Virtual Book Launch: 'Exiles on Mission: How Christians Can Thrive in a Post-Christian World'
– May 25, 2020 at 12:00 pm - 1:30 pm
Livestream: Gordon T. Smith: The Trinity & the Shape of Christian Worship
– May 25, 2020 at 7:30 pm - 9:00 pm
Livestream: Joshua Coutts: Living According to the Lord's Day: The Formative Role of Worship in Early Christianity
– May 27, 2020 at 7:30 pm - 9:00 pm
Leading into our New Future: Canada's Recovery Plan and Christian Charities
– May 28, 2020 at 9:30 am - 10:30 am
Virtual Book Launch: 'To Think Christianly: A History of L'Abri, Regent College and the Christian Study Center Movment'
– May 28, 2020 at 11:00 am - 12:00 pm
Virtual Event: Business as Calling: Speaker Josh Davis
– May 28, 2020 at 12:00 pm - 1:00 pm
Walk in the Spirit of Reconciliation
– May 29, 2020 - May 31, 2020 at All Day
Postponed: Centreing Prayer Mini Retreat
– May 29, 2020 at 10:00 am - 4:00 pm
Together in One Place: An Online Ecumenical Prayer Service for Pentecost
– May 30, 2020 at 12:00 pm - 1:00 pm
Postponed: Crystal Hicks: Stand Up for Something
– May 30, 2020 at 3:00 pm - 5:00 pm
Postponed: Crystal Hicks: Stand Up for Something
– May 30, 2020 at 8:00 pm - 10:00 pm
Awaken BC: Arise and Seek the Lord!
– May 31, 2020 at All Day
Day of Prayer for Camp
– May 31, 2020 at All Day
International Day for the Unreached
– May 31, 2020 at All Day