Music camps, schools and choirs are popular draws for several faith-based community organizations in Metro Vancouver as they serve and build networks in their neighbourhoods.
One such is Shire Music Centre, which is running Rock Camps in two Burnaby locations and one Surrey neighbourhood this month. I talked with Shire director Craig Bosnick, about the camps and some of the thinking that goes into 'The Shire.'
I also checked out summer programs from Aspire Music Academy in East Vancouver. The University Community Children's Choir performed in the Point Grey Fiesta parade June 20. And St. James' Music Academy in the Downtown Eastside is currently taking applications for its fall program.
There may well be other similar programs as well. We would love to hear about them.
Shire Music Centre
Bosnick notes that The Shire "was birthed out of Southside Community Church as a neighbourhood initiative some years ago, in the Forest Grove area [of northeast Burnaby]." He adds that the name "Shire" has its roots in Lord of the Rings because Forest Grove is made up of lush woods reminiscent of the J.R.R. Tolkien's fantasy classic.
Southside is a church with Baptist connections that developed two decades ago. One campus is in Edmonds in East Burnaby, the other in Robson Park, a few blocks southwest of Surrey's Central City. Forest Grove developed in a storefront.
The Shire Music Centre started in Forest Grove, but was also adopted at the other two campuses. 
Bosnick says the neighbourhood initiative – and the building of trust in area public schools – allowed for the development of programs in those schools.
Explaining the context that gives Shire its opening, Bosnick says: "I am at once a neighbourhood pastor and a music teacher. [In the schools, I try to act] as a loving teacher/pastor, working with vulnerable, at-risk students. [Hopefully, my team and I] are being the hands and feet of Jesus."
So what happens when school is out?
"Rock Camps," says Bosnick. A Rock Camp is made up of five half-day sessions. "We focus on making a music video, with some  guitar and piano skills.
"There are vocal themes, using mainstream songs – such as the 'top 40' and Leonard Cohen's Hallelujah [the latter to introduce the Psalms]. And there is a focus on composing. We encourage them to think about our world – answering the question 'I wish there was more ____ in the world.'  [By the end of the camp] we would hope to record an album!"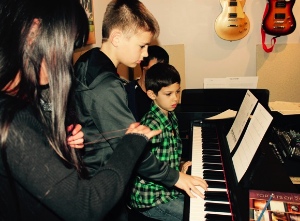 Bosnick highlights the Shire's approach to "getting kids together to collaborate, compose and do music together to build self-confidence." Indeed, he suggests that music appreciation and composing help to shape the neighbourhood.
"I love the redemptive power of music. We are able to bring in lots of kingdom themes. Our program is pop-rock. Kids are into it. In the camps [and our after-school sessions], teaching the history of rock and roll leads back into talking about gospel and jazz."
A story by Cailey Morgan in the Canadian Baptists of Western Canada Making Connections newsletter notes:
Shire students have been able to perform at . . . spring fairs, baseball events and school lunchtime concerts. On June 13, Southside partnered with the City of Burnaby and other community groups to put on an Inclusion Festival in a park just blocks away from their Edmonds Town Centre campus. Various ethnic dance and music groups performed on an open-air stage while kids played games and visited booths that celebrated the diversity in that community. Craig and his Rock School kids also took the stage to perform what they had been learning.
Bosnick says a similar performance opportunity will occur later this summer at the Civic Plaza in front of Surrey's new City Hall.
Aspire Music Academy
Aspire Music Academy is associated with Glad Tidings Church, a long-established Fraser Street Pentecostal congregation. Information on its summer program (July 20 – 24) is available here.
The aspirations of Aspire are stated on the website:
Aspire Music Academy provides music instruction in piano, guitar, vocals, drums and musical theory. A variety of music methods and musical styles are offered, depending on the instructor, in order to encourage the enjoyment of music and prepare students for live performance.
Aspire Music Academy instructors are qualified musicians and gifted teachers with experience in music performance and private instruction. They also agree to promote music that is inspirational, musically challenging, lyrically appropriate and aligns with our vision and values.  
University Community Children's Choir
The rationale and activity of University Community Children's Choir (UCCC) are described on its website:
The University Community Children's Choir is dedicated to the formation of young choral musicians by developing musical literacy and artistic abilities, building self-esteem and discipline, and inspiring an ever-growing passion for music and energetic performance.
Through affirming guidance and instruction we seek to raise up confident and well-rounded, life-long singers who will take their skills learned in this choir into the world around them. UCCC is a community ministry of University Chapel and serves the westside and university area of Vancouver.
The UCCC program includes three choirs: Junior (6-8), Senior (9-13) and Youth (14-18) which rehearse at University Chapel.
St. James Music Academy
St. James Music Academy, operates out of the iconically octagonal St. James Anglican Church on Cordova Street in the Downtown Eastside. The program has become very well known; its story is recounted in part on its website:
SJMA is the story of one person's determination to give children a better chance in life. When cuts to public school funding during the last economic recession meant that Vancouver's inner city children had limited or no access to quality music education, long-time Downtown Eastside area resident Kathryn Walker decided to do something about it.
She began a two-year process of building alliances and support in the community for a music academy that would not only teach music but use music as a means of reversing the negative social forces that neighbourhood children commonly face.
SJMA opened its doors in September, 2007 with 45 enrolments and a budget of $37,000. Since then, the Academy has grown rapidly each year, touching the lives of many hundreds of children. Today there are 180 children in the core after-school programs and another 250 children in outreach programs.