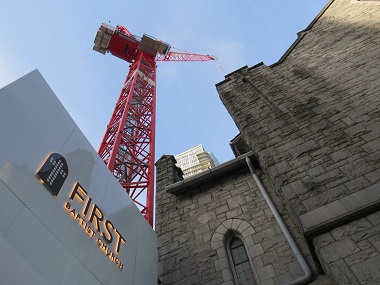 The staff at First Baptist Church began working from a new office space April 6, and St. Andrew's-Wesley United Church (across the street) has offered them a place to gather for services, whenever that happens again.
First Baptist is in the midst of an exciting transition, a complete redevelopment of its downtown property. The future looks exciting – but the church hasn't forgotten its history.
The church's Heart for the City page includes this statement by executive minister Justin Kim:
In 1911, after a number of building projects and displacements, God planted us at the very heart of the city, at the intersection of Nelson and Burrard. And now, almost 110 years later, we are reminded again of God's intentionality in physically placing us here.
Where we are situated is not a byproduct of chance. Where we are situated is integral to the raison d'être – the God-given purpose – of our church. He planted us here to reflect the Good News of Jesus Christ.
Westbank, which is developing the site, dug a six-storey pit right beside the church building to provide foundations for major new buildings. Now back to ground level, they will begin working on the church itself.
The church's Heart for the City 'project overview' says:
First Baptist Church has significant historic and architectural value in the city, being one of the oldest buildings in downtown Vancouver. Our existing church building, however, is at risk in the event of an earthquake.
The Heart for the City Project will restore and seismically upgrade the historic church building, in which we will be able to carry out our mission for generations to come. 
The proposed development will expand the community services the Church provides with approximately 45,000 square feet of additional purpose-built space and a new affordable rental building of approximately 50,000 square feet.
The Church's heritage restoration, the expansion of our space for various ministries and the addition of a new affordable rental building will be constructed by Westbank. As part of our agreement, Westbank will also be constructing a market residential tower known as the Butterfly. 
The First Baptist congregation should be able to move back into the church building early in 2023.
A timely retrospective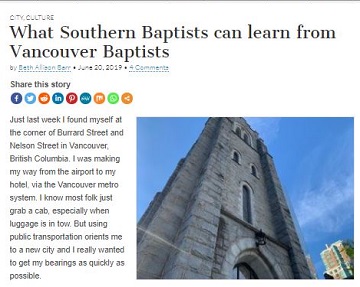 Historian Beth Allison Barr is receiving a considerable amount of attention these days because of her new book, to be published later this month. The Making of Biblical Womanhood fleshes out the subtitle: 'How the Subjugation of Women Became Gospel Truth."
A couple of years ago, she visited Vancouver as  speaker at the Canadian Society of Church History, and and wrote about First Baptist Church after happening by it during her stay. She was good enough to allow me to re-post her comment.
Here is a portion of 'What Southern Baptists can learn from Vancouver Baptists':
What I found surprised me even more than the Gothic architecture. I had stumbled upon the oldest Baptist church in Vancouver. In 1886, the same year Vancouver was founded, a handful of Baptists launched a Sunday School program inside a downtown pub. Yes, you read that correctly. A Baptist church founded in a bar. Twenty-five years later the congregation would lay the cornerstone for their new sanctuary at the corner of Nelson Street and Burrard. . . .
Baptist continuity prevails, even across national borders. Yet, this Canadian Baptist church struck me as very different from what I have seen of the Southern Baptist Convention lately.
While SBC leaders proclaim loudly that the preaching voice has to be male, First Baptist Church of Vancouver belongs to a moderate Baptist association that has been ordaining women since 1959 (Canadian Baptists of Western Canada).
While mostly white men are fighting hard to maintain their authority in the SBC, First Baptist Church of Vancouver is led by an extremely diverse ministry team (including women ministers) committed to serving their community. I was deeply moved when I realized that the community meal offered at FBC Vancouver isn't just for the congregation; it is part of their homeless shelter that they have been running since 1999.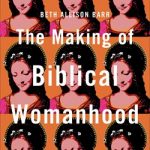 Imagine that. A Baptist church focused more on equipping called ministers than fighting about who is called. What impressed me the most was the reputation of First Baptist Vancouver. Yes, it is a moderate Baptist church in the heart of a very cosmopolitan city.
Go here for the full comment. And if you would like to find out more about Barr's new book, Baker Book House is hosing a Virtual Author Night April 22. She will be joined by fellow author Kristin Kobes Du Mez (Jesus and John Wayne), and host Scot McKnight (A Church Called Tov).
First Baptist's 'brood'
Among the comments following Barr's article was one from 'MDM,' who "maintain[s] a blog pertaining to Vancouver's history along with a special emphasis on my home church, First Baptist Church Vancouver."
I'm still not sure who MDM is, but I do know he or she does a great job with their blog: Vancouver As It Was: A Photo-Historical Journey.
And just last month, they posted 'Brood' of Seven Baptist Churches:
First Baptist Church (FBC) had, as one of its early objectives, the planting of daughter churches in the neighbourhoods of the city as it gradually grew. The focus of this post is on the churches of that 'brood' and, specifically, the buildings they occupied over the course of their lives. I'm not including the history of First Baptist's buildings in this post, as I have pretty thoroughly dealt with FBC's history elsewhere in multiple posts of this blog.
Here is the write-up on the "second child," Jackson Avenue Baptist:
The congregation that ultimately became a Baptist church in the East End, began as a Sunday School mission of FBC. It started in a carpentry shop, later moving to a space on Powell Street, and finally to Harris Street (today's East Georgia).
Building 1 (ca1894 – ca1898): On Jackson Avenue
The first building occupied by Jackson Avenue Baptist Church (JABC) seems to have been a re-purposed residence (versus a purpose-built church structure). It was somewhere on Jackson Avenue, but exactly where it was is a bit of a mystery.
Building 2 (1899 – 1952): NW Corner of Jackson and East Pender
By 1898, JABC was growing beyond the capacity of their first building and so JABC bought the former building of the local Presbyterians, Zion Presbyterian (NW Corner of Jackson and Princess (East Pender). JABC, for a while, was known as Zion Baptist.
JABC, like most of the people of Strathcona – the community in which it was situated – was not rich. By the late 1940s, its membership had dropped significantly. Therefore, in 1952, JABC merged with another (also dwindling) Baptist church in the East End, East Hastings Baptist, to form a new church: Ward Memorial Baptist Church (in memory of Rev. Albert W. Ward). It continues to operate today at 465 Kamloops Street.
Go here for the full story, which also covers six other members of the brood, from "First-born: Mount Pleasant Baptist" to "The Last Kid: West Point Grey Baptist."