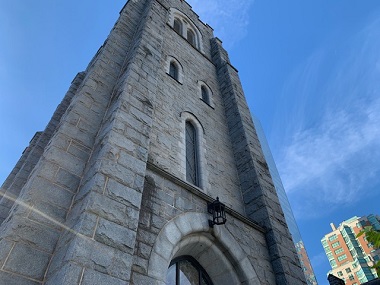 Just last week I found myself at the corner of Burrard Street and Nelson Street in Vancouver, British Columbia. I was making my way from the airport to my hotel, via the Vancouver metro system. I know most folk just grab a cab, especially when luggage is in tow. But using public transportation orients me to a new city and I really wanted to get my bearings as quickly as possible.
The Canadian Society of Church History had invited me as the International Speaker for their 2019 conference, and my husband and I had decided to tag our family vacation onto the conference. So I was looking forward to a long week in British Columbia.
Which explains why I was dragging my roller bag up Burrard's busy sidewalk, looking for the Century Plaza Hotel. Yet, despite my heavy bags and growling stomach, I found myself stopping suddenly mid-sidewalk in surprise.
The stone belfry of a medieval church towered above me. I blinked.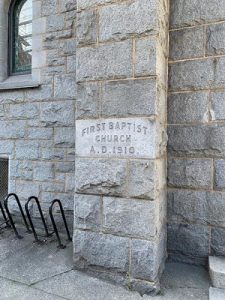 It couldn't be medieval. Vancouver is a young city, historically speaking. European settlers only arrived in the 1850s and '60s, and Vancouver didn't exist as a city until 1886. Yet Gothic-like columns soared above me. I decided to stop and investigate.
What I found surprised me even more than the Gothic architecture. I had stumbled upon the oldest Baptist church in Vancouver. In 1886, the same year Vancouver was founded, a handful of Baptists launched a Sunday School program inside a downtown pub. Yes, you read that correctly. A Baptist church founded in a bar. Twenty-five years later the congregation would lay the cornerstone for their new sanctuary at the corner of Nelson Street and Burrard.
Of course, it didn't take me long to see the very Baptist aspects of the Gothic-revival building. While some of the stained glass contained images, it was mostly colored glass very reminiscent of the windows of my small town Southern Baptist church in Texas. Instead of tell-tale Gothic statues of saints decorating the West Front, a simple stained glass cross suggests the Protestant flavor of their faith. And, of course, notices for the weekly fellowship meal were posted in at least two places (you can't be Baptist without eating at least one meal a week together . . .).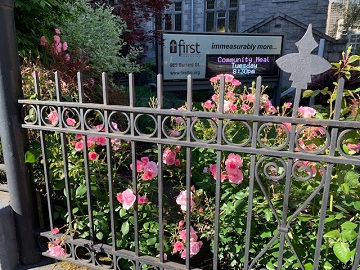 Baptist continuity prevails, even across national borders. Yet, this Canadian Baptist church struck me as very different from what I have seen of the Southern Baptist Convention lately.
While SBC leaders proclaim loudly that the preaching voice has to be male, First Baptist Church of Vancouver belongs to a moderate Baptist association that has been ordaining women since 1959 (Canadian Baptists of Western Canada).
While mostly white men are fighting hard to maintain their authority in the SBC, First Baptist Church of Vancouver is led by an extremely diverse ministry team (including women ministers) committed to serving their community. I was deeply moved when I realized that the community meal offered at FBC Vancouver isn't just for the congregation; it is part of their homeless shelter that they have been running since 1999. . . .
Imagine that. A Baptist church focused more on equipping called ministers than fighting about who is called. What impressed me the most was the reputation of First Baptist Vancouver. Yes, it is a moderate Baptist church in the heart of a very cosmopolitan city.
Yet when Globe News Wire reported on a restoration project for the church, it described it as "one of the most anticipated projects in the city."
The project, which was well underway when I visited last week, was not just to expand the church building itself. It was also to build affordable housing in the heart of Vancouver, provide childcare facilities and "expand programs for seniors, youth, new immigrants, and the homeless shelter the church has run for almost two decades."
The church building project is focused outward on the community, not just on itself.
I really don't know that much about First Baptist Vancouver, aside from what I gleaned from their website and found by walking around their church building. I am sure Canadian Baptists have their problems too.
But, seriously, right now I find myself really wishing the SBC would take a page from the Canadian Baptists of Western Canada. Wouldn't it be nice to stop fighting about who gets to be in charge and just actually focus on the doing the work of Jesus?
Maybe the SBC leaders just need a vacation. I recommend they go hang out with some Baptists in Vancouver. . . .
Beth Allison Barr is a history professor at Baylor University in Waco, Texas, where she also directs the graduate program in history. She earned her PhD at UNC-Chapel Hill and specializes in medieval, women's and religious history. You can follow her @bethallisonbarr
This comment was first posted on Anxious Bench, which is part of the Evangelical stream of Patheos columns. It is re-posted by permission. The photos (apart from the last one) accompanied the article.
Go here for an article about the city's rezoning approval which allowed the First Baptist redevelopment project to move ahead.