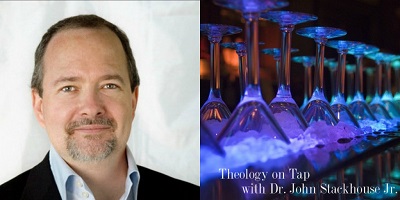 John Stackhouse believes the church does not provide enough opportunities for adult education, and he's spent his life trying to remedy that lack. His day job is teaching at
Regent College
, but he also writes widely and is often consulted by the media for his incisive analysis and pithy comments.
This summer he is collaborating with Company of Disciples on a rather innovative
Theology on Tap
series, which combines a little bit of tippling – two free drinks if you buy the right package (definitely not your grandmother's brand of evangelical edification!) – and finger foods with a glimpse into the world's major religions – all at the atmospheric Vancouver Club.
The first lecture focused on Buddhism, but there's still time to learn about Confucianism and Daoism (July 11), Christianity in all its variety (July 18) and Islam (July 25). 
Stackhouse has written seven books and edited four others, covering issues of history, sociology, philosophy, theology, ethics and comparative religion. He has been sought by media as diverse as The New York Times, The Atlantic, ABC News, CBC Radio, Time and Reader's Digest.
Company of Disciples
is a "community of business and working professionals with Jesus as our centre of gravity," whose "purpose is to encourage and equip business and working professionals . . . to boldly become Jesus' change agents for the betterment of the world within their professions and spheres of influence."