Pre-pandemic, an estimated one in eight Canadians were food insecure, meaning they did not have the income to purchase enough food to stave off hunger, let alone support their health, make special food for a celebration or host friends for a meal.
It will be some time before we know the full impact of COVID-19, but we now think it is closer to one in seven Canadians who struggle with these issues.
Food assets and needs
To try to understand the need locally, Union Gospel Mission and partners from different churches and supportive organizations recently completed studies of food assets and needs for three areas:
Vancouver: Downtown
Vancouver: West Side
Richmond.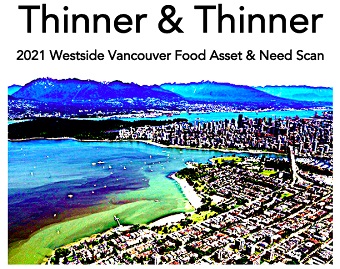 We conducted interviews with staff and volunteers of community and faith organizations which provide supportive food programs for vulnerable individuals.
While the pandemic has been hard on everyone, the risks and challenges increased significantly for individuals experiencing poverty.
Yet, we are also seeing new threads of collaboration as caring individuals and groups work together to meet the needs of our vulnerable neighbours.
These reports identify key stakeholders and strengths and gaps in service; they also offer recommendations on how to collaboratively address community food security needs in the future.
The reports are accessible here; we will introduce them one by one over the next three weeks, on this site.
Main lessons
Most food programs are at capacity, but the committed staff and volunteers always try to find ways to support new people who show up; food programs also address far more than lack of food – they also address housing needs, advocacy, grief and loss, mental health, spirituality, employment, transportation, pet care and technology challenges…
The main lessons from the pandemic that food service providers talked about were
Supports need to be neighbourhood focused, not far from where people live.
When trusted relationships were in place with both clients and people from other agencies we could quickly shift how we supported people or ran our programs.
We need to continue to learn about what trauma-informed care means in our food programs.
Many staff and volunteers put in much time, often at risk to themselves, especially early in the pandemic when we didn't know what was safe – but we also need leadership to be addressing larger issues and plans.
Frustrating response
I sent a copy of a report to one of our community partners, an organization that had hosted a food program pre-Covid but recently stopped their involvement due to logistical challenges and shifting organizational priorities.
The response I got was, "It is pleasing to see a clear report . . . [but] I was personally hoping for some real specifics on the need . . . something to help justify any involvement in food security work."
I was initially surprised and even offended. How can anyone not care about our vulnerable neighbours? How is it not obvious, even without these reports, that we should feed people who do not have enough? How can anyone not notice those living outside in our communities, or those who show up at the few food supports that do exist?
Westside Anglicans
I recently rode along with a group from the Westside Anglicans Neighbourhood Ministry, on one of their regular Saturday morning trips to connect with people living outside on the west side of Vancouver.
We gave out snacks and sweaters, but these were hardly adequate for the wet weather that set in this week.
At one stop, we came across someone needing treatment for lice, and were able to find him again a few hours later with an over-the-counter medication we had bought at a pharmacy.
If your enemy is hungry . . .
At another stop, while the regular volunteers attended to the individuals camped under a section of the Granville Bridge, I chatted with a man who was patiently untangling a big knot of twine. We had a pleasant conversation, but quickly found out that we had polar opposite views on vaccinations, the value of the church, what our government can do for us and just about every other subject that came up.
I would not call this man my adversary, but I was raised on the idea that if our enemies are hungry, we give them food, and then love in other tangible ways. To try and understand what that would look like for him, I asked the man what he and his homeless friends needed most.
His reply was, "a listening ear." A lot of people he knew had poor mental health, and this year has been worse for everyone. Hunger and malnourishment only amplify mental and physical health challenges.
Being aware
The current social distancing and safety requirements are reinforcing less-than-ideal modes of transactional charity which are not sustainable, financially or socially. New models for asset-based community development are needed, as we are establishing precedents, expectations and relationships among a considerably larger set of people newly accessing services.
So, knowing all this, is there justification for our involvement in food security work? And in addressing the larger injustices that make food programs and outreach workers necessary? Not everyone is able to be on the front lines, but we all can support those who are.
We can be aware of the needs in our community and be generous with what we have. We can be grateful for every meal we enjoy, and then commit to addressing inequities, so that rather than one in seven Canadians struggling to eat, we can all enjoy Vancouver's vision for healthier people, healthier places and a healthier planet.
One helpful resource is Healthy City Strategy on the City of Vancouver website.
Karen Giesbrecht works with the Union Gospel Mission (UGM) church relations department ([email protected]).