Two young women appeared in Vancouver Provincial Court September 28 to face charges arising from vandalism at St. Jude's Catholic Church in east Vancouver.
The Vancouver Police Department said earlier that the BC Prosecution Service had approved charges of mischief under $5,000 against Emily Luba and Zoe Luba, both 27.
A couple of videos posted on the church's Facebook page show two women splashing orange paint July 1 on the walls and doors of St. Jude's, which is located on 15th Avenue at Renfrew Street.
The case was one of 13 incidents of vandalism that occurred at churches in Vancouver between June 2 and July 20, according to a July 22 Vancouver Police Department news release:
Vancouver Police are calling on witnesses to report suspicious activity around churches, following a major spike in crimes at religious properties this summer. . . .
Vancouver Police are currently investigating 13 incidents of mischief and vandalism at churches and church properties since June 2. The incidents include rocks being thrown through windows, buildings being defaced with paint, and threats to set fire to buildings. . .
Incidents of note:
A church building near Little Mountain was vandalized around 9 pm on June 8 by four people dressed in black. They threw red paint on property, posted signs and painted graffiti that referenced residential schools;
An unknown person threatened to burn down a church in South Vancouver on Canada Day;
A church in Renfrew-Collingwood was vandalized 10:45 pm on Canada Day by two women who threw orange paint on the side of the building;
Sometime between July 4 and July 7, someone threw a rock through the window of a church in Kitsilano;
The pastor of a South Cambie church was making his early-morning rounds on July 20 when he discovered a gallon of lighter fluid and rags near the side of the building at 4 am. He also saw a suspicious man standing in the middle of the road staring at the church. . . .
"Fortunately, nobody has been hurt in these Vancouver incidents and most of the damage has been minor," adds Sergeant [Steve] Addison.
"However, we're growing more concerned each day by the escalation of these crimes and their brazen nature, and we're calling on the people responsible for these crimes to stop. There are more productive ways to voice your anger and express your views."
True North has created a map featuring 68 churches across Canada which "have been vandalized, burned down or desecrated since the announcement last month of the apparent discovery of graves found near a residential school in Kamloops, BC."
Several are local; along with St. Jude's they are:
* St. Augustine's Catholic Church, Vancouver
* St. Peter's Catholic Church, New Westminster
* St. Joseph's Catholic Church, Port Moody
* St. George Coptic Orthodox Church, Surrey
The B.C. Catholic has posted a number of articles about these attacks on churches. Vancouver Sun journalist Douglas Todd also wrote an insightful piece: 'Not much difference between Islamophobia and Christophobia.'
Both Zoe and Emily Luba have opposed demovictions in Burnaby. They posted 'Burnaby housing task farce: A developer-heavy housing task force won't stop Metrotown demovictions' February 6, 2019 on The Volcano. Zoe is pictured rallying in front of city hall in Burnaby Now January 29, 2019.
Covid closures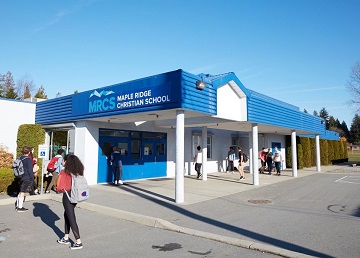 Two Christian schools in the Fraser Valley have cancelled the majority of their elementary school classes because of exposure to COVID-19.
CBC News reported September 27 that "at least three schools in the Fraser Health region have seen an uptick in COVID-19 cases.":
Another B.C. school is moving to remote learning due to a recent spike in COVID-19 cases in students and among close contacts.
The Abbotsford Christian School will be closed to in-person learning for kindergarten to Grade 6 starting Tuesday, September 28.  The school did not provide a figure for the number of cases that have been identified.
The closure is expected to last the rest of the week. . . .
Last week, an elementary school in Chilliwack  moved to online learning as a result of a COVID-19 outbreak.
Fraser Health declared an outbreak at Maple Ridge Christian School on Friday after 32 COVID-19-positive cases were identified among staff and students. The health authority said the school would remain open for in-person instruction for Grade 6 and up.
Go here for the full story.
Regional health authorities will start posting K-12 school exposure events on their websites, beginning immediately, said Dr. Bonnie Henry during her September 27 update. There is a K-12 Schools and COVID-19 page on the BC Centre for Disease Control site.
A BC School Covid Tracker site has been listing Covid cases that "have been confirmed by official public health letter, school letter or BCCDC website." They point to many school exposures, though most of them involved small numbers.
The Vancouver School Board voted September 27 to extend the current mask mandate to include students from kindergarten to grade 3, though the date for its implementation has not yet been announced. Dr. Henry declined to extend the mandate province-wide.
On a bit of a tangent, new restrictions on gatherings and event were imposed on the Fraser East region September 28, but worship services are exempt from the new order.
NOLA update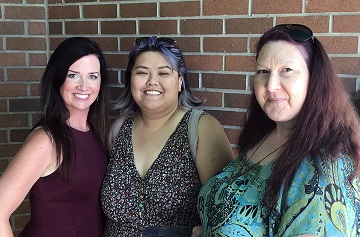 It is good to see that M2/W2 Association is carrying on with their innovative program to accompany people coming out of prison. They reported on the work in their newsletter, leading up to their AGM:
No One Leaves Alone (NOLA) connects formerly incarcerated men and women with a circle of volunteers. Together they journey toward restoration and reintegration.
NOLA circles meet regularly, stay in contact and provide support in five areas: housing, health, employment, education and relationships. Click here to learn more about NOLA.
The NOLA pilot program is volunteer driven. This means volunteers lead the circles, provide guidance and support to parolees, and give weekly updates to case managers, who, in turn, empower and support volunteers. With week-to-week circle leadership in the hands of our capable volunteers, case managers are now able to oversee more circles.
Since April, seven parolees have participated in NOLA for a minimum of three months, with two graduating. (The program duration is three to 12 months.) Presently, 10 NOLA applicants are still in prison and waiting for release.
Our case managers, Steve Roukema and Allyson Johnson, continue to work closely with parole officers in the community and at institutions, growing relationships and promoting NOLA through Zoom presentations.
"We've been encouraged by the 26 referrals we've received to date," Steve said. "And we look forward to working closer with corrections staff as pandemic-related restrictions subside."
Additionally, the NOLA team continues to invest in volunteers by offering training sessions and reflection times via Zoom. With more parolees requesting support, additional volunteers are needed in communities from Chilliwack to New Westminster.
If you are interested in volunteering in the community with NOLA or as a prison mentor, send us an email at [email protected].
Go here for more information.
M2/W2, based in Abbotsford, is holding its annual fundraiser online this Saturday evening (October 2).
A Rocha at 20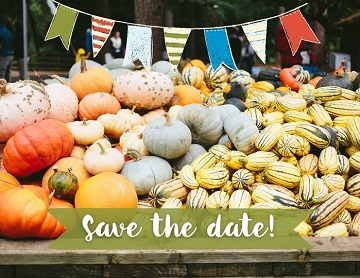 A Rocha Canada, based in Surrey, will hold a couple of events to mark its 20th anniversary this fall – a Harvest Celebration onsite, this Saturday afternoon (October 2) and an online event November 6:
Join us for our annual Harvest Celebration, with a special focus this year on A Rocha Canada's 20th Anniversary! Expect all the usual suspects – live music, apple pressing, folk dancing on the lawn, hayrides . . . and some brand new surprises – this is not to be missed!
Wander through a variety of booths and activities, stock up on squash and pumpkins, partake in delicious food offerings (think food trucks!), and maybe even glimpse some live wild animals!
Come celebrate the abundance of the harvest and the goodness of creation with the A Rocha community this fall! (Entrance is by donation.)
The online event November 6 will feature atmospheric scientist Katherine Hayhoe, who recently joined the Nature Conservancy as Chief Scientist and launched her book Saving Us: A Climate Scientist's Case for Hope and Healing in a Divided World this month. 
Sep 2021
Art + Design Exhibition: Inhale * Exhale
– September 4, 2021 - October 10, 2021 at All Day
Digging Holes in November: An Exhibit by Julia Soderholm
– September 8, 2021 - October 23, 2021 at All Day
Learning Event: September 30 National Day for Truth and Reconciliation
– September 30, 2021 at 12:00 pm - 1:00 pm
Film: We Were Children
– September 30, 2021 at 2:00 pm - 4:00 pm
Oct 2021
After Kamloops, the Flood
– October 1, 2021 at 7:00 pm - 8:30 pm
Canadian L'Abri Lecture Series: Jez Carr – Floodwaters and the Biblical Journey from Anxiety to Peace
– October 1, 2021 at 7:00 pm - 9:00 pm
Wakey, Wakey
– October 1, 2021 - October 23, 2021 at 8:00 pm - 10:00 pm
Ride for Refuge: Kinbrace, Journey Home, VUM, Youth Unlimited, PWRDF
– October 2, 2021 at All Day
Whose Land? Whose Promise? Palestine, Justice and the Bible
– October 2, 2021 at 9:00 am - 10:30 am
Harvest Celebration + A Rocha Canada 20th Anniversary
– October 2, 2021 at 1:00 pm - 4:00 pm
The Prayer Walk: Celebration Event
– October 2, 2021 at 7:00 pm - 8:30 pm
Life Chain Vancouver
– October 3, 2021 at 2:00 pm - 3:00 pm
Unheard Voices: Discussing Canada's National Daycare System
– October 5, 2021 at 10:30 am - 12:00 pm
Faith Deconstruction: Faith Today webinar with Peter Schuurman
– October 5, 2021 at 4:00 pm - 5:00 pm
Experience Regent Online
– October 5, 2021 at 5:00 pm - 6:30 pm
reKindle Presents: Post-Pandemic Canada: Church, Mission and Culture
– October 7, 2021 at 11:00 am - 2:00 pm
Fundraising 101, by Union Gospel Mission
– October 7, 2021 at 2:30 pm - 4:00 pm
Dustin Benac: Collaborative Partnership as a Way of Life
– October 7, 2021 at 5:00 pm - 6:00 pm
Cancelled: Lighthouse Harbour Ministries 40th Anniversary Dinner
– October 7, 2021 at 6:00 pm - 8:00 pm
Canadian L'Abri Lecture Series: Brett Cane – God's Journey with Us Through Grief
– October 8, 2021 at 7:00 pm - 9:00 pm
Dawn Pemberton
– October 8, 2021 at 8:00 pm - 10:00 pm
Global Day of Prayer for Church Planting
– October 9, 2021 at All Day
Worship Leaders Hub
– October 9, 2021 at 10:00 am - 12:00 pm
GAIN's Water for Life Fall Initiatives (two events)
– October 13, 2021 - October 14, 2021 at 4:30 pm - 5:30 pm
Bringing God into Everyday Conversation
– October 14, 2021 at 5:00 pm - 6:00 pm
Conversations With . . . Allen Chang and Beyond the Sunday Experience
– October 14, 2021 at 7:00 pm - 9:00 pm
Even If: ARPA Youth Conference 2021
– October 15, 2021 - October 16, 2021 at 4:00 pm - 3:00 pm
Together in Mission: Remembering the Poor
– October 16, 2021 at 8:30 am - 2:15 pm
Westside Anglicans Neighbourhood Ministry: Training Conference
– October 16, 2021 at 8:30 am - 4:30 pm
A Sorrow Shared: The Spiritual Teachings of Henri Nouwen on Moving from Loss to Hope
– October 16, 2021 at 7:00 pm - 8:30 pm
Faiths 4 Climate Justice
– October 17, 2021 at 2:00 pm - 4:00 pm
Ageing In Canada: A Conversation with Three Christian Leaders
– October 20, 2021 at 8:30 am - 12:00 pm
Book Launch! Becoming Neighbours: Five Values for a World of Welcome
– October 20, 2021 at 5:30 pm - 6:30 pm
The Global Leadership Summit 2021
– October 21, 2021 - October 22, 2021 at 7:30 am - 2:30 pm
Recovering Hope in Worship: A Conversation with Jonathan Wilson
– October 21, 2021 at 10:00 am - 11:00 am
A Neighbour's Helping Hand: A Discussion on the Ethics, Motivations and Obstacles of Being a Good Samaritan
– October 21, 2021 at 12:00 pm - 1:15 pm
Blackness, Mental Health and Faith: A Conversation Across the Waters
– October 21, 2021 at 12:00 pm - 1:00 pm
Missions Conference 2021: The Church in the Iron Furnace
– October 22, 2021 - October 24, 2021 at 7:00 pm - 12:00 pm
No Greater Love: Heart for Asia Youth Celebration
– October 22, 2021 at 7:00 pm - 9:00 pm
No Greater Love: Heart for Asia Conference
– October 23, 2021 at 9:00 am - 12:00 pm
Graham Ord Blues Band
– October 23, 2021 at 8:00 pm - 10:00 pm
KAIROS Gathering: 20 years of spirited action for justice
– October 26, 2021 - October 28, 2021 at All Day
Meeting by Light: An Exhibit by Jocelyn Worster
– October 27, 2021 - November 17, 2021 at All Day
Communities of Care Training
– October 27, 2021 at 2:30 pm - 4:00 pm
Meeting by Light: An Exhibit by Jocelyn Worster – Artist Talk / Opening Reception
– October 27, 2021 at 3:00 pm - 7:00 pm
24-7 Prayer Canada's Pre-Gathering
– October 27, 2021 at 4:00 pm - 5:00 pm
Matt Lynch on Wrestling with Old Testament Violence
– October 27, 2021 at 7:00 pm - 8:30 pm
'Honouring the Declaration' Book Launch
– October 28, 2021 at 3:30 pm - 4:30 pm
Illuminating Mental Health During a Season of Darkness: A Fireside Chat for Pastors with Dr. John Swinton
– October 28, 2021 at 6:00 pm - 7:30 pm
24/7 Prayer International Gathering 2021
– October 29, 2021 - October 31, 2021 at All Day
ARC Canada Road Trip
– October 29, 2021 at 9:00 am - 3:00 pm
For the Love of Creation: Fall Symposium
– October 30, 2021 at 8:00 am - 2:00 pm
Apologetics Canada Launch 2021
– October 30, 2021 at 4:00 pm - 6:00 pm
Songstage
– October 30, 2021 at 7:30 pm - 9:30 pm