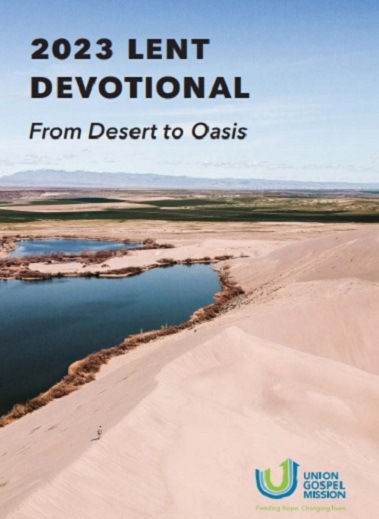 2023 Lent Devotional: From Desert to Oasis – A 40 Day Journey Through the Lenses of Gratitude
Thank you for joining us on a 40-day journey of Lent, a time of fasting and reflection before Easter in the Christian calendar.
The Lenten practice is inspired by the 40 days Jesus spent fasting in the desert. We are mindful that the discipline of Lent is not a substitute for the completed work of the Cross, but rather a tool to help us bring the light of Christ to a hurting world.
The spiritual formation we undergo by abstaining from a food or activity that has a hold on us opens our eyes to the stark reality of our desperate need for grace and healing.
This year, we are calibrating our Lenten focus through the lens of gratitude. Thankfulness can strengthen relationships, facilitate a more positive outlook on life, reduce the risk of depression and relieve stress. A posture of gratitude can truly be life-altering and life-giving.
In Matthew 12, Jesus says that when a defiling spirit (what we might see today as addiction or compulsive, harmful behaviours) leaves a person, there is potential for other spirits more wicked than the first to fill the void, leaving individuals worse off than they were in the first place.
This is the law of displacement occurring. When we release something that has a hold on us, something else will fill the empty space. As disciples of Christ, we look for something that draws us closer to Him. The practice of gratitude helps us focus on what to fill that void with.
The Gospel story also teaches us that resurrection follows death. All life is birthed from this reality. When we come to the place of realization that death has been conquered through Christ's sacrificial work, old, ingrained patterns die, and we can embrace the mysteries of life that are so often hidden in plain sight. Viewed through this lens, weighty, draining things in life can be buried and replaced with the renewing, restoring hope found in Christ's finished work.
The following pages contain stories of what this looks like in the lives of the UGM team and our community partners. [Three of the stories are shared here; go here for the full UGM Lent Devotional.] We need each other and we need Christ on this journey, for in Him we live and move and have our being (Acts 17:28).
Ash Wednesday [February 22] begins the season of Lent. Isaiah speaks of ashes in chapter 61, verse 3, ". . . to bestow on them a crown of beauty instead of ashes, the oil of joy instead of mourning, and a garment of praise instead of a spirit of despair". May this Lenten reflection be one of renewal for you, where gratitude supplants vice and where beauty is discovered where ashes once resided.
With gratitude,
UGM Church Relations Team
Day 6: Tuesday, February 28th
(2 Corinthians 9:15)
"Thanks be to God for His indescribable gift!"
Dean Kurpjuweit, President at UGM:
Sometimes you learn something that sticks with you. Something that helps you grow spiritually in a surprising way.
This moment for me was nearly 20 years ago and came from a new friendship. Father Charles was a Catholic priest whom I started to get to know through a leadership development program.
Charles was the only Catholic amongst a group of mostly Evangelicals, with a Reformed pastor or two in the mix. The group of us spent a lot of time seeking to understand more about the Catholic wing of the Christian faith through our friend Charles.
One day, Charles started talking about the difference between what is secular and what is sanctified. In my tradition, the secular is anything not of God (generally speaking, seen as being spiritually neutral at best and quite often as being spiritually negative) while the sanctified was anything that is holy and acceptable to God.
Charles threw all that out for me.
He described it this way: secular is anything that can be used by God while the sanctified is anything that is set apart for God. Here's a simple example; a church sanctuary is set apart for God while a movie theater is secular but can be used for worship.
What has this got to do with Lent, and more specifically, 2 Corinthians 9:15?
Part of the practice of Lent is to give something up that is good and replace it with something godly. It is this act that helps to remind us of the good that we have in our lives as a result of all that God has done for us. Gratitude is rooted in this.
My encouragement for you today is to look at all the things in your life that are 'secular' and consider how they can be used for God's purposes. When I practice this, it's an incredible reminder of all the gifts that God has given me. It's more than replacing the good with something godly, it is taking the good and making it holy.
Jesus' life, death and resurrection were incredible gifts on multiple levels. This includes the redemption of all things.
With this in mind: What is secular in your life that you can use for God? What is good in your life that you can make holy?
Holy Spirit, help me to see the things in my life that can be used for God; illuminate to me that which has the potential to be more than merely good and transform it into godliness. Amen.
Day 11: Monday, March 6th
(Psalm 118:24)
"This is the day that the Lord has made, let us rejoice and be glad in it!"
Jolene Williams, a Tŝilhqot'in daughter of the Most High. He opened the doors of Lydia Home to me to search where His heart beats, with His beloved women in recovery.
I don't know about you, but I've often felt like the day had me – like I was powerless to whatever whims the day would throw at me.
Day-to-day this mindset brought up so much angst that before the day has even had a chance to be good, I've already become overwhelmed. Without realizing, I'd have weeks of this felt helplessness overcome me. I hated this 'new normal.'
Eventually these thoughts drained me in every way. I was wearing my stress, packing it around, each task or hurtle packed on one unnecessary baggage after another. Even if concerns were seemingly small, they were adding up, leaving me in a constantly exhausted state.
Thankfully, I have enough resilience that when I get to the point when 'enough is enough,' I move for change. Too uncomfortable with where I am at, convicted enough that God has more for me, I sought wisdom outside of myself.
My wholesome company would remind me often to ask myself, "Who created the day in the first place? Where does my help come from?" So, I committed myself to the scriptures, allowing them to anchor me to some sanity. Like drawing water from the well, I started to take in what the Psalmist penned together in today's verse.
That alone is refreshing to my Spirit. I'm reminded that the Lord is already in the day. He has seen everything from sunrise to sunset long before I even opened my eyes to this new day. Those heavy feelings? I'm not alone in it, God is with me in this day. Worry? There's a place for that. And it's not with me.
He says I can give it to Him. I can acknowledge Him and He will direct my steps. When things hit the
fan, I can look to Him as He's already in the moment. I can count on Him to guide me. As I drink deeply of these truths, I've sensed my heart believing.
Slowly, my dread for the days diminishes as I am convinced that He's my Lion, my Defender and Protector, walking ahead of me each day to scope out any snares set for me, faithfully leading me from revelation to revelation. To this I exclaim with the Psalmist, "Let us rejoice (in the day the Lord has made) and be glad in it!"
Thank you, Lord, that I can steamroll the day with joy and gladness instead of allowing myself to get steamrolled by the lie that I just must fall victim to whatever comes. On this day, I choose to acknowledge You, to look for You like treasure throughout the day, and choose hope for every moment. In Jesus' name, amen.
Day 40: Saturday, April 16th
(2 Corinthians 5:17,19)
"Therefore, if anyone is in Christ, he is a new creation; the old has gone, the new has come! That God was reconciling the world to himself in Christ, not counting men's sins against them."
Kevin Knight, co-founder Manna4life Cambodia
While reflecting on this devotional, I kept circling back to myself and how I respond to difficult situations. These situations are so varied that at first there didn't seem to be a constant theme, until this scripture came to my heart.
This scripture always seemed so obvious to me, as I once was caught up in the throes of addiction in the DTES. Of course, I am a different person now than the one who pushed his shopping cart into the UGM building with the last of his belongings.
I am cleaned up, healthier and the chains of addiction have been broken for me. It is now 15 years later and the selfishness of addiction is far in the past but also one that I am constantly reminded of each and every time I share my testimony.
What is different today compared to my fresh new self coming out of UGM, a Christian surrendered to the Lord and a new creation?
I now live in Cambodia, serving the Lord here in a slum relocation site. My friends and neighbours were violently evicted by the government and their land was stolen from them. I was a witness to this tragedy, being onsite and helping people lift their straw huts to fetch some belongings before the bulldozers took another run at their home.
In the past I would meet violence with violence, but I believe that this is not the right answer as a Christian. Even in the village, many are angry about the poverty they live in and the hopelessness of it never changing. This leads to a lot of alcoholism and violence in families.
I have stepped into many a house when these daily occurrences reach another level, and I have taken machetes, hammers and even a bicycle from the hands of a person acting violently. I always wondered why I was never hurt in these situations.
I believe it's because I didn't step into the situation with a violent heart towards the perpetrator, but with one of the peace of the Holy Spirit who cared for my neighbours and the children who were witnessing these acts as their 'normal.'
From just a couple of stories above, you can see the new creation I am in Christ Jesus. Though, we are always close to letting that "old creation" back into our lives.
Maybe this Lent season we can give up a little more of our 'old' self.
Lord, you are so patient for us all
You wait and listen and see and know our true hearts and desires
You must weep for all the times we walk away from you and the Divine appointments you have in wait for us
You beckon us with your love
You beckon us with the people you place in our lives
You beckon us with where you plant us
You beckon us to just stop and listen to the Father
Just like the disciples they see and hear but do not always understand right away
Again you wait
You wait like a father with a child watching us take our first steps and fall but you are always there to catch us
Forgive me, Father, for all the times I do not act with the love you have shown me
Forgive me, Father, for not loving my neighbours as myself
Forgive me, Father, for not loving myself
Help me, Father, recognize the path you have laid out for me
Help me, Father, love the unlovable
Help me, Father, recognize you in the homeless and addicted
Please help me, Father, become more like Jesus
Go here for the full UGM Lent Devotional. Among the other contributors are Brian Doerksen, Albert Chu, Darin Latham, Craig Greenfield and Sharon Simmonds.
**************************************************************
Several other groups have created Lent devotionals or resources this year as well: