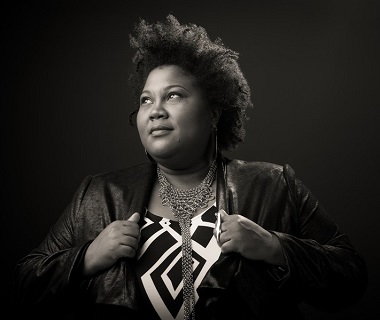 A couple of musicians well known in local church circles are part of the line-up for this year's Vancouver Folk Music Festival (July 13 – 15).
Dawn Pemberton
Dawn Pemberton is very active in the Vancouver music scene. She will be performing at several festivals this summer, but she also turns up quite regularly in church.
Earlier this year, for example, she was a special guest at Stayed on Freedom, a musical celebration of Black History Month at St. Andrew's-Wesley United Church and at Gospel Good Friday at St. Helen's Anglican Church.
An article in the Vancouver Sun a couple of years ago (Soul Good: Dawn Pemberton bridges soul and gospel) pointed out:
You wouldn't necessarily believe it at first, but Vancouver is a hotbed of soul and gospel.
"This city is so funny!" soul/gospel singer Dawn Pemberton exclaims. "There was like five gospel choirs at one point – they're all well attended. There's so much love for gospel music and that speaks to how universal it is. People can connect to it whether they're religious or not."
There's no denying soul and gospel's uplifting power.
Pemberton will be on stage at least three times during the three-day festival, including at Stage 2, 10 am Sunday morning. That workshop – dubbed 'Shake Your Soul' this year – is usually devoted to gospel and faith-based music.
She will be joined for that session by Ranky Tank ("this Charleston, South Carolina-based quintet performs timeless music of Gullah culture born in that southeastern Sea Island region") and Jayme Stone's Folklife ("planting these sturdy seeds in modern soil, this versatile gathering of musicians has cultivated vibrant Sea Island spirituals, Creole calypsos and stomp-down Appalachian dance tunes for contemporary listeners").
Ezra Kwizera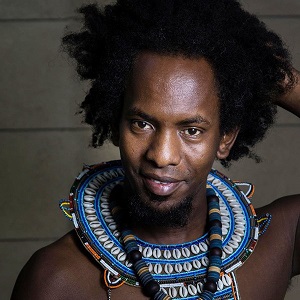 The other local artist with strong ties to the Christian community is Ezra Kwizera, who the Folk Fest describes in this way:
Ezra Kwizera's music carries the spark of life along with the complex undertones of someone who has seen and survived serious hardship: war, poverty and growing up as a Rwandan refugee in Uganda. Yet from these seemingly insurmountable challenges, Ezra has risen to become one of the most notable artists and music producers in Africa and internationally. . . .
Having a richly multi-ethnic performance style, Ezra fluidly sings and raps in English, Kinyarwanda, Luganda, Zulu and Swahili, infusing flavors of reggae, soca, East African bongo and pop in his songs. Hearing Ezra sing, you know that he is sharing with you his story, and making you want to dance to celebrate life at the same time.
Overcoming times of fear, trauma and struggle, Ezra's history contrasts brightly with the leader he is today – a creative artist and a community role model who helps vulnerable children, youth and needy families develop the skills necessary to improve their lives.
"I started helping about six families, each with about three to four kids, through my music," Ezra tells, "I would share their stories at my concerts and find sponsors for the kids."
Later, as the number of kids that Ezra was helping grew, he and his wife founded the non-profit organization, Narrow Road. Now they help about 80 children through a sponsorship program that emphasizes education and family. . . .
Archie Roach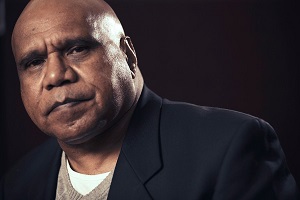 Last year I wrote this, in anticipation of seeing Archie Roach – who ended up not being able to come. He is on the bill again this year:
The other performer I really want to see is Archie Roach, from Australia. Like Emmanuel Jal [former child soldier in Sudan], he had a tough childhood, but his relationship to the Christian faith seems more troubled. The Folk Fest bio suggests why:
One of the Stolen Generation of children taken from his family and placed in a non-Indigenous household, Archie survived a turbulent upbringing to develop into a powerful voice for Indigenous Australians. He's a storyteller in the tradition of his ancestors, an advocate, mentor, role model and activist, as well as an internationally respected artist whose voice and message have resonated far beyond his homeland.
Though he will be playing at the Beyond (Christian) festival this fall, a 2013 ABC interview gives a sense of his spiritual journey – one which resonates all too well, no doubt, with many Indigenous Canadians:
Archie Roach: When [Australian] Prime Minister Kevin Rudd said sorry to the stolen generations it was like something shifted. There was weight that was lifted from my shoulders personally. And it was like I received, I accepted that apology. Not just on my behalf but on behalf of my mother and my father and my children. So for me it was a great thing.
A lot of people can say well Archie's changed his tune, forgiving of people who have done this to him. I mean I won't forget but I'm not going to let it burden me and weigh me down and make me sick any more. It's time to get better and time to heal. . . .
Geraldine Doogue, narration: Archie's life has turned full circle. . . . He lives in south-western Victoria again, near the Framlingham Aboriginal Reserve where he spent the first years of his life. And he visits from time to time.
AR: This was also where we finally came back to live. And this is where I was taken from as a little boy. My mother was born here on this old mission. And even though she's not buried here,  my mum's family, my mum's relatives, cousins, aunties and uncles are all buried here.
I suppose I don't come back as often as I'd like to, to this place. But when I do come back it's always, I think as you get older too there's always a stronger feeling. This strong attraction that draws you to this place and you feel peaceful. Even though I haven't spent much time here you still get that feeling of belonging to this place, to that spirit of place, "genius loci" as Manning Clark called it, spirit of place.
I started to believe that if you are close to the earth you are closer to God or the creator.
GD: Is it like a blend now for you of the idea of a God and this earth with a spirit life. Is it a blend or has one replaced the other?
AR: It's probably a bit of a blend. In the foster homes I was brought up with Christian beliefs and then later on discovering my Aboriginal beliefs. I think summing it up. . .
Rather than Christian or religious I'm spiritual. I'm a spiritual man. And that's what I call myself, that's how I define myself today.
Roach is still sure that he likes gospel music:
AR: I've always loved gospel music ever since I first heard it and sung gospel music. It's not necessarily the message or what it says or what it's saying, it's the feeling that you get from gospel music. You want to get up and clap your hands and stomp your feet and raise your hands and just like its joy, joy of life to be alive and joy being part of a community, bigger community and sharing that.

There are, of course, several headliners who will also make time at the Folk Fest very worthwhile: Rodney Crowell, Neko Case and Ry Cooder, for example.