Barry Jung has been going out of his way to spend time with his neighbours for several years now (see Staking faith in the Cambie Corridor).
Over the past couple of years he has been sharing his insights at several local churches which want to be a more significant presence in their communities.
Next Saturday evening (July 14) he will host Neighbourhood Stories at his home church, Granville Chapel. It will highlight the work of some innovative initiatives.
He says:
Join us as we gather for music, refreshments, conversations and to share stories about what we are learning, where we are growing and how we see God working in our neighbourhoods. Our ongoing hope is to encourage each other and be rooted and linked as we weave together a tapestry of care and love in our city and into our neighbourhoods.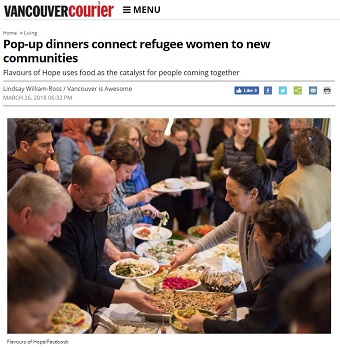 Invited story tellers will include:
Flavours of Hope is a non-profit social enterprise that supports and empowers newcomer women to earn a living wage and build social connections in communities through cooking and sharing culinary traditions and stories. (Go here for a brief write-up on Flavours of Hope's pop-up dinners and Summer Food Markets at Granville Island.)
How can you be a good neighbour? Is the primary role of a Christian in their neighbourhood to evangelize? How can we make connections with the people around us? Claire Perini, Jenn Richards and Barry Jung discuss these questions and more in this episode of the Regent College Podcast.
Co:Here Housing offers a creative way to address homelessness. Vision: To foster human flourishing through the creation of affordable housing communities by committing to the care for the whole person. Mission: To respond to the crisis of homelessness through the construction of an affordable and holistic housing community of 26 units on the southwest corner of Victoria Drive and 1st Avenue East that will help foster human flourishing. (Go here for a good story about Co:Here.)
My involvement with our neighbours first began shortly after hearing neighbourhood stories and reference to Vancouver Foundation's 2012 Connections and Engagement Survey [see below]. The survey results and the stories prompted me and my wife to begin our practice of neighbouring. I use the term practice as I feel it emphasizes an intentionality of being an active neighbour. This act of intentional neighbouring is rooted in my faith –  that to love God, is to love neighbour.
Emergent. Relational. Local. Collective. Otherwise Productions savours exploration, the unfolding goodness of growth, and the scrappy beauty of imperfection. We invest in people, and embrace big perspective; that each artist is on his or her own unique journey. We perseveringly and joyfully pursue mastery.
Karen Reed will moderate a discussion following presentations.
On the Table: an invitation
Barry Jung would also love to see churches and individuals planning ahead for On the Table, which will take place September 13. On that day, the Vancouver Foundation is encouraging people to reach out to each other by sharing a meal.
The Vancouver Foundation "connect(s) the generosity of donors with the energy, ideas and time of people in the community." Its groundbreaking Connections and Engagement report in 2012 highlighted a growing sense of isolation and disconnection as the main social ill facing residents of Vancouver. Last year it produced a follow-up report, Connect & Engage, which confirmed and expanded upon the earlier findings.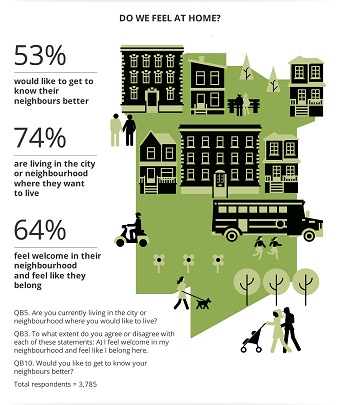 Jonathan Bird of City Gate wrote a very useful overview of the two studies on Church for Vancouver. He noted:
Perhaps the most surprising good news [in terms of personal connections] is the fact that, counter to what we might expect, older residents reported the lowest levels of loneliness and spending too much time alone, and they find it easier to make new friends. Looking for a friend? New to the building or the block? Knock on the door of your elderly neighbour!
On the other hand, you might be a little surprised to hear who is most likely to be lonely: the poor, the young and the unemployed. Compared to the survey average of 14% saying they feel lonely "often" or "almost always," 38% of people with household income less than $20,000 said so, as did 30% of people aged 18 to 24, and 26% of folks without a job. Young adults age 18 to 24 (60%) and 25 to 34 (67%) also expressed greater difficulty making new friends.
The most common obstacles to getting together with friends are work and school obligations (48%, jumping to 76% among people 18 to 24), not enough time (40%), family obligations (32%), being too far away (32%), personal finances (20%) and feeling overwhelmed or stressed (18%).
We as congregations and individuals might not be able to do much about our lonely neighbours' lack of time, but surely we can assist in the other ways they think will make it easier for them to make new friends: we can be approachable and friendly, discover what low-cost interests we have in common and do them together in community or common spaces. Maybe a walk around Stanley Park, followed by a movie night at the church? . . .
Bird concluded with this observation, directly related to On the Table:
The Vancouver Foundation concludes with several calls to action, all of which brilliantly align with what the church ought to be on about. For instance, they are planning a new initiative to invite people from all walks of life to share a meal and talk about what really matters in their community. Sounds like the Gospel of Luke.
They also enjoin every one of us as well as organizations of every description to engage in conversation, ask questions, to listen well. That act of convening neighbours and groups to mediate careful dialogue that yields trust, confidence and experimentation toward the shalom of our city – that is what sifted out as the number one priority at the conclusion of the Vancouver Consultation last year. Who's up for it?
Go here for the full article.
Here are a couple of entries from the On the Table FAQ page:
What is On the Table?
On the Table is an invitation from Vancouver Foundation for people, organizations, and communities across BC to come together, share some food, and have conversations about what matters most to them. All the topics that are discussed will be collected and shared – giving us an exciting snapshot of what's on people's minds across the province right now. It's a fun, meaningful opportunity for people everywhere to meet, gather, and share!
Where should On the Table events take place?
You can host On the Table in any place that inspires people to talk. It could be your local library or office breakroom, a neighbourhood restaurant or a nearby park, church or recreation centre. Many people will host at home, around their own kitchen table. What matters most is that people come together, share some food and have a conversation.
Why is Vancouver Foundation doing this?
This year is our 75th anniversary, and we want our celebration to be about something bigger than us. That's why we're inviting everyone across BC to be part of it. One thing we've learned through our work is that people are longing for a deeper connection to their neighbours and community. On the Table gives us all a chance to do something about it. Great things happen when we come together, share food, and have a conversation.
Go here for more information about On the Table, including the rest of the FAQ responses.
TWU law school decision

It has now been over two weeks since the Supreme Court of Canada upheld the right of two provincial law societies to bar graduates of Trinity Western University's proposed law school. That space of time has allowed observers to write some good assessments of the situation.
Particularly encouraging was a column by Paul Schratz, who wrote in The B.C. Catholic:
After experiencing some disappointment, it's always good to allow a little time for context to sink in.
Last week, thanks to our 24-hour news environment, we were wringing our hands over the Supreme Court's decision on Trinity Western University.
This week it was good to hear a few words of reason from some of the principals involved with the case. In a webinar broadcast on Facebook by the Evangelical Fellowship of Canada, Ottawa-based lawyer Albertos Polizogopoulos, EFC president Bruce Clemenger and Justin Cooper of Christian Higher Education Canada discussed the implications of the ruling.
In short, they said the decision was disappointing and bad news for people of faith, but didn't mark the end of religious freedom in Canada. The court simply found the law societies acted "reasonably" when they decided not to accredit graduates of the proposed law school.
Go here for the full comment. For the EFC webinar go here.
EFC president Bruce Clemenger wrote a very helpful three-part series, 'Making Sense of the TWU Court Decision': Part One (on the majority decision), Part Two (on the dissenting opinion), Part Three (on the implications of the decision).
Derek Ross, executive director of Christian Legal Fellowship wrote Supreme Court's TWU decision: an illiberal outcome for The Lawyer's Daily.
Also worth reading is Bruce Pardy's strongly worded comment in the National Post: The Supreme Court's TWU ruling is a cruel joke played on all Canadians.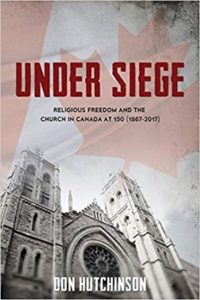 Don Hutchinson wrote an extensive review of the case (Supreme Court sidesteps Supreme Being and supreme commitment), as befits the author of  the book Under Siege: Religious Freedom and the Church in Canada at 150 (1867 – 2017).
Hutchinson concluded with these words:
Decisions of the Supreme Court of Canada do not change what it means to be a Christian. Our challenge is to in fact and deed be Christians. The current trial for our faith in Canada is whether we will exhibit our faith, not whether we will be imprisoned for it.
Canada continues to have one of the most robust expressions of religious freedom of any country in the world.
We know that we live with an advancing secularism and a "general perception" that thinks little of religion, Christianity in particular. Now is a time for Christians and Christian leaders to pray, to strategize about engagement with other Christians, other faith communities and Canadian society, to engage our fellow Canadians in a way that honours our faith, and organize finances for the costs incurred by those who stand for Christ before governments and before the courts.
And the law school? It started with a dream. Enough people now share the dream that it has become a vision. Historically, such vision has a way of finding fulfillment.
Jul 2018
'da Kink in My Hair by Trey Anthony
– July 4, 2018 - July 7, 2018 at 8:00 pm - 10:00 pm
The Movies & Us: What the Academy Award Nominees for Best Picture Tell Us About Ourselves
– July 5, 2018 at 12:00 pm - 1:00 pm
Nimule: A Documentary Film by Nathaniel Ross Kelly
– July 5, 2018 at 7:00 pm - 8:30 pm
Regen: Pastor Fari Ghaem-Maghami
– July 5, 2018 at 7:00 pm - 9:00 pm
Makoto Fujimura & Steven Garber: The Tears of Christ & the Silence of God
– July 6, 2018 - July 7, 2018 at All Day
Watoto: Signs & Wonders
– July 6, 2018 at 7:00 pm - 9:00 pm
Concert for a Summer's Day
– July 7, 2018 at 4:00 pm - 5:00 pm
Richmond Community Day
– July 7, 2018 at 5:00 pm - 8:00 pm
Watoto: Signs & Wonders
– July 7, 2018 at 6:00 pm - 8:00 pm
Jazz Vespers: David Thompson Secondary
– July 8, 2018 at 12:00 am
Festival of Sacred Music (Sunday mornings)
– July 8, 2018 - August 19, 2018 at 10:30 am - 11:30 am
Kickers Soccer and Arts Camp
– July 9, 2018 at 9:00 am - 3:00 pm
MEGA Sports Camp
– July 9, 2018 at 9:00 am - 12:00 pm
SouthRidge Soccer Camp
– July 9, 2018 at 9:00 am - 12:00 pm
FLO Summer Soccer Camp
– July 9, 2018 at 1:30 pm - 4:30 pm
Everett Hamner: No More Dithering – What Climate Change Means for Creation
– July 9, 2018 at 7:30 pm - 9:00 pm
Philip Clayton: Prophetic Presence in a World of Flux
– July 10, 2018 at 7:00 pm - 9:00 pm
The Bible in Contemporary Storytelling
– July 11, 2018 at 12:00 pm - 12:45 pm
Carol Kaminski: God Among Idols – Abram's Call & Missions Today
– July 11, 2018 at 7:30 pm - 9:00 pm
Jim Forest: One Foot in the Wilderness, One Foot in the World
– July 12, 2018 at 6:00 pm - 9:00 pm
Radiance: 2018 Summer Glory Conference
– July 12, 2018 - July 15, 2018 at 7:00 pm - 9:30 pm
Uncommon Devotion: Reflections on Puritan Texts
– July 13, 2018 - July 14, 2018 at 12:30 pm - 5:00 pm
Kingdom Come Conference
– July 13, 2018 - July 15, 2018 at 6:00 pm - 9:00 pm
Faith & Film Evening: Murder in the Cathedral
– July 13, 2018 at 7:00 pm - 9:30 pm
Love My City Week (Tri-Cities)
– July 14, 2018 at All Day
Raising Godly Children in an Ungodly World
– July 14, 2018 at 11:00 am - 5:00 pm
Union Gospel Mission Summer BBQ
– July 14, 2018 at 11:00 am - 4:00 pm
Parish Collective: Neighbourhood Stories
– July 14, 2018 at 6:30 pm - 9:00 pm
Jazz Vespers: The Gabriel Palatchi Band
– July 15, 2018 at 4:00 pm - 5:00 pm
St. Stephen's College Choir: Alumni concert
– July 15, 2018 at 6:00 pm - 8:00 pm
Richmond Chinese MB Church Soccer Camp
– July 16, 2018 at 9:00 am - 3:00 pm
Bishop Will Willimon: After Church History – Can Canadian Christians Evangelize?
– July 16, 2018 at 7:00 pm - 9:00 pm
Rikk Watts: Doing 'Theology' as Design – as God Originally Intended?
– July 16, 2018 at 7:30 pm - 9:00 pm
Film Screening: After Spring
– July 17, 2018 at 6:45 pm - 9:30 pm
Rikk Watts & Nijay Gupta: Two Perspectives on the New Perspective – Exploring the Theology of Paul
– July 18, 2018 at 12:00 pm - 12:45 pm
Regen: Ale Policar & Regen Band
– July 18, 2018 at 7:00 pm - 9:00 pm
Sarah Williams: The Spirituality of Time
– July 18, 2018 at 7:30 pm - 9:00 pm
BC Sacred Music Symposium
– July 20, 2018 - July 22, 2018 at All Day
Vancouver Urban Ministries Garden Party
– July 20, 2018 at 6:30 pm - 8:30 pm
Unsettling the Word Book Launch
– July 20, 2018 at 7:00 pm - 9:00 pm
Love My City Week (Tri-Cities) Celebration
– July 21, 2018 at All Day
Garage Sale / Block Party
– July 21, 2018 at 9:00 am - 2:00 pm
Fraser Lands Community Day
– July 21, 2018 at 11:00 am - 3:00 pm
St. James Music Series presents The Gesualdo Six
– July 21, 2018 at 7:30 pm - 9:30 pm
Church at the Lake
– July 22, 2018 at 11:00 am - 2:00 pm
Jazz Vespers: Sharon Minemoto
– July 22, 2018 at 4:00 pm - 5:00 pm
Peace Portal Alliance Church Soccer Camp
– July 23, 2018 at 9:00 am - 3:00 pm
Richmond Baptist Church Soccer Camp
– July 23, 2018 at 9:00 am - 3:00 pm
Terry LeBlanc: When Fundamentalism Meets Liberalism
– July 23, 2018 at 7:30 pm - 9:00 pm
Peter Shaw: Living With Never-Ending Expectations as a Leader
– July 24, 2018 at 7:30 pm - 9:00 pm
A Conversation on Biblical Theology
– July 25, 2018 at 12:00 pm - 12:45 pm
Regen: Lewis Chifan & Broadway Church
– July 25, 2018 at 7:00 pm - 9:00 pm
Lynn H. Cohick: Motherhood & Martyrdom: Family & Faith in the Early Church
– July 25, 2018 at 7:30 pm - 9:00 pm
Rosa Quintana Lillo: Heroes in the Seaweed
– July 26, 2018 at All Day
Stars & Dark Matter: Quilts by Lois A. Klassen
– July 26, 2018 - August 31, 2018 at All Day
Seeing God: Hans Boersma's Book Launch
– July 26, 2018 at 12:30 pm - 2:00 pm
Family Matters Conference
– July 27, 2018 - July 28, 2018 at 6:00 pm - 5:00 pm
David Ley: Postmodern Urban Spaces – a City Tour
– July 28, 2018 at 9:30 am - 1:00 pm
Summer Community Day
– July 28, 2018 at 12:00 pm - 4:00 pm
Jazz Vespers: Ragtime Ramblers
– July 29, 2018 at 4:00 pm - 5:00 pm
Bruce Longenecker: Beyond the Mysteries – Paul's Proclamation of the Mystery of God
– July 30, 2018 at 7:30 pm - 9:00 pm
Flavours of Hope: Summer Food Market (Tuesdays)
– July 31, 2018 - August 28, 2018 at 11:00 am - 4:00 pm
Donald Lewis: 'In Darkest London': A Window on Urban Life & Mission in Darkest Victorian England
– July 31, 2018 at 7:30 pm - 9:00 pm
Aug 2018
Regen: John Neate & TBA
– August 1, 2018 at 7:00 pm - 9:00 pm
David Bebbington: Architect of Modern Missions – the Achievement of William Carey
– August 1, 2018 at 7:30 pm - 9:00 pm
ACTS Seminaries Open House
– August 2, 2018 at 10:00 am - 2:00 pm
The Bible in Evangelicalism Today
– August 2, 2018 at 12:00 pm - 12:45 pm
Darin Martin Travel West Tour 2018
– August 3, 2018 at 7:00 pm - 9:00 pm
Decoding Jordan Peterson's '12 Rules for Life'
– August 5, 2018 at 4:00 pm - 5:30 pm
Jazz Vespers: Geoff Claridge Quartet
– August 5, 2018 at 4:00 pm - 5:00 pm
South Van Sports Camp
– August 7, 2018 - August 10, 2018 at All Day
Alzheimer Café Vancouver
– August 7, 2018 at 4:00 pm - 6:00 pm
Fear Not Meetings
– August 8, 2018 - August 11, 2018 at 7:00 pm - 9:00 pm
Regen: Tasha & Moses Masitha, with Regen Band
– August 8, 2018 at 7:00 pm - 9:00 pm
Midsummer Celebration with Ezra Kwizera
– August 10, 2018 at 6:00 pm - 10:00 pm
The Heart of Giving: The Giving of Art (Friedrich G. Peter)
– August 11, 2018 at 2:00 pm - 5:00 pm
Jazz Vespers: Palo de Rosa
– August 12, 2018 at 4:00 pm - 5:00 pm
Kingdom Life Community Church Soccer Camp
– August 13, 2018 at 9:00 am - 3:00 pm
Pacific Grace MB Church Soccer Camp
– August 13, 2018 at 9:00 am - 3:00 pm
Men's Bible Study and Prayer Group
– August 15, 2018 at 7:00 pm - 8:30 pm
Regen: Jason Ballard & Worship Central
– August 15, 2018 at 7:00 pm - 9:00 pm
Pro-Life Student Symposium
– August 16, 2018 - August 19, 2018 at All Day
Book Launch: The Church in Surrey and White Rock
– August 17, 2018 at 6:00 pm - 8:00 pm
Jazz Vespers: Super Trumpets
– August 19, 2018 at 4:00 pm - 5:00 pm
Kickers Soccer and Arts Camp
– August 20, 2018 - August 24, 2018 at 9:00 am - 3:00 pm
Cycling for Seafarers
– August 25, 2018 at All Day
Memorial Concert Honouring Ellen Wang
– August 25, 2018 at 2:00 pm - 4:00 pm
Mike Smalley: Just One
– August 25, 2018 - August 26, 2018 at 6:00 pm - 6:30 pm
Jazz Vespers: Wild Blue Herons
– August 26, 2018 at 4:00 pm - 5:00 pm