The long-awaited arrival of Unplanned in local theatres is a good news / bad news story.
The good news, of course, is the simple fact that those who want to see the film will have a chance to do just that.
The bad news is that some opponents have stooped to fear-mongering and pressuring distributors not to show the movie.
Opening July 12
Unplanned opened in the United States March 29, but Canadians wanting to see the film have had to wait until this week. The movie will be shown at 60 theatres in more than 40 cities, beginning on Friday (July 12).
I wrote about the delay May 23, pointing to an online petition with more than 200,000 signatures demanding that Cineplex bring Unplanned to Canada. The petition highlighted both the appeal of the movie for pro-lifers and the sense of frustration that it was not available here:
"Unplanned" is a powerful new blockbuster film that chronicles the life of Abby Johnson, a former abortion clinic director whose life and career were turned upside-down by what she saw one day in her clinic.
This is a powerful and eye-opening film that has been piercing through the abortion narrative in the United States. "Unplanned" has actively moved individuals to the pro-life perspective.
Most notably, in the first two weeks of the movie release, 94 Planned Parenthood workers have contacted Abby Johnson's organization, And Then There Were None. Also, "Unplanned" brought in over $6 million US in its opening weekend [now over $18 million], far exceeding Hollywood expectations.
"Unplanned" was released in the US on March 29th, 2019. However, if you live in Canada, you will not be able to view this new film. It appears that the "controversial" nature of this film is impacting its release. There are no public screenings scheduled anywhere across the nation.
The B.C. Catholic has done a good job of tracking the situation. A July 10 article by Agnieszka Ruck (BC theatres showing Unplanned selling out, receiving threats) stated:
Unplanned, the true story of an abortion clinic director turned pro-life activist, may be tackling an unpopular subject, but local theatres showing the film will not be empty next week. . . .
In BC, theatres include Hollywood 3 in Pitt Meadows, Cottonwood 4 in Chilliwack, Colossus Langley, Cineplex SilverCity in Mission, Hollywood 3 in Surrey, Landmark University Heights in Victoria, Landmark Columbia in Cranbrook, Vernon Towne Cinema in Vernon, and Landmark Avalon in Nanaimo.
Mixed reviews
Reviewers have not been particularly kind to Unplanned, with the Tomatometer reading 48 percent. Their 'Critics Consensus' states: "A dramatic approach to a hot-button topic whose agenda is immediately clear, Unplanned will only reinforce the feelings of viewers on either side of the issue." That may, in a sense, be borne out by the very positive 'Audience Score' of 92 percent.
However, producers of the film point out that many abortion providers have given up their jobs after seeing Unplanned. A couple of comments from more positive film critics seem insightful:
A less pious film would have made Unplanned more effective, but the core truth of its story works well enough to make Unplanned an essential watch.
Unplanned doesn't come close to exploring all of the different combating arguments connected to abortion, but the case it makes is sobering to consider.
These comments suggest one of the main reasons Unplanned is worth watching – that is, because there is so little room in our media for such a message and because the film might never have been shown in Canada at all if there had not been an outcry on its behalf
Cineplex letter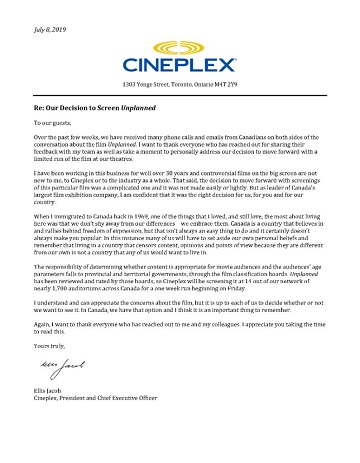 Cineplex CEO Ellis Jacob wrote an open letter July 8 explaining why they had decided to show the film. Here is a portion:
When I immigrated to Canada back in 1969, one of the things that I loved, and still love, the most about living here was that we didn't shy away from our differences – we embrace them. Canada is a country that believes in and rallies behind freedom of expression, but that isn't always an easy thing to do and it certainly doesn't always make you popular.
In this instance many of us will have to set aside our own personal beliefs and remember that living in a country that censors content, opinions and points of view because they are different from our own is not a country that any of us want to live in.
Jacob, who was born in India, said the decision was "a complicated one and it was not made easily or lightly."
Some people still don't agree.
Anti-choice on Unplanned
"We are all about choices." It's in big letters on the front page of their website and featured in the first paragraph of their 'About Us' page. Not surprising, given that Options for Sexual Health is a pro-choice Vancouver organization which offers "current sexual and reproductive health care, information and education."
However, Michelle Fortin, who runs Options, is not so keen on choice when it comes to views that run counter to those she approves of.
An article on the News 1130 site stated:
The head of an organization dedicated to sexual and reproductive health [Fortin] is disappointed distributors are allowing the film, based on the memoir of a former Planned Parenthood clinic director who is now an anti-abortion activist, to be screened.
It added that she also disapproves of pro-life advertising:
She notes that over the last couple of years, more anti-choice advertising has actually been taken down because city councils and others are not going along with it, given choice is the law in Canada.
"In Canada, we have legislation – the Morgentaler decision 31 years ago identified that reproductive choice was a woman's choice, and a woman's choice alone, or folks that can get pregnant."
In Fortin's opinion, those who oppose abortion can like it or lump it, arguing that if you don't believe in abortions, you can choose not to have one.
Threat of violence?
Joyce Arthur, head of Abortion Rights Coalition of Canada (ARCC), never overlooks an opportunity to critique pro-lifers. Her response to Unplanned is to suggest that it might endanger abortion providers.
The ARCC's June 25 statement is headed: 'Anti-choice propaganda movie "Unplanned" could incite violence against providers." Quoted widely in The Vancouver Sun, The Province, The Star, Huffington Post, CBC News and elsewhere, it offers dire warnings.
Here is a portion:
The American film "Unplanned", soon to be screened in a few Canadian theatres, is a dangerous piece of anti-abortion propaganda. It preaches an absolutist and extreme case against abortion that has nothing to do with reality. Because of the film's demonization of abortion providers, pro-choice advocates fear that the movie could incite fanatics to commit acts of harassment or violence against clinics or doctors.
Unfortunately for Arthur and the ARCC (whose motto is 'Your Voice for Choice'), the only signs of violence thus far come from opponents of Unplanned.
The B.C. Catholic story noted:
But while the film is generating a lot of buzz, not all of it is so positive. Two independent theatres, including the Salmar Classic in Salmon Arm, cancelled scheduled showings of Unplanned after threats were allegedly made against theatre staff. . .
The Movie Mill in Lethbridge, Alta., also received threats, according to B.J. McKelvie, the president of Cinedicom, the Canadian distributor of the film. There have also been at least two death threats made to Canadian theatres, he said.
Go here for the full story.
Let Unplanned be
Some commentators don't like Unplanned, but are not opposed to it being shown.
Writing in Maclean's July 9, Jen Gerson said:
I have little patience for often misleading, gore-and-sentiment-based arguments of pro-life protestors. But those of us on the pro-choice side of the issue have to stop treating these challenges – made-for-TV movies, ugly pictures or, gasp, the mere presence of outspoken pro-life MPs – as proof of a coming collapse of abortion rights that can be averted only by shutting people up and protests down.
People of genuinely held religious faith are going to have differences of opinion on questions of when personhood begins. They're wrong, but that doesn't mean they should be shunned from public life or public office.
At this point, Unplanned is scheduled to run for one week. Go here for a full listing of theatres.