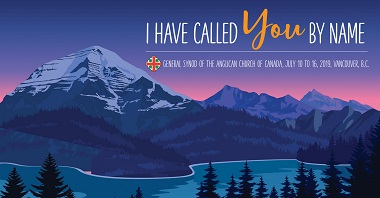 Some key decisions will be made at the General Synod of the Anglican Church of Canada, which will run from July 10 – 16 at the Sheraton Vancouver Wall Centre on Burrard Street in downtown Vancouver. The theme of the synod is 'I Have Called You By Name' (Isaiah 43:1).
A Call to Prayer from the House of Bishops outlined the main issues:
General Synod 2019 will bring three important issues before the Church: The proposed revision of the marriage canon; a primatial election [the primate is the leader of the Anglican Church of Canada]; and Indigenous self-determination, in addition to other areas of our common life together.
We know that the consideration of same-sex marriage has been painful and caused deep concern across our Church.   Although we are not of one mind on this matter the House of Bishops, in Christian love, affirms:
That Indigenous Peoples will seek God's direction on these matters in their own way and in their own time.
That we have two views of marriage that are held by the faithful of the Anglican Church of Canada.
That clergy be protected for holding, teaching and, with permission, exercising either view of marriage.
For more background, a Word to the Church: Considering the proposed amendment of Marriage Canon XXI was passed by the Council of General Synod March 16, 2019.
A July 8 editorial letter by Anglican Journal editorial supervisor Matthew Townsend gives a sense of the potentially divisive nature of the General Synod. Here is a portion:
Many have made note that this General Synod could see debate over challenging subjects – especially the marriage canon. There are two places in which you can engage these topics directly: in comments on the Journal's website and on the Journal's social media feeds. With this invitation comes an expectation: that we will respect one another as beloved children of God, regardless of how upset we might be. . . .
For my part, I will say this: I will not tolerate bullying, belittling or insulting comments, or hateful expressions of -isms or -phobias. Bring your disagreements, your concerns, your Scripture, your conscience, your experience, your hopes and your pain – but bring your love, too. . . .
Many of us remember the battles in the Diocese of New Westminster over the blessing of same-sex marriages and related issues without much pleasure, but we can all agree with Townsend's admonitions – and pray for God's will to prevail.
Go here for the General Synod website. It is possible to follow the proceedings online:
Gavel-to-gavel live streaming of General Synod 2019 will be available on the General Synod 2019 website home page. Coverage starts on Wednesday July 10 at 7:30 pm with opening worship from Christ Church Cathedral. View the GS2019 agenda to see more details of when Synod will be streamed.
Go here for 'General Synod: a Primer.'
Andy Crouch: technology
Andy Crouch is probably best known for Culture Making, the 2009 Christianity Today Book Award winner. He argued:
It is not enough to condemn culture. Nor is it sufficient merely to critique culture or to copy culture. Most of the time, we just consume culture. But the only way to change culture is to create culture.
One of his major passions has been to examine the role of technology in our culture. And he will deliver a lecture on Putting Technology in its Proper Place next Monday (July 15) at Regent College.
Here is a description of the evening:
In the blink of an eye, devices have filled our homes and workplaces. They make our lives easier in countless ways. But do they make it easier to become the kind of people we actually want to be? We need a concerted movement to make more thoughtful choices about technology, especially in the most formative places of our lives: our schools, places of worship and our homes.
Drawing on his best-selling book, The Tech-Wise Family, Andy Crouch will describe a path toward a healthy relationship with technology at the most important places and times of our lives.
I posted an article by Crouch earlier this year: 'Six ways to know if your home has technology in its proper place.'
Crouch will be teaching the class Rebuilding the Household: Family & Church in the Technological Age from July 15 – 19 as part of Regent College's 2019 Summer Programs.
Street cleaning
A story in Daily Hive this week reports that Mission Possible is one of several agencies likely to receive city funding to support street cleaning jobs:
A municipal program that helps keep Vancouver's streets clean and provides employment to the homeless and low-income individuals will see a major funding boost this year.
Next week, Vancouver city council is expected to approve a city staff recommendation to increase the budget of the 2019 Street Cleaning Grants initiative by $405,000.
This is in addition to the $1.21 million in funding that was approved in February 2019.
The funding will go towards low-barrier employment programs of non-profit groups and agencies that interact with the city's most vulnerable populations, including United We Can, Coastal Mental Health Foundation, Mission Possible Enterprises Society, Family Services of Greater Vancouver and The Kettle Friendship Society.
Mission Possible is "a community economic development agency in Vancouver's Downtown Eastside" which offers two types of work:
Transitional employment
Mission Possible offers a Work Readiness Program that can lead to transitional jobs through our social enterprises, MP Maintenance and MP Neighbours. We also provide potential work opportunities through other employers in Vancouver.
Permanent employment
Mission Possible is a wonderful place to work and we are on the look out for good people to join our team. Currently we have openings for supervisors in our social enterprise, MP Maintenance.
Go here for the full story and here for more information on Mission Possible jobs. Mission Possible is offering a tour of its work July 18.
Jul 2019
Love My City Week (Tri-Cities)
– July 6, 2019 - July 13, 2019 at All Day
Canadian Viewpoints: Concealed and Revealed
– July 11, 2019 - July 12, 2019 at All Day
Dennis T.W. Ng: A Faith that Enables People to be the Ambassador of Harmony Under Globalization - a Theology in the Context of Contemporary China
– July 11, 2019 at 12:00 pm - 1:15 pm
Love My City Week (Tri-Cities): Shoreline Trail Clean Up
– July 11, 2019 at 6:00 pm - 8:00 pm
BC Christian Ashram: Refreshing Revival in Christ Jesus
– July 12, 2019 - July 14, 2019 at 12:00 am
Unplanned (movie)
– July 12, 2019 - July 19, 2019 at All Day
Love My City Week (Tri-Cities): Coquitlam Crunch Encouragement & Clean Up
– July 12, 2019 at 6:00 pm - 8:00 pm
Lights for Liberty
– July 12, 2019 at 7:30 pm - 9:30 pm
Whole Way House: Amazing Race to the Family Picnic
– July 13, 2019 at 10:00 am - 3:00 pm
MHM Book Launch: Women in Ministry Leadership by Doug Heidebrecht
– July 13, 2019 at 2:00 pm - 4:00 pm
Canada in Crisis Prayer Gathering
– July 14, 2019 at 4:30 pm - 6:00 pm
Film Night for Cambodia: Don't Think I've Forgotten – Cambodia's Lost Rock & Roll
– July 15, 2019 at 7:00 pm - 9:15 pm
Andy Crouch: Putting Technology in its Proper Place
– July 15, 2019 at 7:30 pm - 9:00 pm
Faculty Roundtable: How Do Stories Shape Our Lives?
– July 17, 2019 at 12:00 pm - 12:45 pm
Now and Then: Opening Reception
– July 17, 2019 at 4:30 pm - 7:30 pm
Regen: Erin Larose (Home Church, Red Deer, AB)
– July 17, 2019 at 7:00 pm - 9:00 pm
Barbara Armacost: Justice, Advocacy & the Redemptive Power of Law – Are We Asking Law to Do Too Much (Or Too Little) in a Broken World?
– July 17, 2019 at 7:30 pm - 9:00 pm
Mission Possible Tour
– July 18, 2019 at 11:00 am - 12:30 pm
Film & Faith Evening: The Apostle
– July 19, 2019 at 6:45 pm - 9:30 pm
Postmodern Urban Spaces: A City Tour
– July 20, 2019 at 9:30 am - 1:00 pm
Ezra Kwizera (African Descent Festival)
– July 20, 2019 at 6:25 pm - 6:55 pm
Taizé Contemplative Service
– July 21, 2019 at 4:00 pm - 5:00 pm
Summer Kids Concert: The Springmans
– July 22, 2019 at 11:00 am - 12:00 pm
Book Signing with N.T. Wright
– July 23, 2019 at 2:00 pm - 3:30 pm
Parallel Love: the story of a band called Luxury
– July 23, 2019 at 6:20 pm - 8:00 pm
Street Beats: Ezra Kwizera
– July 24, 2019 at 12:00 am
Faculty Roundtable: The Impact of N.T. Wright on New Testament Studies
– July 24, 2019 at 12:00 pm - 12:45 pm
Regen: Chris Karuhije
– July 24, 2019 at 7:00 pm - 9:00 pm
N.T. Wright: Jesus in Space, Time & History – Natural History & the Challenge of Talking About God
– July 24, 2019 at 7:30 pm - 9:00 pm
Now and Then
– July 25, 2019 - August 8, 2019 at All Day
Summer Retreat at Kingfisher Farm
– July 26, 2019 at 9:30 am - 3:30 pm
One Day Intentional Community Event
– July 27, 2019 at 9:00 am - 4:30 pm
Church at Country Fest
– July 28, 2019 at 10:00 am - 12:00 pm
Jazz Vespers @ St. Andrew's United Church on the North Shore
– July 28, 2019 at 4:00 pm - 5:00 pm
Interdenominational Hymn Singing
– July 28, 2019 at 6:00 pm - 7:00 pm
Malcolm Guite: Ordinary Saints
– July 29, 2019 at 7:30 pm - 9:00 pm
Vancouver Bach Festival 2019
– July 30, 2019 - August 9, 2019 at All Day
Lunch Discussion with Malcolm Guite: The Poetic Imagination – a Way of Seeing Reality More Clearly
– July 30, 2019 at 12:00 pm - 1:00 pm
Faculty Roundtable: Spiritual Practices Informed by the Arts
– July 31, 2019 at 12:00 pm - 12:45 pm
Regen 'Kickoff'
– July 31, 2019 at 7:00 pm - 9:00 pm
Susan Phillips: Walking the Spiritual Exercises – Praying with Scripture on the Pilgrim Trail
– July 31, 2019 at 7:30 pm - 9:00 pm
Aug 2019
Bethany Sollereder: God, Evolution & Animal Suffering – Theodicy Without a Fall
– August 1, 2019 at 12:30 pm - 1:30 pm
Mission Possible Summer Social
– August 7, 2019 at 6:00 pm - 9:00 pm
Perspectives Course: Intensive
– August 9, 2019 at 8:30 am - 4:30 pm
Lauren Daigle Look Up Child Tour
– August 11, 2019 at 7:30 pm - 10:00 pm
Rhythms: Loving Your Neighbours
– August 14, 2019 at 7:00 pm - 8:30 pm
Strategic Election Mobilization Presentation
– August 14, 2019 at 7:00 pm - 9:00 pm
Strategic Election Mobilization Presentation
– August 15, 2019 at 7:00 pm - 9:00 pm
Summer Used Book Sale: the biggest & best ever
– August 16, 2019 - August 17, 2019 at All Day
Book Launch: Happy Colon, Happy Soul by Karen Giesbrecht
– August 16, 2019 at 7:00 pm - 9:00 pm
Strategic Election Mobilization Presentation
– August 16, 2019 at 7:00 pm - 9:00 pm
Strategic Election Mobilization Presentation
– August 17, 2019 at 10:00 am - 12:00 pm
Jesus at Work: Marketplace and Mission
– August 18, 2019 at 5:30 pm - 8:00 pm
Kickers Soccer Camp
– August 19, 2019 - August 23, 2019 at 9:00 am - 3:00 pm
International Day Commemorating the Victims of Acts of Violence Based on Religion or Belief
– August 22, 2019 at All Day
Overcomer: Opening Day
– August 23, 2019 at All Day
Flames of Revival Rally: Encounter with Jesus
– August 23, 2019 - August 25, 2019 at 6:30 pm - 6:00 pm
Traditional Hymn Singing
– August 25, 2019 at 6:00 pm - 7:00 pm
Switchfoot
– August 26, 2019 at 7:30 pm - 9:30 pm
Association of Christian Clubs at UBC Prayer & Commissioning Night
– August 28, 2019 at 7:00 pm - 9:00 pm
Newsboys United
– August 28, 2019 at 7:30 pm - 10:00 pm