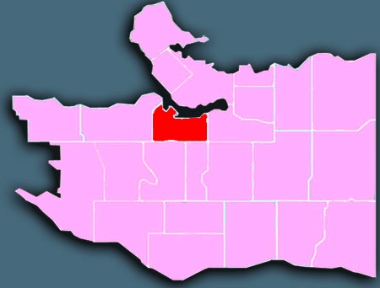 Fairview faces Vancouver's downtown core across False Creek, and is linked to it by the Burrard, Granville and Cambie Street bridges. It is a very densely populated neighbourhood, featuring mostly low-rise apartments and condos. Out of 18,505 occupied private dwellings, only 75 are single-detached houses.
Home to the popular Granville Island Market, it is a major commercial centre, especially along Broadway, and has a strong concentration of healthcare facilities.
Fairview is bounded by 16th Avenue on the south and runs from Burrard Street on the west to Cambie Street on the east.
Demographics
From Statistics Canada, 2011 Census, custom order for City of Vancouver Local Areas (comparative data for Census Metro Area in parentheses).
Population: 31,445     under 18: 8% (19%)      aged 65+: 12% (13%)       
Married/common-law: 43% (48%)    living alone: 31% (11%)
Have kids at home: 14% (40%)     lone parents: 940     widows: 1,308
Mother tongues: ESL 28% (44%), Cantonese 3%, French 2%, unspecified Chinese 2%, Mandarin 2%, Spanish 2%
Because it lacks family-oriented housing, Fairview has the city's third lowest concentration of children but highest concentration of people living alone. Like most inner neighbourhoods, more than half the residents move in any five year period. Fairview is second to Kitsilano in the percentage of native English speakers.
History
The iconic view that fills panoramic photo posters found in countless tourist shops and corporate offices is what gave the neighbourhood its name. According to Chuck Davis, in his History of Metropolitan Vancouver:
CPR surveyor Lauchlan Hamilton rowed his wooden canoe south across False Creek to pitch a tent on the forested south slope [in 1887]. While plotting road survey lines through the bush he looked back across the water at the brand-new city of Vancouver rising against the backdrop of the imposing North Shore mountain range and determined the new subdivision should be called "Fairview."
Fairview became Vancouver's first suburb when the Granville and Cambie Street Bridges were built in 1889 and 1891 respectively. The municipal electric railway system was created during the 1890s, establishing multiple cross-city routes through the neighbourhood. In 1916, Granville Island was enlarged by adding soil dredged from False Creek to existing sandbars.
While the shore of False Creek remained an industrial area, Fairview Slopes was zoned for three-storey apartments in the first half of the 20th century. During the 1950s the area south of Broadway was developed as an apartment district. Broadway, as well as South Granville and Cambie Village, became important neighbourhood commercial strips.
During the 1970s and 1980s, a process of gentrification saw the modest housing and industrial buildings along False Creek and Fairview Slopes replaced by medium density residential and commercial buildings. Ironically, what was intended as a progressive move to create a more 'liveable' city resulted in the loss of many affordable residences.
Notable features

Granville Island Public Market opened in 1979, followed by the Maritime Market, Emily Carr College of Art, theatres, artist studios, craft galleries and restaurants – one of the earliest and more successful examples of postmodern re-tasking of inner-city industrial brownfields in the world. This concentration of arts and crafts has spread up the hill along Granville to 16th Avenue – a district of upscale galleries, furniture and fashion boutiques marketed as South Granville.
In an intentional rebuke to the failed 'urban renewal' ideology that led to countless slums in other cities, the waterfront of southwest False Creek was reborn using a master plan that extended the Seawall, supplied a startling amount of park space and introduced a celebrated 1/3 – 1/3 – 1/3 mixture of luxury, middle market and subsidized housing in medium density multi-family complexes on leased city land.
The Broadway Corridor is BC's largest business district after Downtown and connects major nodes within the region. Broadway is North America's busiest bus corridor, with over half a million passengers passed by every year. Nearly half of the trips to the corridor begin outside of Vancouver. Extending SkyTrain to UBC is the number one priority in the city's Transportation 2040 Plan. But that goal took a hit when voters failed to support funding sources in the 2015 Transportation and Transit Plebiscite.
Medical Centres: Fairview is home to a number of major medical services: Vancouver General Hospital (the largest employer in the city), the BC Cancer Agency, BC Cancer Research Centre, BC Healthy Living Alliance and the BC Centre for Disease Control.
Churches
Blessed Sacrament Catholic; Fairview Gospel Hall; Fairview Presbyterian; Grace Vancouver; Holy Trinity Anglican; Pentecostal Tabernacle; St. George's/St. Mark's Anglican; St. Mary's Ukrainian Catholic. See map.
Here are a few ways in which Fairview churches are linked to their neighbourhood. The list is far from complete and we would love to hear about other examples:
* Fairview Presbyterian Church will be hosting a free community barbecue September 19.
* Holy Trinity Anglican Church hosts Pacific Theatre, one of the city's top drama companies;
* St. Mary's Ukrainian Catholic Church holds Ukrainian classes and rents out three separate facilities.
Further information

* The Courier did several articles on Fairview as part of a year-long series of articles on Vancouver neighbourhoods in 2013/2014.
* The City of Vancouver has a Fairview page.
* False Creek Residents Association
* South Granville Business Improvement Association