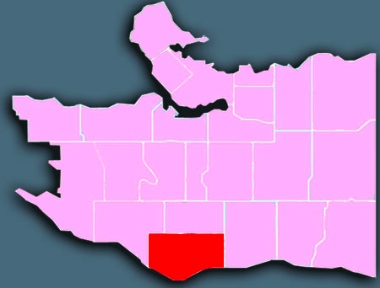 Marpole is one of the oldest neighbourhoods in Vancouver. Historically a moderate-income neighbourhood, it continues to be a convenient initial landing ground for new immigrants. The SkyTrain Canada Line and three bridges (Arthur Laing, Oak Street, Marpole Railway) make Marpole a major transit corridor to Richmond, the airport, the southern suburbs and the United States.
Located in the very south of the city, Marpole stretches from Angus Drive (just west of Granville Street) in the west to Ontario Street (just west of Main Street) in the east, and from 57th Avenue down to the Fraser River.
Demographics
From Statistics Canada, 2011 Census, custom order for City of Vancouver Local Areas (comparative data for Census Metro Area in parentheses).
population: 23,835     under 18: 16% (19%)           aged 65+: 12% (13%)
married/common-law: 44% (48%)    living alone: 16% (11%)        
have kids at home: 38% (40%)     lone parents: 1,105     widows: 835
mother tongues: ESL 63% (44%), Cantonese 13%, unspecified Chinese 13%, Mandarin 11%, Tagalog (Filipino) 4%, Japanese 1%
Marpole is home to the city's largest number of Mandarin speakers and the largest number of Russian speakers outside of the downtown peninsula.
History
The Marpole area has been continuously inhabited by Indigenous peoples since ancient times: archaeologists have found two village sites along the north shore of the Fraser River dating to 3,500 BC.
When non-native settlers arrived in the 1860s, they named their small isolated town Eburne Station, after Harry Eburne, the area's first storekeeper and postmaster. Eburne then thrived as a key stop along the Vancouver Lulu Island Railway and the Interurban electric tramway.
In 1916, the area was renamed Marpole, after Canadian Pacific Railway general superintendent Richard Marpole, and joined with Vancouver in 1929. By that point many sawmills, shingle mills, gravel companies and other businesses had set up in the area, making it one of Vancouver's major industrial centres.
The Marpole Museum & Historical Society has restored the Colbourne House "to collect, preserve and display the history of Eburne/Marpole buildings and houses."
 
When the Oak Street Bridge opened in 1957 the historic business district along Hudson Street and Marine Drive suffered badly as traffic shifted east to Oak Street. In the 1960s, the area south of 70th Avenue was rezoned and low-rise apartment buildings began to replace the original homes. Commercial activity picked up again, this time along Granville Street, when the Arthur Laing Bridge opened to airport traffic in 1975.
Notable features
The Great Marpole Midden was discovered by workers during the extension of Granville Street in 1889. Tools, weapons and other artifacts were discovered in what proved to be one of the largest ancient village sites in North America. Despite these findings – and the fact that the area was declared to be a National Historic Site in 1933 and is marked by a stone cairn and plaque in Marpole Park – development has carried on along the north shore of the Fraser without much attention to the remains.
 
In the fall of 2012, the Musqueam people won their battle to prevent a real estate project on the midden, when the Ministry of Lands and Forest announced on behalf of the province that it would not grant a permit for the developers to alter the site. The decision followed several months of protests in the wake of the discovery of human remains during preparation for a five-storey commercial and residential project.
Joy Kogawa House: Marpole has long been a key 'landing' area for new immigrants. Its most famous (former) resident may be Joy Kogawa, author of the semi-autobiographical novel Obasan, which chronicles Canada's dispossession and internment of Japanese Canadians during World War II. The novel is a must-read not only for a crucial era in Vancouver and Canadian history, but also for how it testifies to deep Christian faith and tenacious mutual aid among this diasporic community. Kogawa and her family, like thousands of others, were never given back their house after the war.
However, her childhood home – the Historic Joy Kogawa House at 1450 West 64th Avenue – was purchased by the Land Conservancy of BC in 2006 to commemorate the ill-treatment of Japanese-Canadians and to house a writers-in-residence program. (David Suzuki's parents had a dry cleaning business in the area until they were relocated, according to Chuck Davis in his History of Metropolitan Vancouver.)
In 2008, the city created Ebisu Park: "The name reflects and celebrates the heritage of the community and acknowledges the history of this area of Marpole that was once home to a thriving Japanese fishing community in the early part of the 1900s."
Densification: Marpole is undergoing swift and profound densification. For example, the Marine Gateway project at the corner of Marine Drive and Cambie Street next to the SkyTrain station is scheduled for completion in the fall of 2015. The 415 condo units sold out quickly; amenities include restaurants, a supermarket, movie theatres and retail units.
In another situation, Vancouver Coastal Health announced in February, 2015 that Onni Group will redevelop 22.2 acres of its 25.4 acre Pearson Douglas lands, on the northern edge of Marpole, west of Cambie below 57th Avenue. The property will be "developed into a community of mixed residential, commercial and retail, with amenities such as a park and community gardens." The city has a webpage devoted to the project.
Churches
Faithwerks; Filipino Maranatha Baptist; Heather Bible Chapel; Lord's Peace Chapel; Marpole Baptist; Marpole United; New Hope Community; Religious Society of Friends (Quakers); St. Anthony of Padua Catholic; St. Augustine's Anglican; St. Vartan's Armenian Apostolic; Stone Church (Cornerstone Community); Westside Baptist. See map.
Here are a few ways in which Marpole churches are linked to their neighbourhood. The list is far from complete and we would love to hear about other examples: 
* Marpole United Church hosts a bilingual Montessori pre-school and kindergarten.
* St. Anthony of Padua Catholic Church operates a pre-school and an elementary school which serve the surrounding community.
* St. Augustine's Anglican Church runs a community meal, a food bank, story time (in conjunction with the Food Bank and in partnership with the Vancouver Public Library) and a thrift shop.
* Westside Baptist Church will host an open house for the Duke of Edinburgh's Award program September 27, as a bridge to reach out to the community.
Further information

* The Courier did several articles on Marpole as part of a year-long series of articles on Vancouver neighbourhoods in 2013/2014.
* The city has a Marpole page.
* Marpole Online features all the latest news from the Marpole Business Association & Business Improvement Area.
* Marpole Museum and Historical Society.
* Hello Marine Gateway, written by a local resident (December 28, 2015).